SPONSORED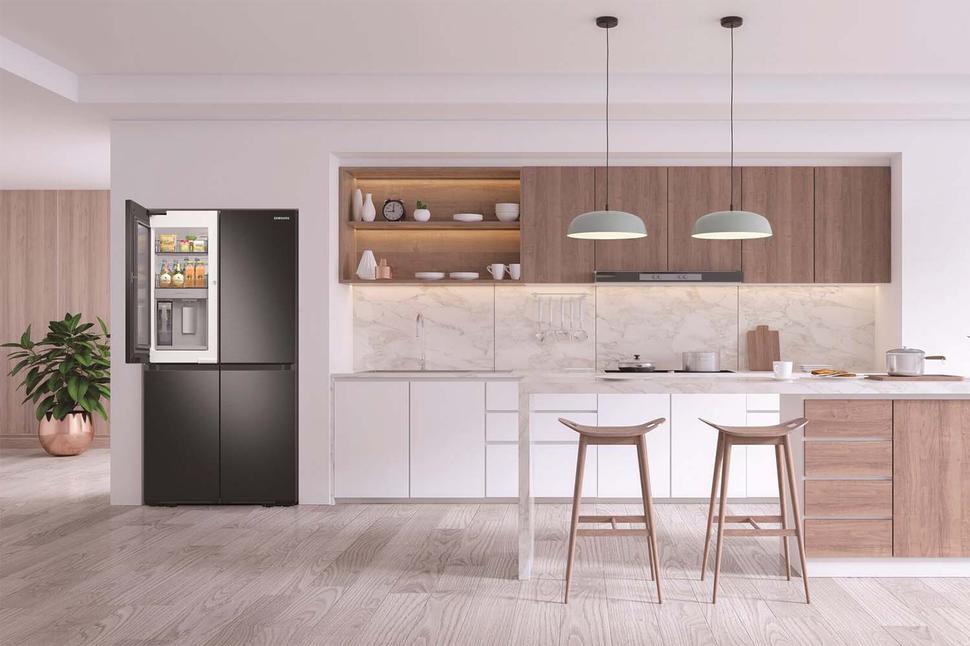 Samsung's New Fridge Range Will Transform Your Kitchen
Super stylish, effortlessly practical and with innovative functions, you won't know how you ever lived without one
Monday June 21, 2021
For so many New Zealanders, the kitchen is the heart of the home, a place we love to spend time cooking, gathering, entertaining. So it stands to reason that its design is of premium importance. Having a refrigerator that fits seamlessly into how we want that space to look, feel and function is integral, and the new Samsung French Door range is set to become the ultimate expression of this.
With their clean lines, strikingly beautiful flat doors and recessed handles, the timeless design of the range makes easy work of incorporating such a key appliance into a clutter-free aesthetic — a concept highly sought after in our modern lives.
Beyond face value is innovation, and what sits behind that beautiful minimalist exterior and streamlined look enhances a kitchen experience in ways you hadn't dreamed of.
Inside those doors the design just keeps on giving, both visually and practically, starting with a plumbed-in Beverage Centre option. This unique space, tucked out of sight behind a panel to keep the exterior sleek, is like having your own bartender on tap. Hydration has never been so easy or fun, with a BPA-free autofill pitcher that has a compartment to infuse your water with fruits and herbs, and a water dispenser at the ready for hassle-free ice-cold cups of H2O whenever you need it. It's also super easy simple to maintain with an easy-to-wash stainless nozzle.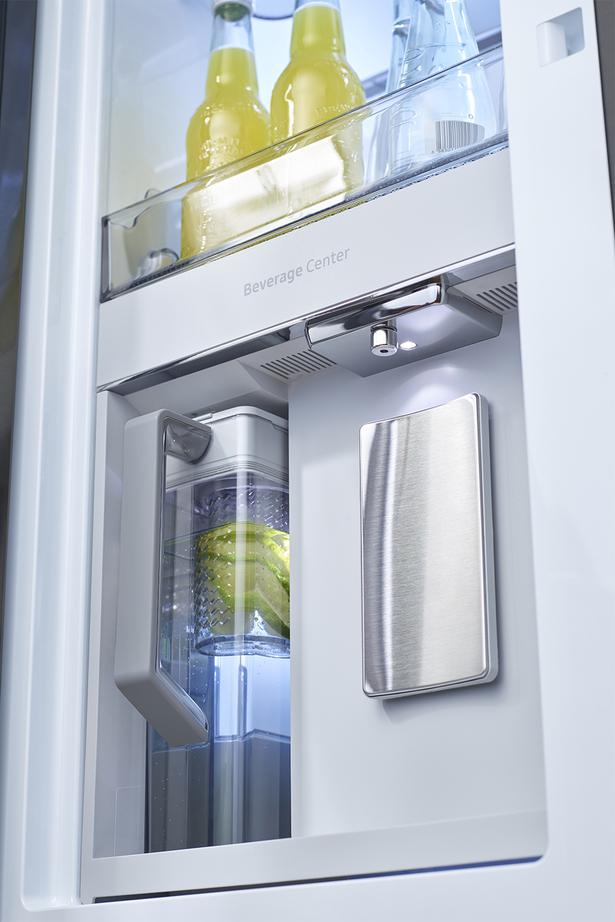 For those who like to entertain, the even better news is that running out to the store for a bag of ice because "somebody" forgot to fill the ice trays has just become a thing of the past. Samsung's dual-function ice maker has a capacity to make 2.6kg of ice a day, and stores up to 3.1kg* (that's twice the amount of other ice makers) You have a choice too, of standard ice cubes or "ice bites", smaller squares that chill drinks much faster (fancy that).
Quenching your thirst is just the beginning, though. Those who take their food seriously, know that quality produce deserves appropriate attention. Samsung's unique cooling system means delicious ingredients are always kept in an optimal state, with each compartment chilled evenly from corner to corner. The innovative technology also continually checks the temperature and circulates cool air via strategically placed vents. Even if you're in and out of the fridge all the time – teenagers we're looking at you – it quickly restores the ideal environment, meaning every shelf is always cool, and fresh.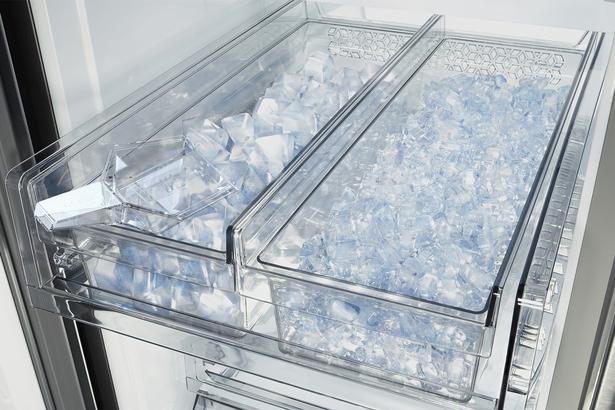 Need something chilled in a hurry? The fridge's powerful Cool/Freeze function is yet another feature that may save the day. Power Cool blows intensely cold air into the fridge to quickly cool your groceries or that bottle of something delicious you're in a particular hurry to enjoy. And the Power Freeze means if the ice cream needs firming or ice is in demand, come impromptu party time, your wait time just dropped dramatically.
The real beauty of all these features is the simplicity of it all, including an unobtrusive simple LED display that makes light work of controlling the fridge's operations, while the clever design, comprising those flat doors, means every possible inch of space is put to best use. More room for your groceries, safe in the knowledge they're in the best possible conditions.
An immaculate looking fridge with flawless performance and a range of functions to make your life as easy as possible, a Samsung French Door Fridge is set to become your kitchen's indispensable partner, the beating heart of your home.
Share this:
More At Home / The Latest