Kelly Coe of Augustine Shares Her Christmas Entertaining Tips
The glamorous founder and designer of the label Augustine favours colour and fun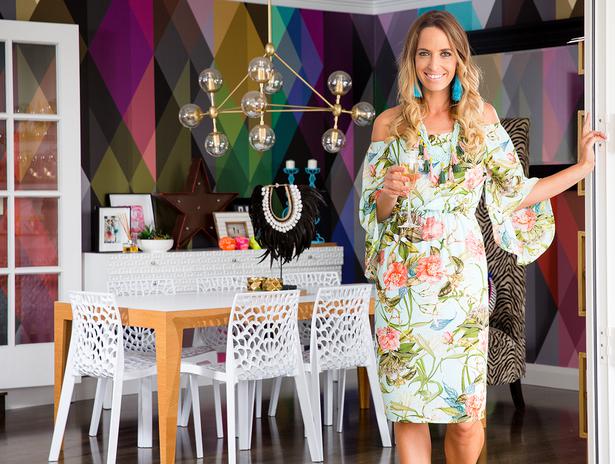 Wednesday Nov. 29, 2017
Festive entertaining tips
Always have plenty of wine in the house — you never know when friends will pop round for an impromptu drink.
Often you don't want a heavy meal and, instead, a massive platter is such a fun, easy way to feed guests — it's fun to graze and it's so much more social and interactive.
Always have gas in the barbecue — there's nothing wrong with sausages in bread, on the back lawn, with a cold cider.
Have plenty of lovely smelling candles in the house, and be sure to get a Christmas scented one — the fragrance of pine leaves is so nice while entertaining.
Ask guests to bring a salad that's not a green one and then your salad bar will be sorted. Put some meat on the barbecue and you're set.
READ: Entertaining Tips for the Party Season
Party essentials
Bubbles, rosé, sauvignon blanc, mojito ingredients. . . Ha ha, they're all alcoholic. I'd add in a great sunblock, fake tan (I use Jbronze and Little Honey), lip gloss (I use L'Oreal), a great straw hat, oversized sunglasses, cut-off denim shorts, a bright floral Augustine top and metallic flats.
Christmas playlist
Whatever is on the music channel on TV or the radio. I'm terrible with playlists so I just pump out the music channels on the TV and the children love dancing to the music videos. They love Taylor Swift and Katy Perry and my eldest loves a bit of rap. Lounge dancing is a regular thing at our house.
Christmas decorations
I'd love to say I decorate the entire house, as I absolutely love Christmas. But I only do that if we are having Christmas at our house. We're going to my parents in Tauranga this year, so I'll be low-key on the decorations at our place. We do have a massive blow-up Santa though and he'll be in the lounge.
READ: Impress this Christmas with These Top Styling Tips
Entertaining style
Very laid-back, with lots of fun, wine and noise. We never have people over for dinner who don't have children as well, so we can let them run free while we eat and drink and keep an eye on them. It's usually a barbecue with lots of nibbles.
Rolled hokey-pokey icecream for the children after dinner and they're in the pool until it's dark, then they watch a movie and crash out. I can't wait for long, hot summer nights. We're very laid-back Kiwis in that respect — there are no formal dinners at our place.
Favourite festive tipple
A cold mojito with lots of mint and lime is so refreshing on a hot day. If I'm in no mood to make that, it would just be a cold sav.
Favourite pudding
I'm not a fan of traditional Christmas puddings, don't like Christmas cake, trifle or Christmas mince pies. So I always get Mum to make her chocolate self-saucing pudding with lots of strawberries and vanilla icecream. Here's our favourite self-saucing chocolate pudding recipe – it couldn't be easier and it's delicious!

The Christmas meal I always have
Cold ham, new potatoes, turkey, minted peas, cranberry sauce and candied carrots. Delicious.
Christmas Day essentials
Lots of family around. I grew up in a small family so now we all have children it's much busier and I love that. Nathan has a huge family so when it's his family's year it's always busy. I love being surrounded by family, presents, food and wine. A Slip'N Slide is always out with water balloons and backyard cricket. We eat far too much and go to bed early.
I wear...
A fabulous, colourful summer floaty dress from my collection, massive tassel earrings, straw hat, oversized sunglasses, bare feet and a huge smile.
Real tree or fake?
Tried real last year and killed it. I don't have green fingers and I hated that it was crooked, so I'm going fake this year. Trying to convince Nathan, my partner, to let me have a pink tree but he thinks we have enough pink in the house already.
READ: Tips for an Unforgettable Christmas
Once the table has been cleared
We play with the children outside and sit on the deck with a wine.
On Christmas Eve
Usually, last-minute Christmas present wrapping and making sure we're prepared for Santa's visit. We put lots of food out for him and his reindeer. We may go into the Mount town for a drink with friends this year as we have family babysitters.
Christmas Day breakfast
We save ourselves for the big lunch, so probably just fresh fruit and French toast.
Most memorable Christmas
It would have to be any since having children, as it brings so much more joy to Christmas and makes it such a magical day. You feed off their excitement and it makes Christmas so much better.
I did almost drown one Christmas day when I was 8 years old. I flipped upside down on a new kneeboard in the pool and couldn't undo the strap. My mum had to jump in fully clothed and pull me out. For years after, I always went kneeboarding behind the boat with the straps undone, because I was worried I wouldn't be able to get out of the board.
Share this:
More At Home / Features & Profiles