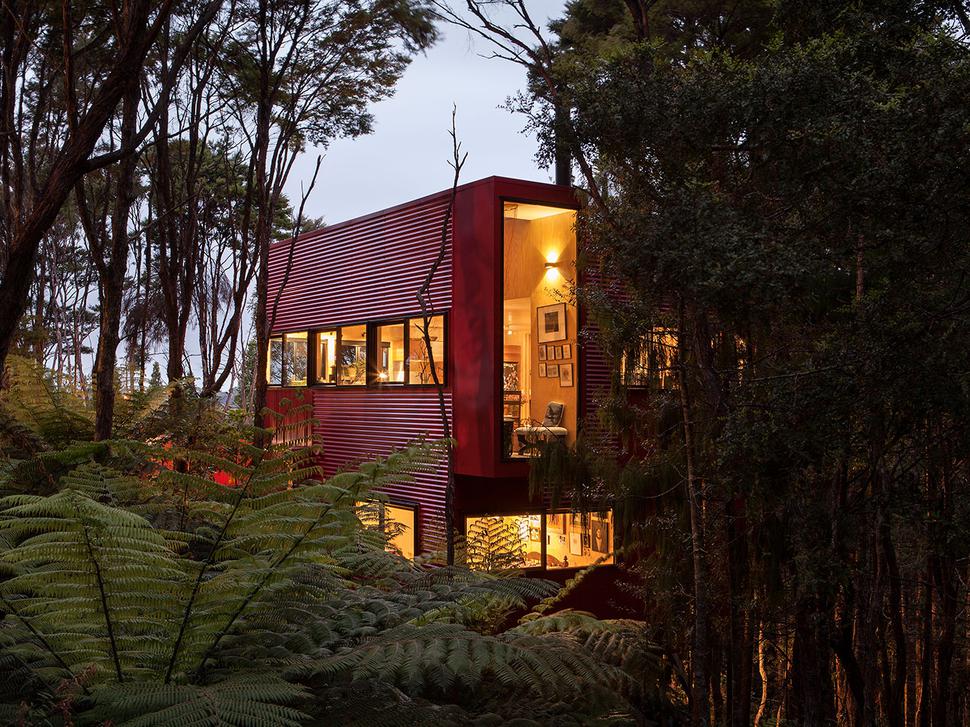 Ken Crosson's Award-Winning Red House
The renowned Auckland architect has just brought home a prestigious international design award for a home in the Waitakeres
Tuesday Feb. 27, 2018
Few architects make it to household name status, but for those who do, having a signature style is almost inevitably part of their renown. The sculptural curves of a Frank Gehry building, the futuristic curvilinear shape of a Zaha Hadid design, or the delicate interplay of concrete and light in a Tadao Ando building are all characteristics repeated in multiple works to the point where many are recognisable at a glance.
Award-winning Auckland architect Ken Crosson is about as close you get to a household name in New Zealand architecture. He's designed all kinds of buildings across four decades of work, had his work published in architectural magazines around the world, and presented television show The New Zealand Home. One thing the exuberant, articulate architect is resolute about, though, is that he doesn't have a signature style.
This is true. Not one Crosson Architects house looks like another. From Ken's own Coromandel beach house, a silvered box sitting lightly atop a hill, like a crate ready to be unpacked, to a dramatic, copper-clad west coast home inspired by the shipwrecks in the bay it overlooks, to the surprise of a red corrugated iron home in the Titirangi bush, every one is singular in its response to the client and location.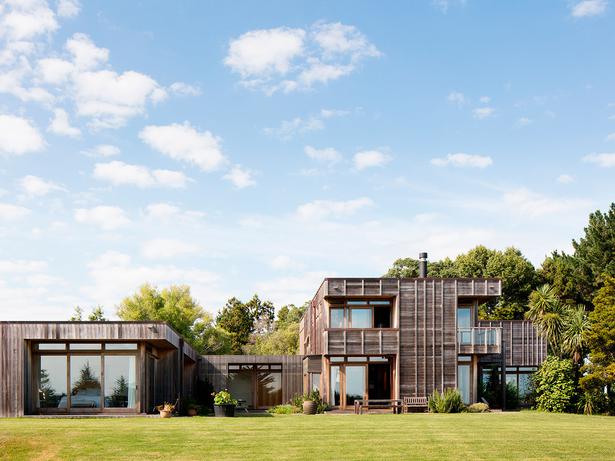 The Bach Bach echoes the pattern of a Bach concort. Picture / Jason Mann

This month, his idiosyncratic approach has claimed another major architecture prize — a German Design Award, granted for outstanding achievement in a specific area of design. The award is for his Red House, which blends historic references to New Zealand's architectural tradition, material response to the bush-clad site, highly efficient use of space, poetic use of light and innovative detailing.

READ: New Zealand at the Venice Architecture Biennale

From the outside, it's a compact, assertive presence in a thick patch of Waitakere bush, made with red corrugated iron to reflect the traditional material of rural New Zealand buildings. The iron panels alternate in direction, horizontally and vertically, an architectural device used to "create delight", as Ken puts it. Inside, a rich palette of wood gives a different kind of contrast to the green-and-blue views from the large windows and skylights.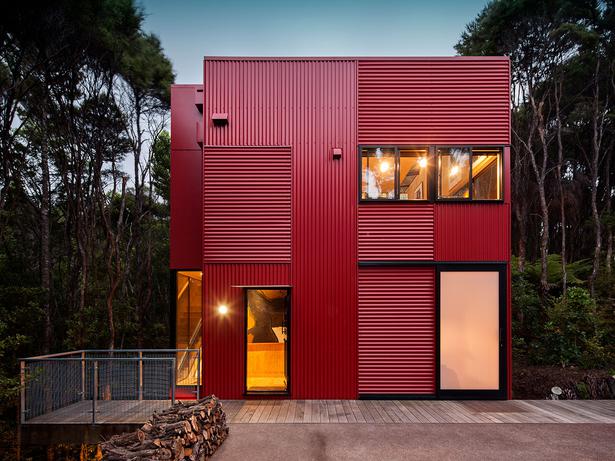 Although New Zealand architects tend to privilege beautiful landscapes over buildings — indeed, in some places, regulations require homes to be designed to blend into the landscape as much as possible — Crosson takes pleasure in designing homes that stand out. "If you look at those fabulous old colonial buildings painted in red paint, it's the perfect juxtaposition with the landscape," he says. "Red and green is a contemporary colour combination that I think works incredibly well."
READ: Renovating a Devonport Home into the Suburban Dream
Landscape and architecture can work together in a complementary way without one being seen as more important than the other, he says. "I've a theory about this. You know those Spanish and Italian hilltop towns? They'd be nowhere near as exciting if they were a town on its own or a hillside on its own. They work together. Or German or medieval castles around the UK … they work much better together than just the building in itself or the landscape by itself. The sum of the parts is bigger than each one alone."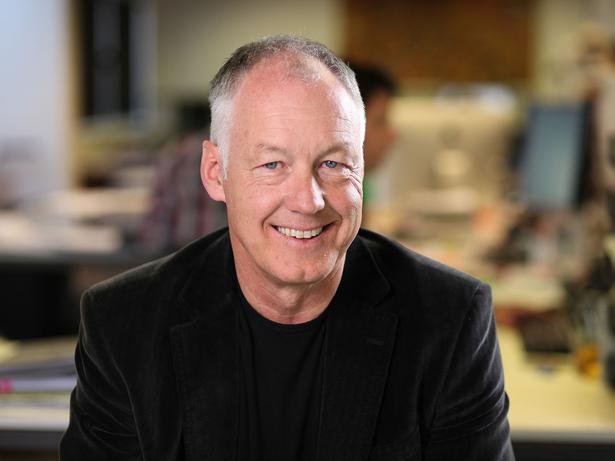 Ken's approach is born out of a desire to find a unique solution for every client that reflects their individual needs and personality. "When you're working in a whole lot of different contexts, you need a different set of parts, a different way of responding to those contexts," he says. "Every context is different, every client is different, every budget is different. We want something that is unique and special and optimal for that particular design brief." Each time, the practice digs into the history of the site and the client's lifestyle and personality, searching for a moment of magic that will provide the inspiration for the design.
READ: The Unassuming Elegance of New Zealand Modernism
For an opera singer and her husband, that unique twist came in the way the external and internal vertical timber battens of the house are arranged in a pattern based on the Bach Oboe Concerto. For a boat-builder in Northland, Crosson designed a home around the concept of an upturned boat hull, clad in rusted steel to call to mind the weathered exterior of a ship with many nautical miles in its wake. And for a family holiday home in the Coromandel, a lantern-like structure literally reflects their DNA, by being wrapped in a metal screen perforated in a pattern drawn from a mix of the family members' genomes.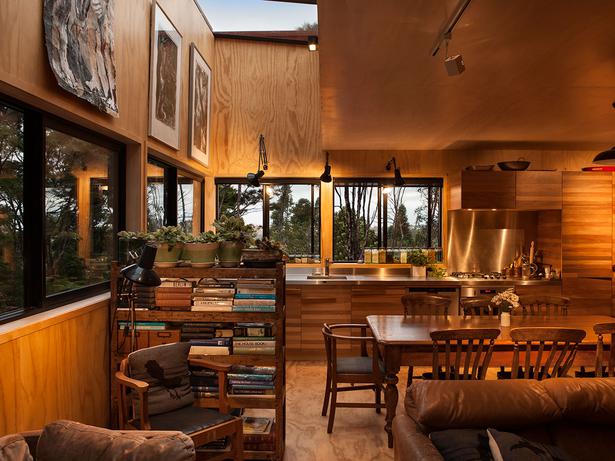 When the occasion calls for it, Ken will sometimes press his clients to reconsider their design wishes, especially when it comes to floor space.
"We put so many people into smaller spaces," he says. "People come to us wanting a 300, 400 square metre house and we ask, 'Why?' It's about efficiency, not about size. We have devices that will make a space feel bigger and better, so when people move into a place, they'll have no idea how big it is because that's irrelevant. It's about quality." The award-winning Red House is less than 100 square metres, but because of the light flowing in from the skylights and double-storey windows, it feels generous.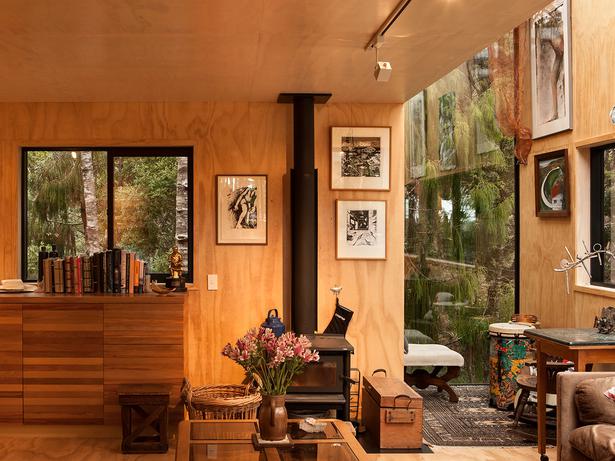 Sometimes the gulf between the client's vision and Ken's is far wider than the home's footprint. Ken recalls the time that a retired client and his wife came to him wanting a design for a home above the Kaipara harbour. They had something like a Lockwood home in mind. Instead, Ken presented them with a concept of a rugged, irregular grouping of copper-clad blocks, which the client initially balked at. "But it got under his skin, and he came back a week later. He just went along for the ride."
READ: Why You Should Live In A Small House
After the home was completed and the couple moved in, they declared that it had changed their lives. In fact, they loved the experience of having a home built so much that a few years ago, with the husband in his 80s, they came back to Ken and asked him to design another home for them.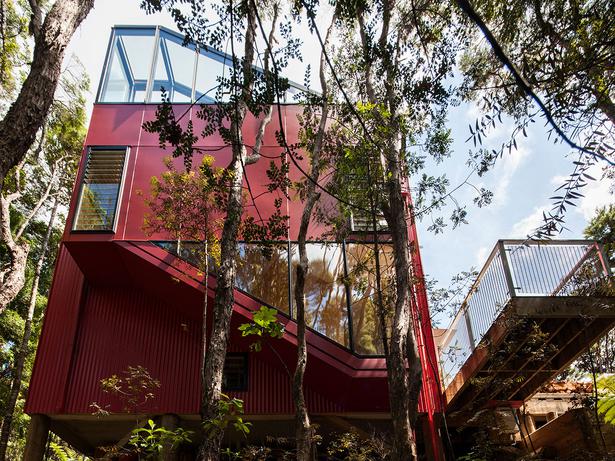 Sadly, the husband passed away before the new home was completed, and his wife is seeing the project through to the end by herself. "We're nearly finished the new house, but he's going to have to look down on it from above," says Ken.
Despite the story's note of sadness, Ken sees it as a good illustration of what his practice aims to achieve.
"The journey of changing lives, that's what we do," he says. "It's not about bricks and mortar, it's not even about 'houses'. It's about making lives better for people."
Share this:
More At Home / Architecture