Go Inside Kirsten Tweedie of Jetset Bohemian's Home
The eclectic home of Jetset Bohemian owner Kirsten Tweedie reflects who she is and where she has been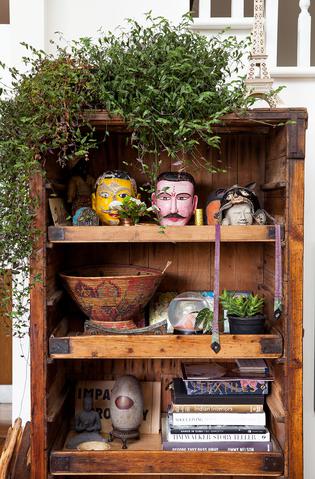 I remember the smell of dahl and incense and a bedroom strewn with colourful clothes spilling out of boxes; sequined dresses in emerald and gold, beaded bodices, scarves from Kashmir, bright quilts and heavy necklaces.
My friend Kirsten Tweedie always had a knack of finding, what she termed "good loot" wherever she travelled. Visiting her house to try on clothes before the masses could pick them over was like visiting an exotic bazaar.
That was in our 20s, our days of freedom, late nights and skin-tight jeans. Twenty years later, Kirsten, owner of Auckland store, Jetset Bohemian has turned a knack for trend-spotting into a business and a lifestyle that sees her travelling throughout India and Asia on a regular basis to source clothing, accessories and homeware.
"I'm influenced by the individual, rather than the masses," she says from the suitably bohemian lair in West Auckland she shares with new baby Luca and her partner Francisco Cantu — an industrial designer who looks after the website, photography and marketing for Jetset and also runs his own creative business.
Kirsten's home is an expression of who she is: a little quirky, a little boho, and where she has been. "My collection of objects are memories and symbols of experiences from my travels," she explains, as Luca crawls up and over their wooden coffee table from Nagaland, in northeast India.
Francisco adds, "When I first met Kirsten, I walked into her house and thought, wow that's a lot of mess, but actually, her mess is gold," he says, laughing.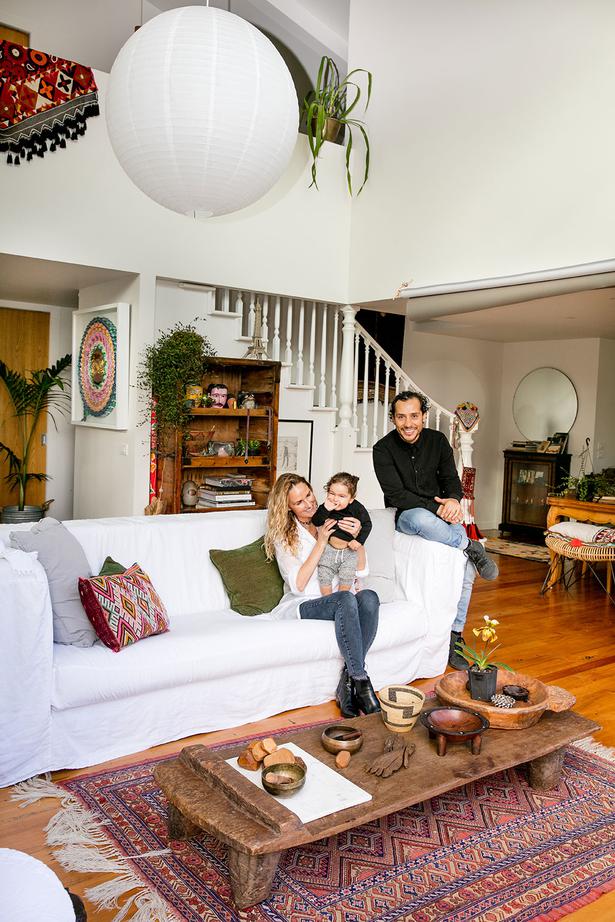 In the corner there's an ornate wooden daybed from Delhi hotel.
"It was a gift from the hotel, I'm friends with the owners and it wasn't being used, so they sent it to me as a surprise. I think it was originally a swing."
It's now a comfy spot, littered with colourful cushions and cotton throws, where Luca often falls asleep.
On the floor, a kitsch-cool tiger rug has more than one purpose.
"Buddhists lay tiger rugs to keep the ego at bay," explains Francisco. "We hope to bring more of these in later in the year."
An unusual red antique sculpture from South India of a tribal woman holding a mirror to her face is intended to ward off evil. And the brightly painted wooden bovine head above, with real antlers, is an antique from Delhi that celebrates the cow — a sacred animal in India. The beads draped over the horns are hand-threaded and purchased from a roadside market, while the three candlesticks below were found at a church in Vietnam.
See Kirsten Tweedie's Adventures in India
Kirsten has forged many friendships through her business, many are with artisans and artists. Auckland artist Daniel Blanchard's circular works on metal are a favourite, as are the many photographs she has collected from past photoshoots for Jetset.
The photograph of the woman holding the flowers to her face was shot by good friend, model and artist Annabel Cousins.
A knack for mixing affordable items with one-off, special pieces is apparent throughout the home. In Luca's room a replica mini Eames chair was purchased from Kmart, lying nearby an antique wooden carved tiger from Bali. Above, a beautiful shrine contains a mix of colourful religious icons, messages and gifts from close family friends.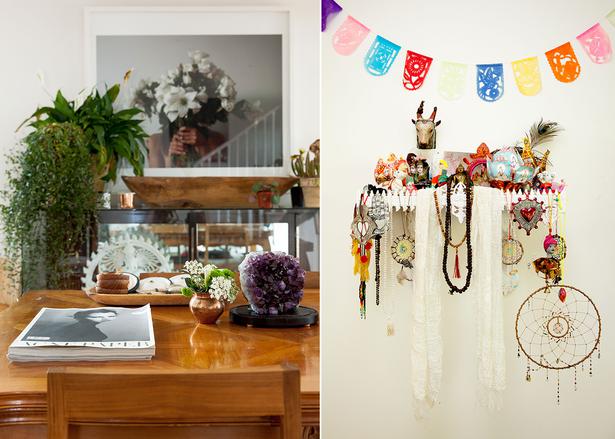 There's a blessing from the Dalai Lama and the Pope, Mexican boxers, a mini Hindu temple, crystals and dream-catchers from Tulum, Mexico.
"When he's old enough he can ask where they are all from. I think it's an important part of his history," Kirsten explains.
The bust, which she describes as "tacky" was purchased for $20 from a flea market and she adorns it with sunglasses and jewellery.
The antique baker's tray, bought from an Epsom store, is English and provides an ideal display shelf for all her trinkets, such as vintage door knobs, colourful face masks from Rajasthan, a cluster of sparkling amethyst gemstones, mango-wood sculptures and stacking wood stones made by Francisco.
An old shop counter in glass makes an effective display console, which she changes every now and then. Today there is an ornate brass painted sculpture of the Hindu god Shiva, the god of yogis who is creator and destroyer of ego, old habits and attachments.
Actually, yoga has had an integral part in Kirsten's life and ultimately led her to starting her business. Her grandmother taught yoga, as did her father, Richard, so it was natural for Kirsten to start practising. A turning point in her life was when she accompanied her father on a trip to Mysore, India to study Ashtunga Yoga for three months. Here she became interested in collecting textiles and meeting artisans.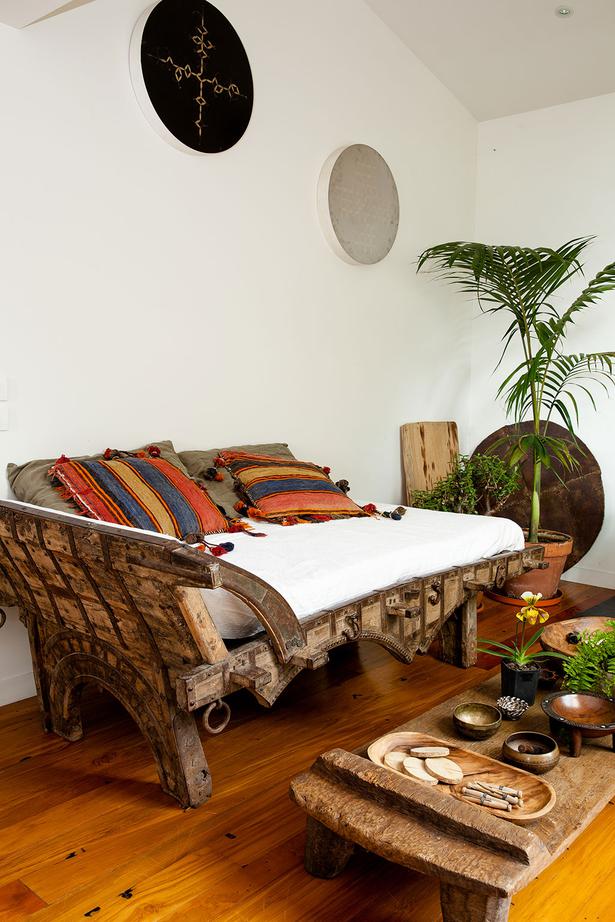 "At first I collected homeware and old embroidered textiles, then I got into clothing, finding local artisans to make clothing and leather goods for other students." On reflection, she says, "I feel like I owe a lot to India."
The obvious next step was to import clothing, accessories and homeware into New Zealand. It was hard work at first, she began by working the local Auckland markets for a few years before opening her first store in Grey Lynn.
A qualification in interior design from Christchurch Polytech and a background in visual merchandising has helped create Kirsten's aesthetic for clothing, and also for homewares, which she plans to expand into this year.
"I think fashion and homewares are entwined, for me one influences the other. I've never been much of a beige person, or one to follow interior trends. I feel a home must have a soul and feel lived in. It's also important to create a space for your mind to be creative. A good room has the right balance of space, colour and objects."
Friend and local jeweller Charlotte Penman says Kirsten is a free thinker when it comes to fashion and interiors.
"She brilliantly mixes ethnic patterns and textures with more classic and tailored fashion. And the close relationships she has forged with traditional artisans allow her to access products beyond reach for most buyers. She's also willing to go places many people couldn't even comprehend."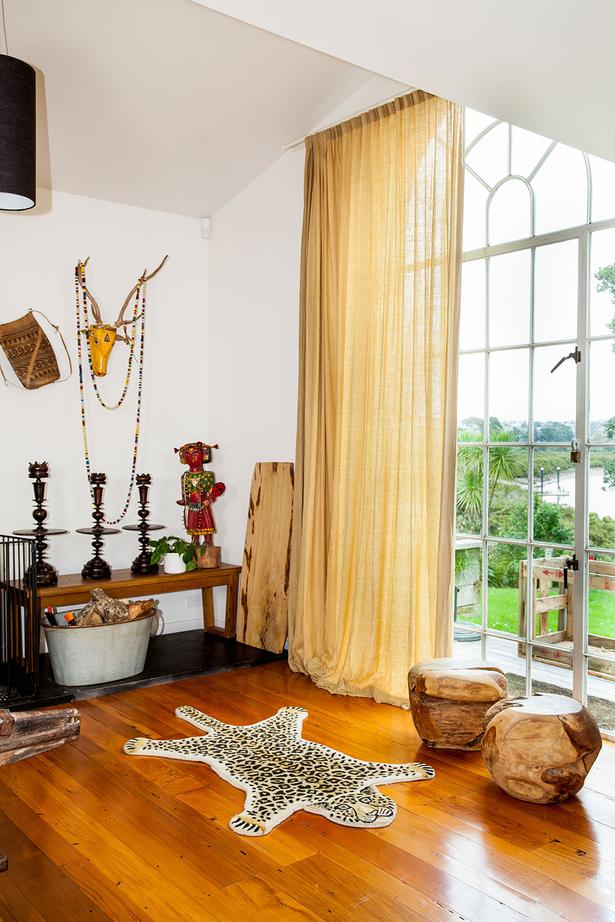 Kirsten's off-beat, tom-boyish fashion style is influenced by female style icons such as 41-year-old French model and rock producer Caroline de Maigret, known for her casual Parisian chic and local writer Judith Baragwanath, who has a distinctive style – think men's shirts, suit jackets, jeans and riding boots.
"She carries herself well and knows what suits her — she's had the same look for years and it works," says Kirsten.
As for her own style, "I like suiting mixed up with feminine details, but I'm also comfy in trainers and leggings. I'm quite a lazy dresser these days."
In order to keep up with trends abroad, Kirsten enjoys British Vogue and AnOther magazine — a bible for street style. But she says plenty of op shopping is how she became a good buyer and gave her knack of mixing vintage with high street.
Kirsten's travel schedule can be gruelling, especially now she has a baby in tow.
"People may think the buying part of the job is fun, but it's a lot of work, especially in 40-degree heat. On our first trip back to Asia after having Luca, we had to attach a fan to the pram to make sure he didn't overheat."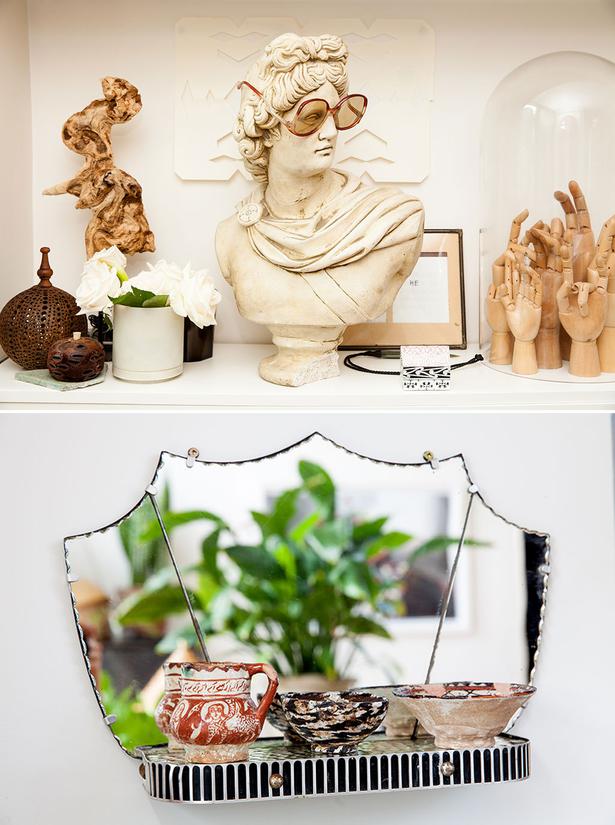 But it's part of the job and this time Luca will be nearly walking. Now that's trouble. I hug her as she heads out the door for her summer buying trip to Delhi, where the heat will be searing. On the way out, she throws me a thick sheepskin coat with rabbit fur trimmings in steel grey.
"I won't need that where I'm heading."
With all that new loot, perhaps she won't miss it when she gets back.

KIRSTEN'S TIPS FOR GOING BOHO CHIC
1. Collect items from your travels that have meaning to you — look for off-the-tourist-trail stores, avoid souvenir shops and head to antique shops or consignment stores.
2. Locally, check out Tango, The Fabulist and Flotsam and Jetsam for pieces with history .
3. Don't be afraid of mixing colours and patterns, a traditional rug can look great under a modernist chair.
4. Layer textures, there are no rules — plants, rugs, throws and cushions are a great way to introduce different materials to your home.
5. If you don't love it, leave it.
Share this: