Favourite Things: Celeste Thornley and Jasper Maignot From Kiss Kiss
Celeste Thornley and Jasper Maignot, from Balmoral eatery Kiss Kiss, share the things they hold dear
Thursday July 6, 2017
Kiss Kiss was a concept Celeste Thornley, Jasper Maignot and his brother Ludo had dreamt up long before they found the Rocklands Ave space off Dominion Rd for their restaurant.
However, when faced with a location that lent itself perfectly to the sort of environment they had imagined — a bustling indoor market that transported you somewhere balmy and cheerful — it would've been amiss not to bring their food fantasy to life.
Jasper's foray into hospitality began alongside Ludo at the markets in Nelson, while Celeste had studied fine arts prior to discovering her love for the industry. In 2013, the couple opened Mt Albert cafe L'Oeuf with Ludo, followed by Chinoiserie next door (they sold both just after opening Kiss Kiss last year).
Focusing on business and bringing up two baby boys leaves little time for Celeste and Jasper to set up a 'pretty house', but their home is full of big love and chaos — much like Kiss Kiss, which brims with haphazard charm, and wild plants retrieved from random places, repotted and given the necessary TLC to thrive.
Inspired by the diverse characters that make up the Kiss Kiss family as well as the effect interiors and environments have a dining experience, the intention is to create more than an eating place — it's a hive of activity destined to entertain all the senses.
And, you heard it here first: keep an eye out for the couple's next venture, Happy Boy, where American diner classics will be turned on their head with a fusion of Asian flavours.
FAVOURITE THINGS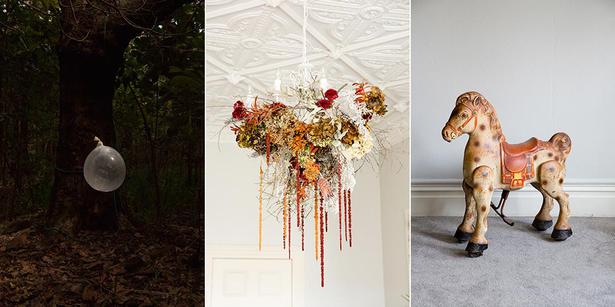 Photograph by my sister Roberta Thornley; dried flower arrangement by Jasper's mother; toy horse. Pictures / Babiche Martens
1. Photograph by my sister Roberta Thornley
Celeste: The title of this photograph is Round and Round. We often find ourselves sitting in the lounge looking at it, it changes throughout the day as the light moves and you're forever noticing something new.
2. Dried flower arrangement by Jasper's mother
Celeste: Jasper's mum recently opened her floral studio, Here Among the Wild on Jervois Rd. She was living with us at the time and set up this dried arrangement. We watched the flowers go from fresh to dry, hanging on a clotheshorse in our lounge.
3. Toy horse
Jasper: My mum found this tin toy horse when my brother Ludo and I were little, it was passed around their family as people had children and found its way back to us when we had our first son.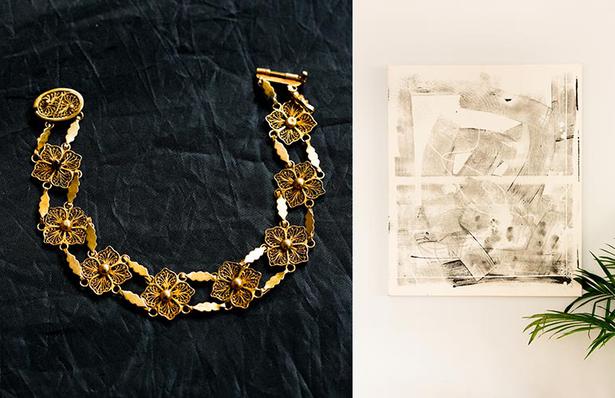 4. Heirloom bracelet
Celeste: This beautiful gold bracelet belonged to Jasper's grandmother, it's from Algeria and has since lived in France and now New Zealand.
5. Painting by Hugo Lindsey
Jasper: Hugo is one of our dear friends who we lived with when we first met, he is a friend for life and an incredible contemporary artist. His work holds itself nicely on these big walls and we feel incredibly lucky to have been gifted a couple of his pieces.
Share this:
More At Home / Features & Profiles