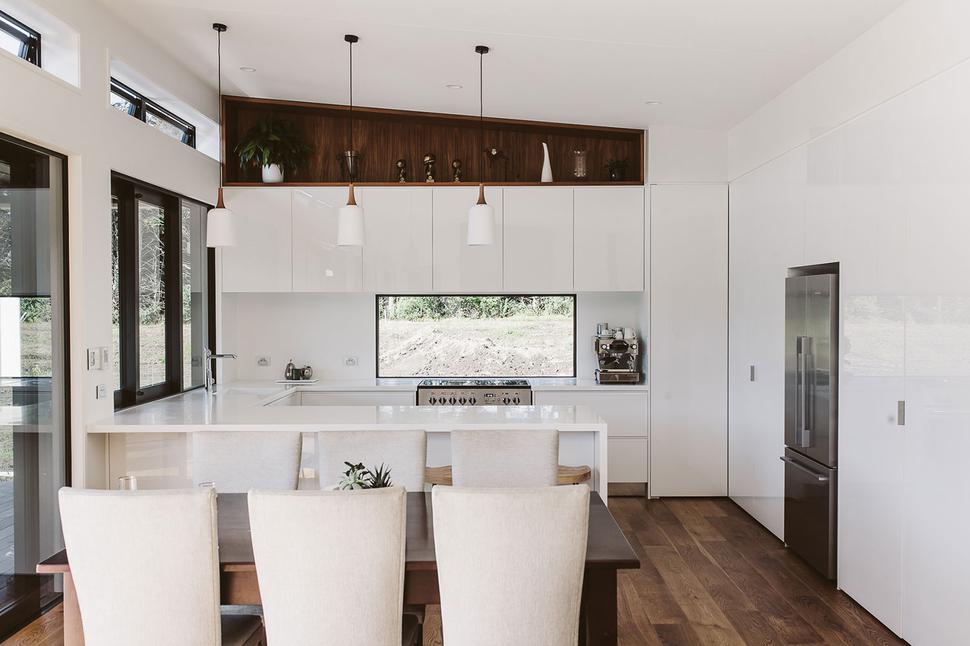 The Latest Kitchen Material Trends To Inspire Your Dream Renovation
A kitchen renovation is a perfect chance to play with trendy materials. We talk to two experts about the ins and outs of the most popular choices
Saturday July 7, 2018
A kitchen renovation is one of the biggest single-room projects you can undertake, so the stakes are high when it comes to the materials. It has to perform well, clean easily and last, but as the kitchen has emerged from behind the wall and become part of the living space, it also needs to look great and work with the wider living zone.
CORIAN
The benchtop is the most expensive part of any kitchen project, so longevity has to be a key deciding factor. Annika Rowson, award-winning Taranaki-based kitchen designer of Rowson Kitchens, is a fan of the solid-surface acrylic composite best known as Corian for its durability and 10-year warranty. "It's non-porous, which makes it ideal for kitchen and bathroom applications — it won't harbour bacteria," she says. "It's a matte surface, very tactile, and it has a fantastic colour range.
READ: Inside Josh Emett's Dream Kitchen
A lot of our projects are oversized, and Corian joins seamlessly, so you can have a completely continuous surface. It's very fluid and it's warm to touch, so in terms of the serving areas, it's a lovely product to rest against.
Also, it's repairable, so if you damage it you can repair it through sanding back and buffing." Annika favours the Organics range in the Corian collection for its naturalistic veined effects, and Glacier White, a warm white that "goes with anything."
Material tip
"Being acrylic, you can't put hot things on to Corian," says Annika. "In theory, you should always put things down on mats or chopping boards on any surface but you do have to be extra careful with Corian."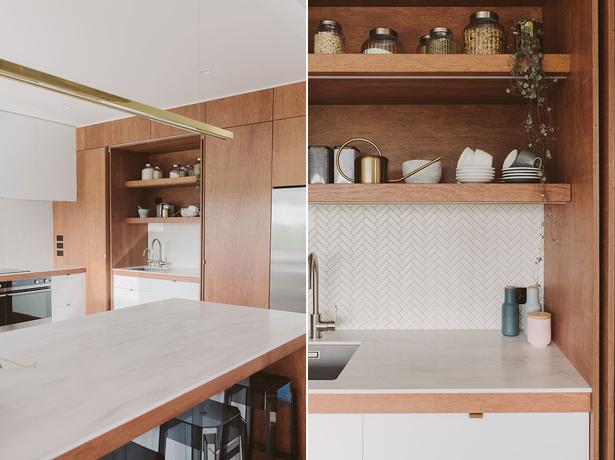 WOOD
Timber adds warmth and natural texture to a room often dominated by hard surfaces. "One of my key feature materials is timber," says Annika. "I do a lot of black kitchens and white kitchens, and I find that timber is a great way to add warmth to a lot of base tones. It really helps anchor the space." For a busy family farmhouse kitchen, she created a full feature wall of timber-finished cupboards to draw the eye across the large open space and act as a softer counterpoint to the polished concrete floors.
READ: Ken Crosson's Award-Winning Red House
One component of the cupboard wall that was often left open was the drinks station. To blend it with the rest of the space, Annika tiled up the back with herringbone-pattern ceramic tiles (one of her signature finishes) and added timber shelving to make the station feel "more like a piece of furniture".
Material tip
"I do shy away from timber benchtops," admits Annika. "Even if you seal them really well, they can get water into them. If a client really wants timber bench tops, the only one we use is 4G (Fourth Generation) Timber Tops from Kings Woodworking, which is a company in the North Island that specialises in sealed timber. Other than that, I tend to use wood for cabinetry, accents, and for island fronts, where it is a really durable product in terms of wear and scuffing."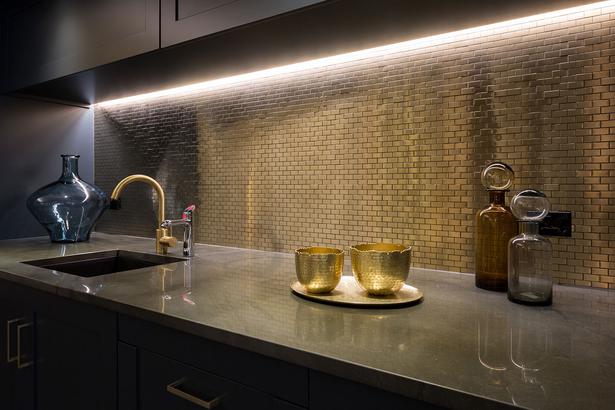 METAL
Metallic and mirrored surfaces are a great way to give a kitchen a rich and luxurious feeling, says Jason Bonham, director of Bonham Interior, an Auckland interior design practice that specialises in luxury residential projects.
For a kitchen that featured a dark blue petrol colour on the cabinetry, Jason chose small brass tiles for the splashback to reflect the champagne tones of a chandelier also featured in the space and to contrast lavishly with the blue surfaces. "When you illuminate a surface like [the tile splashback], you get a lovely reflective wash," he says. "With a lot of our lighting, we conceal it up in the back of the cabinetry so that it washes over the splashback but it doesn't create glare. It's a much softer way of showing off a texture."
The potential for play of light is fundamental to Jason's material choices. "When you put a surface horizontally, you get a lot of light reflecting off it, so it becomes brighter by about 10-15 per cent," he says. "When you're doing a vertical surface, especially when it's set back, it's always going to appear darker. You'll lose 10-20 per cent of the colour or tone or reflectivity because it's not catching the light as much. That's why we do a lot of lighting at the back.
READ: Inside Timothy Oulton's World of Antiques and Eco Homes
When you use stainless steel benchtops, you need to consider the light play and the materials you pair it with so there isn't a lot of glare. If you have a kitchen that's north-facing with the sun streaming in, the last thing you want to put in is a mirror finish, because at some point of the day you're going to need to put on sunglasses just to use the sink."
In that situation, if you're set on a metallic, Jason suggests you could use a ceramic tile with a rubbed metallic finish, or a satin finish or brushed-finish metal. "For stainless steel, we often use something with a 'linen' finish. That's a really nice way to dull it down but also keep a bit of interest while keeping it practical. Normal satin-finish stainless steel scratches really easily."
Material tip
Metallics might look luxurious as a finish, but when they are on an appliance, they're not so chic, says Jason. "I like to do integrated or semi-integrated dishwashers and fully integrated fridges. Big stainless steel appliances look ugly unless they're one of the ones that are designed to be displayed, like Sub Zero, or a wine fridge with a timber finish on the frame."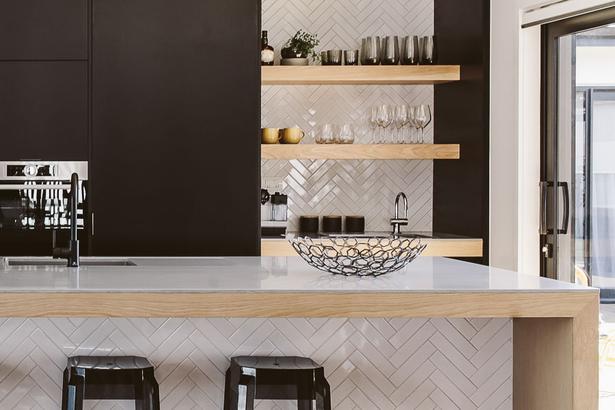 CERAMIC
Ceramic tiles are a traditional choice for kitchens, but they can give a very modern look. Annika Rowson says they're an elegant choice "and you can create a lot of different looks with them by playing with the size and the different grouts". In the aforementioned drinks station, she used a very pale off-white grout, so the effect became more about the texture of the herringbone tiling than the pattern.
Annika is a big fan of ceramic tiles for splashbacks as a way to layer in texture, and is starting to see more people choosing ceramic benchtops. "I do think the look is really fantastic. You just have to make sure it's sealed really well, like with a Grout Pro product." Jason Bonham also loves ceramic tiles, although finds the options available in New Zealand too limited for his taste.
READ: An Expert's Guide to Starting a Ceramic Collection
"A lot of the time we import tiles, and we do have the agency for two brands. The things we import are very interesting — carved marble tiles that give an undulating effect, tiny herringbone tiles that are just 2cm long, antique finishes and patinas, really artisanal pieces, beautiful geometrics, and corrugated ceramic tiles."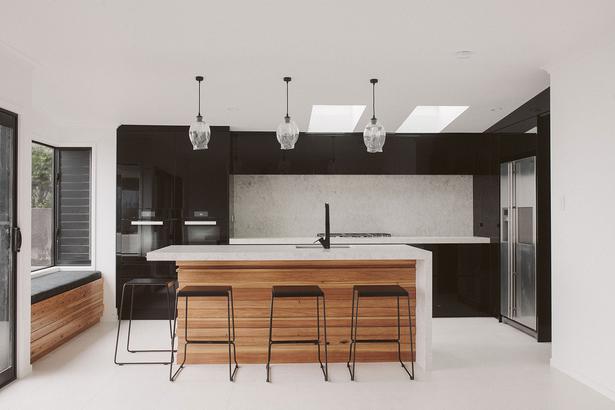 STONE
Granite is the king of materials when it comes to countertops, although it's a heavyweight when it comes to the price too. But there's a reason for that — it's extremely durable and hard-wearing, unlike many other stones. "I'd never use travertine in a kitchen, it doesn't wear very well," says Jason. "When it comes to stone, you have to understand your materiality. You have to know what an igneous stone is, you have to know what a sedimentary stone is, limestones versus marble versus quartzite."
Sometimes the easier choice is a stone that's not quite stone. Engineered stone is crushed quartz or marble held together by a resin or cement mix, sometimes with crushed glass, colour pigment, shells or metal added.
Annika used it for a recent project at a luxury bach where the clients wanted a hard-wearing surface with a gloss finish.
READ: A Cut Above: The Best Knives to Add to Your Kitchen
"We used it for the island, the back bench and the splashback to keep a really elegant and minimal look," she says. "With the black gloss cabinetry and the timber on the island and window seat, which was heart rimu from their family farm, we felt that was enough elements."
Engineered stone has come a long way, she says. "There's a huge amount of different finishes now. We've seen a big move towards suede finishes, rather than a polished finish. Silestone and Caesarstone are both very reputable brands. It definitely pays to invest in the higher-grade stone."
Material tip
Annika says that stone and engineered stone lend themselves to large-format splash backs, which she loves. "I'm a big fan of them because you have no grout line. So they're easy to install, easy to keep clean, and you don't need to worry about sealing grout."
Share this: