Burlesque Artist Lilly Loca's Minimal Boudoir
Lilly Loca lets us into her bedroom and shares her sleep routine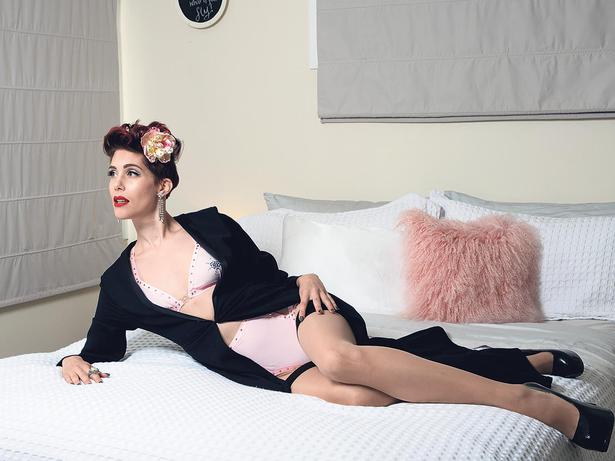 Wednesday June 28, 2017
In contrast to her vivid onstage persona, Lilly Loca's bedroom is distinctly minimal: with crisp sheets and neutral walls, a sky-high stack of books on her bedside table featuring the likes of Dita Von Teese, and a dresser filled with matte lipsticks hinting at her love of burlesque.
"I have been performing as long as I can remember. It's always been a form of self-expression as well as escapism," she says. "To this day I still think about performance as play - it's so important to have fun and explore, put yourself out of your comfort zone and test your limits."
And perform Lilly certainly does: her title includes actress, burlesque artist and drag king. She is also the director of her own production company Va-Va-Voom Productions, as well as "headmistress" of her own burlesque school, Bambina Burlesque Academy.
An early riser, Lilly starts her day between 5am and 6.30am with an almond milk matcha latte or green tea, and cuddles in bed with husband Shane and daughter Aria. "I guess most people expect a burlesque artist to have a gorgeous negligee to swan around and sleep in. Truth be told, I'm a parent, so it's usually a pair of briefs, an oversized T-shirt and, if it's cold enough, a onesie."
Come July 8, Lilly will be turning it on as she competes alongside eight other burlesque performers in the Grand Tease Hamilton Heats. She's also set to put together the Bambina Burlesque Graduate Showcase, on July 28 at Cassette Nine.
How do you start your day? Describe your usual morning routine.
My daughter will come and wake Shane and I up anywhere between 5-6.30am. We'll have cuddles and chat for about half an hour in our bed, then head into the kitchen to grab breakfast. Aria will sit at her wee table and eat a bowl of fresh fruit and toast, Shane will generally have banana on ciabatta and a mocha, and I'm a real savory girl, so I'll generally have gluten-free/vegan toast with garlic hummus, avocado and sango sprouts, topped with loads of pepper and a pinch of salt. Having just kicked the coffee habit, I'll either make myself an almond milk matcha latte or a green tea.
How does the decor of your bedroom reflect who you are?
With what I do, it's a very social job and loads of colour, noise and lights. So for at home, although we have a small place, I want a sense of comfort and zen. White walls, clean, crisp bedsheets, neutral tones with a pop of colour from a photo or lamp shade. I'm a very family orientated person and Shane is very much a homebody, as am I, so we just love having our own little place of comfort where we can take time out from the rest of the world and relax.
What are your favourite ways to relax and take time out?
I'm an active relaxer. I find it very hard to sit and watch a movie without preoccupying myself with something else. Generally, I love to do yoga (I do my own home practice), rhinestoning (although it's far more arduous than it looks), experiment with cooking vegan and gluten-free meals, reading and simply just hanging out with my family. As my job is so social, I love spending time at home.
Share this:
More At Home / Features & Profiles