Mahsa Willis' Festive Entertaining Tips
A natural and simple approach to the season is key for the designer of cult label Mahsa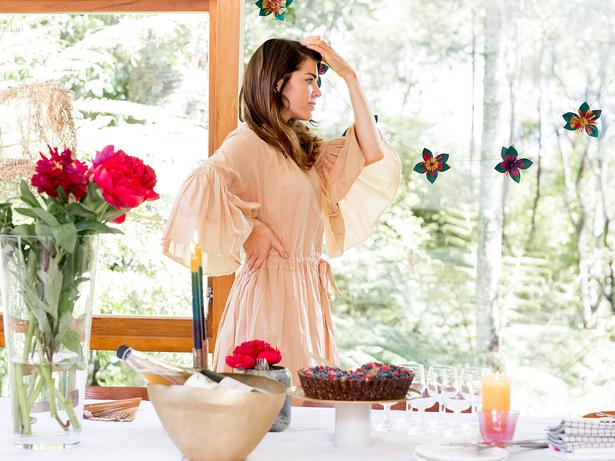 Wednesday Nov. 29, 2017
Festive entertaining tips
Stay relaxed, be with people you love, go to the beach, read, turn your phone off, enjoy sunrise and sunset.
Party essentials
Mum's kasundi, Mahsa 'O'Keeffe' dress, Sans [ceuticals] oil, Japanese incense.
Christmas playlist
Frank Sinatra, Stan Getz, Kurt Vile, Chet Baker, Lorde, Arcade Fire, Neil Young, Devendra Banhart, Manu Chao, Nicolas Jaar, Nadia Reid, Damn, Alt-J, Beck, Bill Callahan, Nick Cave, Jubilee Street.

Christmas decorating
Simple olive branches or bay tree branches along the table, sustainable party crackers and hats — pretty simple at our house. A beautiful candle, from Curio Noir or Tom Dixon.
READ: How to Create an Unforgettable Table Setting
Entertaining style
Relaxed and unconventional.
Plan ahead or embrace spontaneity? 
A bit of both but we end up throwing it together and everyone enjoys it. My sister is a chef, so that's a huge bonus when it comes to planning and execution.
Favourite festive tipple 
French Champagne, kombucha, rosé and ice during the day.
Favourite pudding 
Two: Little Bird's tiramisu or the hazelnut and cocoa chocolate tart.
READ: Bite-Sized Dessert Treats for the Festive Season

The Christmas meal I always have
Mum's Thai fishcakes, salads from the garden and Dad's freshly dug new potatoes, organic avocados, Mum's tomato kasundi.
Christmas Day essentials
French Champagne, old family beach towels, surfboards, Mahsa everyday shirt, Aesop Tacit fragrance… And later, looking up at the stars with Dad, keeping things in perspective.
I wear...
Mahsa 'O'Keeffe' dress in white or camel, vintage denim, Ray-Ban Wayfarers.
Once the table has been cleared
We sit or lie around and talk ... music in the background.
On Christmas Eve
We have a dinner at our family home — we laugh, children go nuts, parents collapse.
Christmas Day breakfast
Coffee — Dad's best stove-top brew, buckwheat blueberry pancakes, fruit salad, lemon almond friands, Champagne.
READ: 5 Tasty Brunch Recipes From Top Chefs
Most memorable Christmas
They are all memorable at Fruit Forest, my parent's place in Opotiki. It's like a retreat and sometimes it's chaos with so many children, but it's still a retreat because it's so unpretentious, real and relaxed.
Christmas Day games 
Cricket on the beach? We surf or watch the children and watch our Uncle Sanga surf, even on the small stuff, he's fun to watch. Diving with Uncle James, he's a bit of a legend and seems to always bring something back.
Share this:
More At Home / Features & Profiles