Making the most of tight living
Three architects show that dense living needn't compromise cosiness. Clever design makes the most of tight living, writes Nicola Stock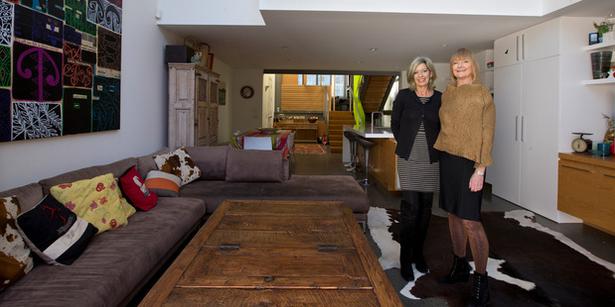 Wednesday Sept. 11, 2013
Much has been said recently about densification of the city, and most of that has been argumentative, fearful and misconstrued. This is often for good reason - there aren't that many good examples of apartments or terraced houses in Auckland. Most developer projects have been cheap, ugly and small, and there's little joy or amenity in their designs.
Yet these three designers show you can create warm, cosy, interesting and private homes even in close proximity to other people, and then get all the other benefits that medium density brings - like walkability, community and enough population bustle to support good restaurants, parks, theatres and museums.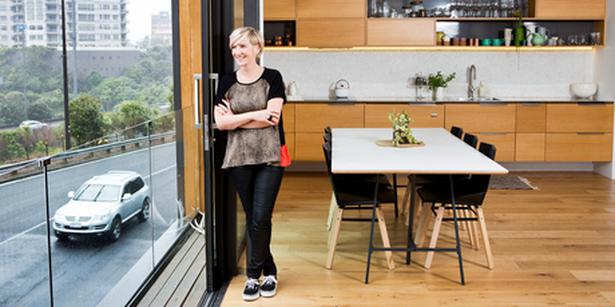 From her dining table, Sophie Wylie has an enviable view of Auckland Harbour. Many would be less envious of the apartment's position: perched to the side of one of the country's busiest motorway off-ramps. But being part of that movement and energy is stimulating to the architectural designer. The apartment she designed (and her husband and father-in-law built) responded specifically to this urban environment and is a quiet, calm and stylish space only metres from the rumbling traffic.
The apartment was designed for them, rather than an anonymous investor. This allowed them to prioritise design and create a dense urban apartment that you really want to live in. "Investors are driven by different sets of requirements than owner-occupiers. But people are now expecting better apartments that consider good proportions, scale, beauty and an identity - a sort of 'city house'."
The apartment isn't a temporary solution before retreating to a suburban dream. Even having their son, Otis, three months ago hasn't altered their view of city living - if anything, their central location has been a boon while Wylie has been home on maternity leave. "Having Otis and living in the city encourages us to explore more; we take the car less, bike to parks, it's easy to access facilities and activities. You tend to escape outside more due to living in a smaller space and only having a deck, but I think this is a good thing."
Although this apartment - designed and contained in the midst of the city - is something of an anomaly in Auckland, Wylie looks overseas for architectural examples of city apartments that manage to be wonderful places to live, in spite of their size. "We have stayed in many apartments in Europe and Asia that are only 40sq m and they work very well. Stud height and windows for both light and outlook in apartments are key - a higher stud really amplifies the sense of space, while large windows liberate the space and connect the occupants to the city."
The black metal cladding may have been chosen to stand up against the grit and noise of their Symonds St location, but many other design elements are expressly suburban. "Timber decking, cedar cladding and hanging planter baskets soften the more robust parts of the design and offer moments of privacy, while also emphasising the act of being on display," she explains.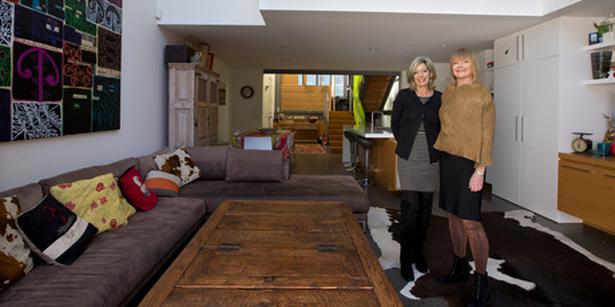 Those issues of privacy and display come to the fore when looking at dense living. Lindley Naismith of Scarlet Architects notes that the difficulties in addressing those concerns requires good designers to be brought into dense projects. "Tighter sites and multi-unit developments demand greater design expertise to provide the clever design solutions that ensure no compromise in quality of life when space is at a premium.
"Addressing privacy, working to achieve plenty of sun and natural light, and providing a sense of spaciousness are design strategies architects utilise when designing for quality medium- to high-density city living."
Naismith and her business partner, Jane Aimer, designed adjoined terraced houses in a mixed-use section of Newmarket where their two families now live side by side. While they could have built to six storeys, they chose to respond to the height and mass of the neighbouring buildings, creating a contemporary interpretation of the nearby Victorian cottages, with the veranda structures re-interpreted as double-height bay windows with shutters.
The shutters also gave the families privacy from the 10-storey building across the road, showing that even on tight sites, function can dovetail with aesthetics, creating positive experiences for the inhabitants as well as the street.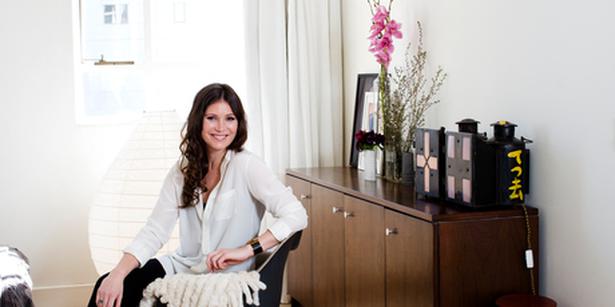 Maggie Carroll shows that comfortable urban living isn't limited to a purpose-built space. A principal of architecture firm Bureaux, her apartment within a 1924 warehouse building in downtown Auckland makes the most of an existing shell. Her apartment came with low suspended ceilings and carpeted false floors, compromising the "magnificent ceiling height". She removed both to reveal the original concrete floor and ceiling, reviving the industrial scale of the building and suggesting a new, more flexible and modern way of living. An eclectic mix of old and new is seen in the recently renovated bathroom that combines modern fixtures with vintage light fittings. In the living space, full-height linen curtains continue the raw and neutral palette that will be added to as her budget allows.
Maggie is testament to the growing desire of people to be part of the city, living and working here, especially as new developments continue to make the city more liveable and interesting. She says: "Recent developments to areas such as Britomart Precinct and North Wharf have really helped activate the city. There's variety on so many levels, convenience, and a very special connection to the water."
Her backyard is the city, which, as more people move into the city, is developing a new-version neighbourhood community in the CBD.
Share this:
More At Home / Architecture