Martino Gamper: The inventive situationist
Martino Gamper does extraordinary things with chairs - and awkward corners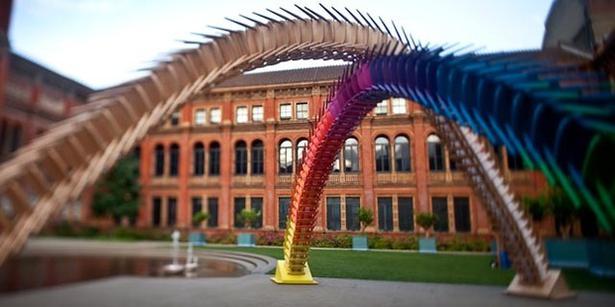 Wednesday April 10, 2013
The first time Italian furniture designer Martino Gamper came to New Zealand, he employed his easygoing charm to wangle a job as a pizza chef at a ski resort in Ohakune.
"I love to cook, so that way of making a living was easy for me."
Earlier this year when he visited, there was also a culinary theme. It was in support of his latest designs - elegantly sculptural wooden cutting boards and unpolished brass salad servers crafted for stylist Katie Lockhart's Everyday Needs store.
Gamper and his wife, Taranaki-born sculptor/artist Francis Upritchard, live in London, in an end-of-row brick terrace in Hackney.
"It's comfortable, not showy," says Gamper of their apartment.
Known for idiosyncratic ideas that challenge design cliches, his oeuvre has become reworking furniture that has been discarded, either on the streets of London or by larger, more prestigious institutions. Sometimes these patchwork creations are functional and utilitarian, quite at home in the couple's colourful kitchen; at other times they represent an ephemeral idea and are simply a homage to their history.
Always, though, Gamper's emphasis is on handmade, rather than production-line pieces.
This seems an anti-establishment philosophy yet, slowly, the big names have been drawn to the designer/maker, an olive branch of collaboration in hand. It began six years ago when Gamper re-interpreted pieces that were rescued from the refurbishment of Italian architect Gio Ponti's Parco Dei Principi Hotel in Sorrento. These were mainly scratched headboards and doors in the architect's distinctive turquoise colour theme that nobody wanted. This opportunity was a privilege for Gamper who considers Ponti one of the greats.
"He designed the Superleggera chair, the lightest chair ever made, which is still in production. He was an artist, editor, designer and architect and he invented the 'furnished' wall," says Gamper.
It must have been nerve-wracking then, for him to chop up examples from his hero's hand into smaller bits so he could reconstitute the pieces into commodes, desk lights and mirror stands. But the result was a triumph and it started a theme - the reinvention of iconic design.
In 2008, Gamper turned his eye to another Italian legend, Carlo Mollino. He was offered the chance to work his magic with chairs that once stood proudly in the Lutrario ballroom in Turin. He transformed these sensuous Ardea chairs, with their distinctive ovoid red backs and seats, into 16 sculptural statements.
Earlier this year, Gamper joined forces with Italian design company Moroso for an exhibition entitled The Metamorphosi. His reinvention of Ron Arad's 2001 Victoria and Albert sofa was like a twisted rainbow-striped lollipop.
It all seems a far cry from his humble lifestyle in Hackney where Gamper and Upritchard grow vegetables, have painted the kitchen cabinetry bright colours to disguise the imperfections and furnished the flat with examples from his "100 chairs in 100 days" project. More on that later, but suffice to say, he's come a long way, physically and philosophically, from his time as a 14-year-old carpenter's apprentice.
Gamper was born in Merano in northern Italy, and his family were apple and grape farmers. The boy instinctively knew his future did not lie in having soil beneath his fingernails. As soon as he could, he enrolled in an apprenticeship with a local cabinetmaker.
"It was an innovative programme where I was allowed to attend school for one day a week in order to get the minimum qualification," he explains.
The rest of the week was spent working side-by-side with a master craftsman in a small firm that made anything from ornate rustic ceiling rosettes to bespoke kitchens.
"The experience taught me the discipline of work and gave me a 360-degree vision of the design world, from measuring up on site, to draughting a plan, to working with the materials and fitting the finished product." It also gave him an appreciation of precision. "It's not enough to just do the job; you have to get it right."
For many years, study and work became a way of life. He took Applied Sculpture in Vienna at the Academy of Fine Arts with Michelangelo Pistoletto, influential in the 1970s as a significant mentor of the Poor Art movement, which sought to break down the social injustices of art being solely the domain of the well-to-do. Simultaneously, he was accepted at that city's University of Applied Arts where he took a course in design.
"Rushing from one to another, I was leading a double life," he says mysteriously. Later, he took a course in ceramics and glass with Matteo Thun.
"This was a new world for me. I went to Milan to work in his studio and stayed for 18 months."
Next up was England's turn. After completing a BA and MA at the Royal College of Art in London, Gamper graduated in 2000 - and started his own practice.
"I rediscovered furniture design at the RCA," he says. "I realised that, actually, I could design furniture, not just products. And, with my cabinetmaking background, I knew I could make it myself, too."
So that's what he did. Some very simple shelving for a friend, a modular system of boxes in four different woods and two colours that, when slotted together, could clamber at random over any wall. The shelving began to get him other commissions. But it was still hard to make a living until he looked at the world in a whole new way. At RCA, Gamper had begun to consider and research corners. Yes, corners in rooms.
"I realised they were not really considered as an entity by furniture design. Because these days furniture is designed as either square or round, they created awkwardness. People often fill them with a plant."
He determined to bridge the gap: "I could have done another table or chair but I wanted something to possess, a theme that would start a conversation."
He produced a series of items including the Sit Together bench, a Totem bookshelf, and even lighting that celebrates the corner. They are specifically designed to fit within its 90-degree angle. These put Gamper on the radar. Wallpaper* magazine wrote a piece on him.
"Back then, if you weren't Philippe Starck or working for Cappellini, you were just a loser, having 'fun'."
A touring exhibition supported by the British Council - a mobile library using his book corner shelf design - gave him gainful employment. His corner storage bench went into production at the Aram Shop.
It was the beginning of bigger things for Gamper who has two sides to his business - the functional, and the sculptural. He is best known, perhaps, for a project entitled "100 Chairs in 100 Days", an idea that had its germination when he lived in Berlin.
"My friend Rainer Spehl and I would visit a cafe that had no benches outdoors. We offered to design one for them for free coffees."
The pair visited skips and junk shops to find the materials for the seat. "It was fun and playful and almost not part of the design world. The spontaneity of it and the fact we had an instant customer, felt like a better way to think as a furniture-maker."
The idea to create 100 chairs in 100 days was also in response to several Italian companies calling Gamper to ask him to design them a new classic. "But there's no such thing as the perfect chair. You can't design one. Many circumstances make a classic."
With his project in mind, Gamper began to collect old chairs and parts of chairs found abandoned on the streets. Friends also gave them and even Ron Arad stumped up with a donation. In 2004 and 2005, Gamper began to assemble new chairs from old. "I didn't do complete them on consecutive days - it took me around two years."
For Gamper, the fun was in the challenge. The learning was in the disassembling of the original chairs.
"It was an opportunity to discover the thought processes of other designers."
He sees the chairs he created, amalgamations of this and that, as characters. "I loved their diversity. They were all different, individual - and, like people, none of them perfect."
This open-mindedness, this spirit of continuous exploration has taken Gamper to all corners of the world but he loves returning every year to New Plymouth, to visit family and friends. Working with Katie Lockhart and other personal clients here in New Zealand, he's trying to learn more about local materials. He's collaborated with Upritchard and Wellington-based jeweller Karl Fritsch on shows for the Govett Brewster Gallery. And recently, he crafted a wedge-shaped staircase in New Zealand redwood for a renovation in New Plymouth.
"New Zealand has a great history of craft so I can't understand why, when you have so many amazing woods, a local furniture industry hasn't developed? It wouldn't surprise me that you just export those raw materials to make paper, chipboard and MDF."
Gamper certainly hopes to explore what is possible here. Of his style, he says: "I'm reactive and adaptive, what you might call a situationist. I like to create something new rather than just go along with things."
Sounds like a plan.
Share this: