This Minimalist Waiheke Island Home Shelters Stunning Views
Behind the doors of Virginia and Carey Thompson's Onetangi home awaits a picturesque view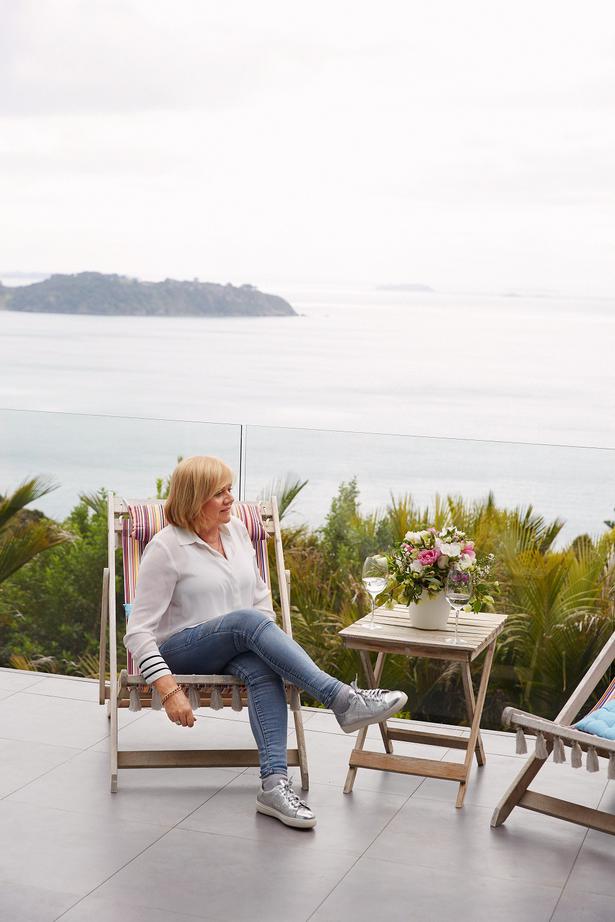 Monday Nov. 5, 2018
A love of flowers and creativity runs in the blood of Virginia Thompson's family. Her grandmother used to gather posies of violets and daffodils to sell, her mother is a watercolour artist and Virginia co-founded the Flower Gallery on Waiheke Island, where she lives with her husband, Carey, in Onetangi.
Virginia and her husband first came to the island as weekenders, spending holidays in a bach on the same section where they eventually built their permanent home. For many years Virginia ran her floral design business out of her home but eventually she was persuaded to open her own retail space.
READ: Favourite Finds on Waiheke Island
The house they built has a combined living, dining and kitchen space, which opens up to a large deck that overlooks a patch of native bush and has a sweeping view over Onetangi beach. "We spend the majority of our time on that deck. The doors open up from the kitchen and dining area, so it's quite lovely."
The home's main outdoor space isn't immediately apparent. "When we first built the house I wanted it so that when you drove up, you didn't see the view," says Virginia. "It isn't until you open the front door that you look right through the house and can see it."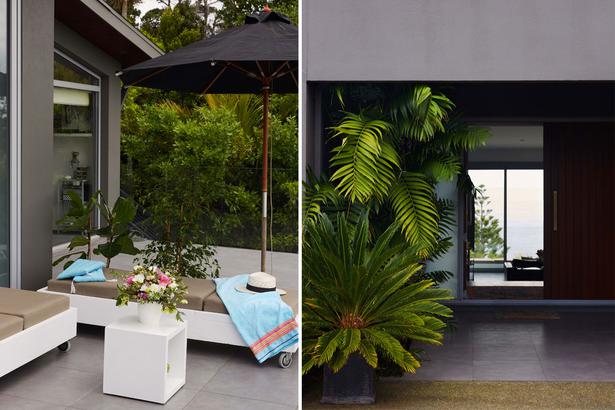 Built in solid concrete, the house has a minimal aesthetic that allows the landscape views to take centre stage. Virginia likes to bring the landscape inside through pot plants, and her own floral designs. "I always makes sure I have fresh flowers on the dining table because the ceiling is very high, so it gives it some balance."
READ: How To Arrange & Style A Vase Of Romantic Wildflowers
Because the view encompasses a stretch of native bush, Virginia likes her own designs to provide a contrast. "I often like flowers that look very natural and just-picked, greens, whites, with a touch of mauve to give it a lift."
Virginia says she and her husband often eat on the deck, or use it when they have friends over. "It's quite a sheltered area so the southerly winds come from behind us. It's north facing so we get all-day sun to the last of the evening sun. Boats anchor at Onetangi beach so we have a lot to look at with the boats coming and going and the ships going past in the distance. It's always changing in terms of the colours."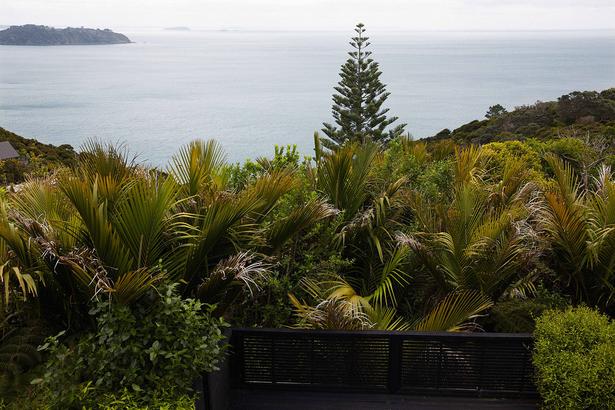 With the richness of the native bush nearby, the area doesn't need a lot of dressing. There are two seating areas, and two big loungers shaded by sun umbrellas. Two deckchairs in a striking stripe are favourites of Virginia's — she re-covered them using fabric she sourced from Madder & Rouge in Newmarket, redoing the tassels herself.
READ: Mastering The Art Of Floral Arrangement
With New Zealand Flowers Week coming up, Virginia is planning to spread the joy of flowers through a "random act of kindness" event — leaving bouquets of flowers in public places around Ostend for lucky passers-by to find and take home.
A couple of weeks back, the store left a bouquet on a bench seat across from their shop, says Virginia, and the finder brought it back into the shop because she thought someone had lost it. "When we told her it was actually left there as a gift, and it was hers to keep, she burst into tears. She said she'd had such a terrible day and it had really made her feel better to hear that. During New Zealand Flowers Week we'll definitely be doing that again."
• New Zealand Flowers Week runs from November 5-11. For more information about events and promotions during the week, visit Nzflowersweek.co.nz
Share this: