Escape To Somewhere Exotic With These Outdoor Furniture Picks
The vibrant colours of the Moroso M'Afrique outdoor furniture collection, found at Matisse International Furniture, are favourites of luxury resorts and designer homes around the world
SPONSORED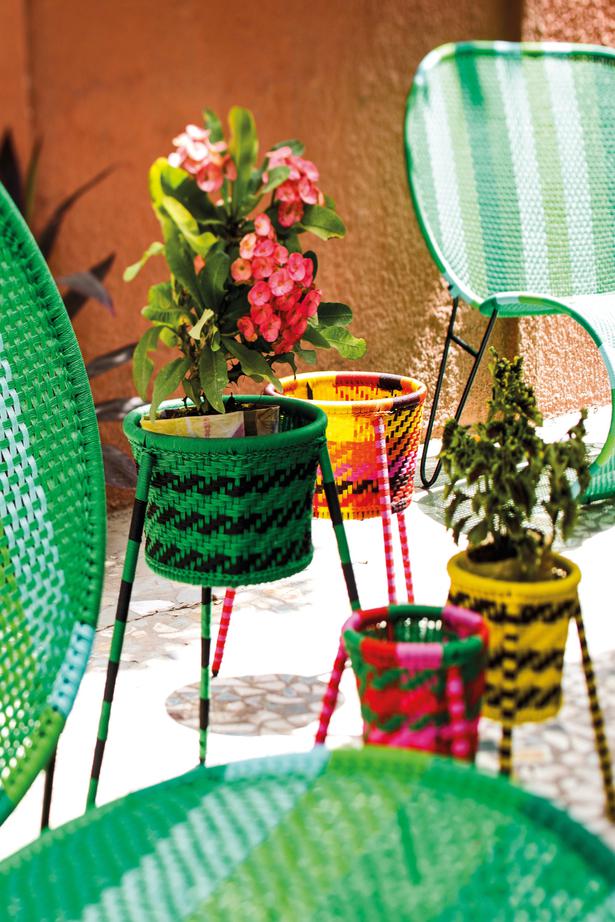 Tuesday Dec. 3, 2019
At this year's international furniture shows, a key direction in outdoor furniture was the use of vibrant colour and exaggerated forms to creating deck areas, gardens, patios and pool terraces that feel like genuine escapes to someplace warmer and more exotic. Instead of low-slung loungers, sun chairs and tables in shades of brown and grey blending into the background, many of this year's offerings offered impact and excitement, with unexpected colour combinations and materials.
One brand leading the way here is Moroso, an Italian design powerhouse with a tradition of subverting expectations and celebrating colour. More than a decade ago, creative director Patrizia Moroso visited Africa, and fell in love with the bright hues of locally made fabrics and goods, as well as with the people who made them. "Right away, she said, 'Okay, we have to do something'," says Gianluca Righetto, Moroso's Asia-Pacific regional manager, on a visit to Matisse International Furniture, Moroso's exclusive distributor in New Zealand for over 25 years.
Patrizia's vision was a furniture line designed by the renowned names that Moroso works with regularly, but built and woven by hand in Dakar, Senegal, by local artisans. The collection, M'Afrique, launched in 2009, with pieces by New York due Ayse Birsel and Bibi Seck, Dutch designer Tord Boontje and Patrizia Urquiola. It was a move that anticipated today's global culture consciousness, and the value of artisan craft. "The African continent is extraordinarily rich in creativity, materials and ideas that are sources of inspiration and nourishment for us," Patrizia said at thelaunch. "When applied to design, they en-gender products which exude tradition and modernity, innovation and history, form and beauty."
Since then, every key designer Moroso works with has created something for the ongoing collection, culminating in a 10-year celebration called M'Afrique — Detached in a vibrant showroom at this year's Milan Furniture Fair. The collection is accompanied by a documentary film by Ron Arad, which shows the making of his extravagant Modou line — four swirling chairs and loungers, some with their own built-in sunshades — which are named for the Senegalese metal crafter who worked with Arad to create the chairs' extraordinary framework.
The colours of the woven seating cords were originally inspired by the bright fishing nets seen throughout coastal Africa. For Moroso, says Gianluca, thecords are produced in Japan and Thailand to ensure the highest standards of quality and weather resistance. Each piece in the collection comes in range of colour palettes, and some pieces are limited edition, using one-off combinations of colours. "It's a wonderful collection," says Jeanne Bertenshaw, co-founder of Matisse. "Moroso is very dedicated to comfort, so the pieces can just as easily be used to enliven an indoor space as an outdoor one."
FOUR FAVOURITE PIECES
These Moroso M'Afrique pieces, picked by the team from Matisse International Furniture, are icons of the range.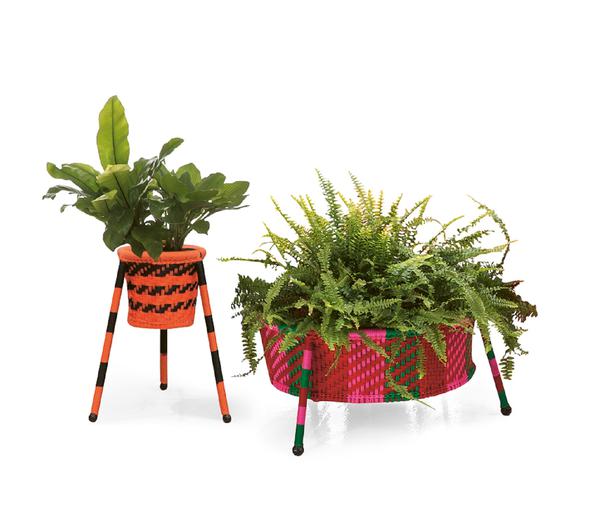 Jardin Suspendu. Photo / Supplied

1. JARDIN SUSPENDU
Jeanne Bertenshaw, co-owner, Matisse
I love this brightly patterned collection of hanging plant holders set in steel frames, designed by Concetta Giannangeli. They come as a set, which you can mix and match, and can turna smaller space like an apartment balcony into a lush jungle, or add a colourful feature to a bigger patio or garden.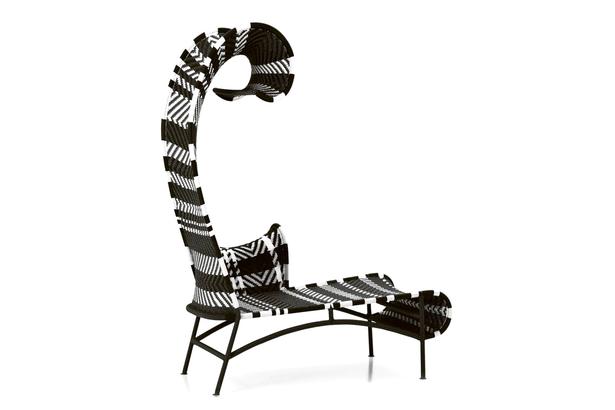 Shadowy Chair. Photo / Supplied

2. SHADOWY CHAIR
Caroline Montague
Tord Boontje's usual ultra-quirky use of colour and shapes is expanded in the D'Afrique style of the Shadowy Armchair. A comfortable, shaded throne of woven polyethylene merges current technology with the age-old colours and patterns of traditional fishing vessels from the Senegalese coast.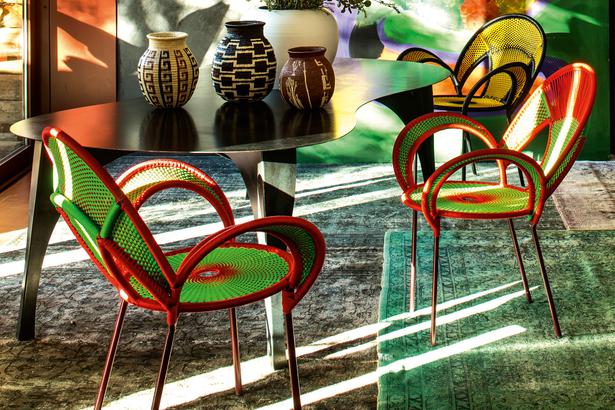 Banjooli Chair. Photo / Supplied

3. BANJOOLI CHAIR
Elyse Holden, marketing and design consultant
Sebastian Herkner designed the Banjooli Chair's arms to look like the curving stretch of an ostrich wing during a mating dance (banjooli is the Wolof word for ostrich). It's a playful detail, and the bright colours of the woven yarn makes it feel like the chair is enticing you into its embrace.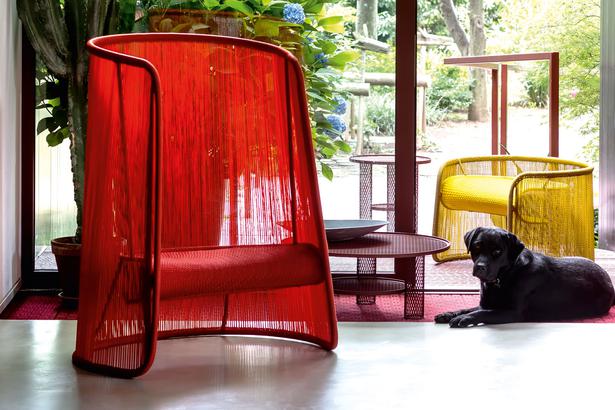 4. HUSK CHAIR
Alan Bertenshaw, co-owner Matisse
With its minimalist, linear form and high back, the Husk Chair for the M'Afrique collection (there's also an interior version) is reminiscent of a throne, but it was inspired by something more humble – an ear of corn, a staple recognised and used around the world.
Share this: