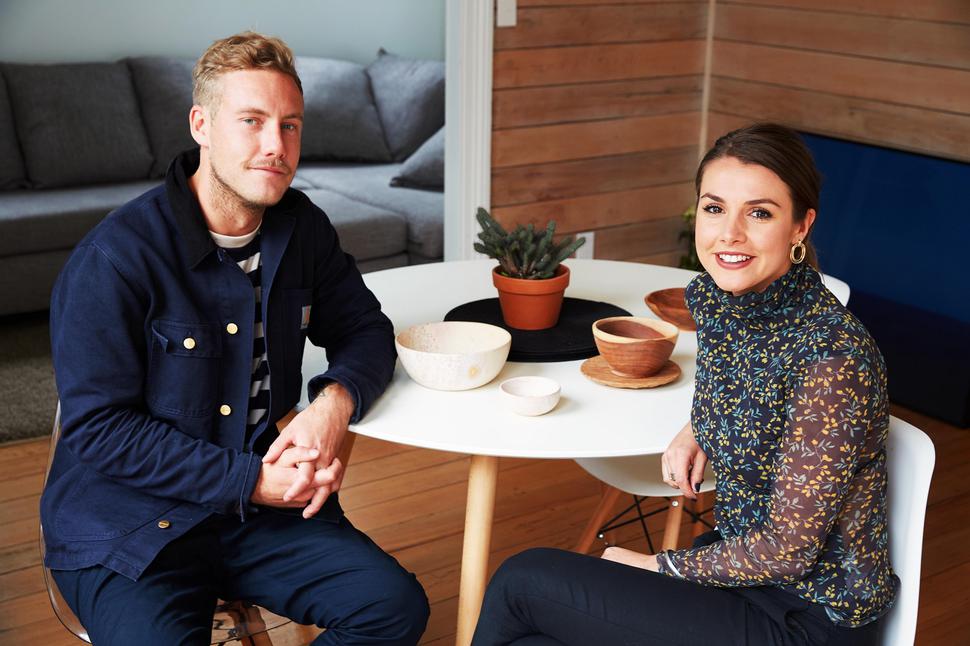 Asili Is The New Design Brand Supporting Artisans In East Africa
Meet the young couple who took a leap of faith to start sustainable, high-end design brand Asili
Saturday Dec. 1, 2018
When Eve Penny and Hamish Davies boarded a plane to Uganda to get a first-hand look at the waste cow-horn industry they had no idea what to expect. What they found inspired them to start their own company, Asili, a design brand that partners with East African artisans to produce beautiful, sustainable, high-end objects for the home.
The hardy Ankole cattle of East Africa are farmed for their richly coloured hides and low-cholesterol meat, but their most striking features — their long, slim, curved horns, which can reach over 2m in length — are often discarded and burned as waste, or sent to China to be made into buttons. New Zealand entrepreneur Josh Bowden, a friend of Hamish and Eve, had discovered the under-utilised material and was using it for frames for his Lewis Fredericks eyewear brand, but could see a wider potential.
READ: New Zealand's Best Designers Nominate The Next Generation Of Talent
He encouraged Eve and Hamish to go to Uganda to see the process of shaping the horn into vases and cups, with a view to forming a three-way business partnership for a new brand. Although the pair had no experience in dealing direct with artisans in another country, they took a leap of faith. "The only way was to go over there, so we went, having no idea what was going to happen at all," says Hamish.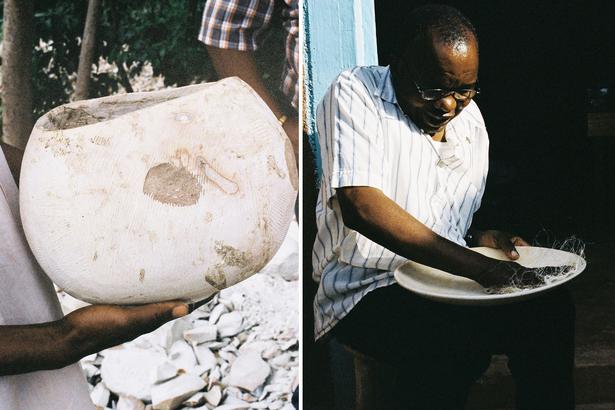 Eve admits that at times their first trip was "quite confronting", but after meeting the artisans they'd be working with and seeing the process first-hand, they felt confident they could make the collaboration work. "Asili is a Swahili word that means 'the root'," Hamish explains. "We wanted to create a business that would support and enable the local artisans — a form of trade, not aid. It's all about giving back to the people who make the pieces."
Hamish and Eve identified two other materials that could be worked into modern design pieces — soapstone, sourced from Kisii in Kenya, and reclaimed olive wood from Kenya's Rift Valley.
The soapstone, which comes in delicate pastel shades of blue-grey, pink and white, can be sculpted into dishes, bowls, trays and cups, while the olive wood, which is sourced from the discarded stumps of trees that have been cut down to clear land for agriculture, is a richly-grained wood that can be carved into bowls, boards and serving implements.
READ: 6 Simple Principles To Consider For An Eco-Friendly Home
Each piece is unique, says Eve, because it's handmade by artisans who have been practising their craft for years and can achieve a high level of finish on the products.
Launched earlier this year, Asili is still a small company, with Hamish and Eve (a couple in life as well as business) still working in day jobs — albeit day jobs that have been helpful in moving Asili forward.
Hamish is a partner in a packaging company that creates the minimalist but stylish boxes for Asili's product range, while Eve, an architectural graduate, works as the interior design and trade account manager at local homewares brand Citta.
This working relationship has led to Asili's first brand collaboration, with Citta due to release a collection of olive wood bowls and salad servers by Asili artisans early in December.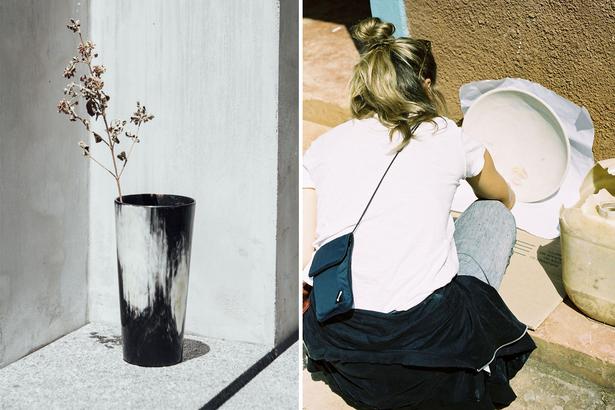 (Left) Waste cow horn vase by Asili. Photos / Supplied

For the collaboration, Hamish and Eve worked with Nikolai Sorensen, Citta's furniture and object designer, to create a selection of items for the brand. "I've been following Eve's journey with Asili closely and have been really interested in the materials that Asili uses and the stories behind them," says Nikolai. "When the opportunity came up to work on a range with her, I jumped at the chance."

The collaboration was a team effort between the Citta buying and planning team, Asili, the artisans and Nikolai. "I had been working on a salad server concept and Asili's olive wood seemed to be the perfect fit for this design," says Nikolai. "Together we expanded the range to include a range of spoons and utensils."

READ: The Luxury Label Made Behind Bars

Although quietly concerned that the artisans would not be able to achieve the subtleties and finesse of the design through hand carving alone, he says the finished result was wonderful: "Celebrating the hand-carved nature but not looking too rustic. The first samples arrived and they were perfect, which just shows the quality of the craftsmanship of the carvers. Often your designs don't translate from concept to manufacturing, but in this case, they nailed it."

Citta has worked on similar collaborations in the past and is keen to do more, he says. "It's great to be able to work with like-minded people and brands to create something that we may not usually get the chance to do."

There are already plans under way to expand the olive wood range, as well as create some designs in soapstone "which is such an amazing material". Eve and Hamish are excited by the potential of the collaboration, saying that Margot Acland, Citta's CEO, has been very supportive of Asili.

"The collaboration we did with Citta was the biggest order of reclaimed wood product the artisans have ever had," says Eve. Keen to expand the ways they can support these craftspeople, the couple are planning another trip back to Africa next year.

• Asili products are available from Tessuti, Apartmento, Leven, Green With Envy (Matakana), Citta and Untouched World, as well as online at Asili.co
Share this:
More At Home / Features & Profiles