Favourite Things: Costume Designer Nic Smillie
Costume designer Nic Smillie shares her favourite things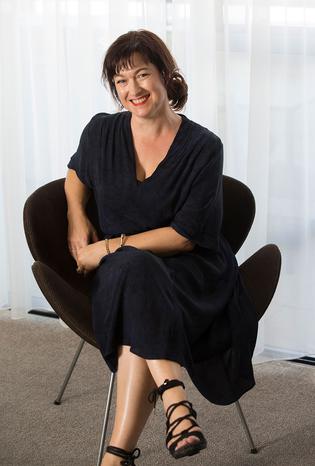 Having creative control over a person's dress is a profession worth lusting over, but it takes a visionary to successfully execute the job. Nic Smillie turned her passion for fabric into a career in costume design and, over the past 20 years, has worked on many stage productions, television and film projects.
For Nic, it's all about paying attention to even the most miniscule detail, and because of this she won a New Zealand Screen Award for Best Contribution to Design back in 2006 for her work on Insider's Guide to Love.
She has lived in Helsinki, Finland, for the past five years, in what she describes as her dream home.
"It's a tiny apartment built in 1924. It reflects late Art Nouveau/early Art Deco architecture and is a fascinating combination of both — it's nice that it still has a lot of the original features," she says.
Nic recently returned to New Zealand to take on a new project, Peer Gynt [recycled], a contemporary take on the classic play written by Eli Kent which is being directed by Colin McColl. The show is on from now until March 18 as part of the Auckland Arts Festival. Visit aucklandfestival.co.nz
NIC'S FAVOURITE THINGS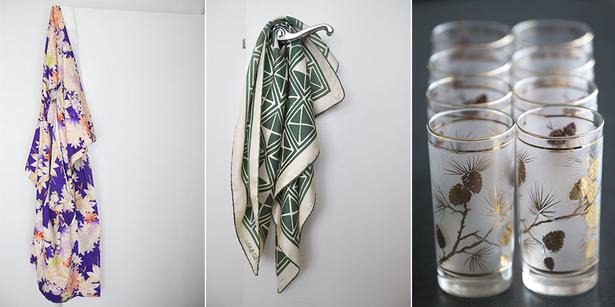 Late 1800s kimono; Jaeger silk scarf; Mid-century pinecone glassware. Pictures / Brett Phibbs
1. Late 1800s kimono
The print, the fabric, the colours — I adore it. I would never usually wear something as bold, but it is perfect as a robe for around the house.
2. Jaeger silk scarf
Jaeger is an iconic British clothing label that has been around since the 1880s; it's pleasing to have this small example of such a top brand. Coming from a textile design background, I really appreciate the colour and the print, and I am hoping to have it framed.
3. Gold-printed mid-century pinecone glassware
These belonged to my grandparents and they're such a great reflection of their era. Most of my glassware and crockery is from Ikea: utterly functional and easily replaceable — so it is really nice to have a change from everything being so utilitarian.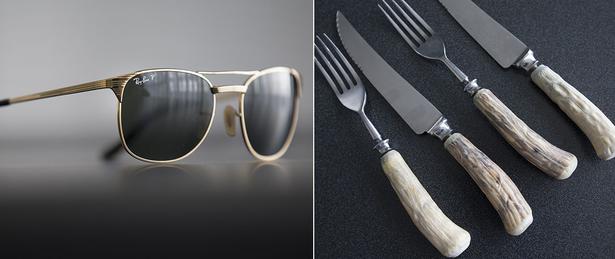 4. Ray-Ban Signet sunglasses
I like to think I appreciate great design — so was thrilled to discover Ray-Ban have re-released this 1953 era frame; it's such a timeless classic.
5. Faux bone-handled cutlery
This set belonged to my grandmother and I remember it fondly from my childhood. It's a little faded now, but it's still lovely.
Share this:
More At Home / Features & Profiles