NZ architecture's dynamic duo
Award-winning architectural duo Nicholas Stevens and Gary Lawson reflect on their partnership and the projects that have seen them come up trumps again and again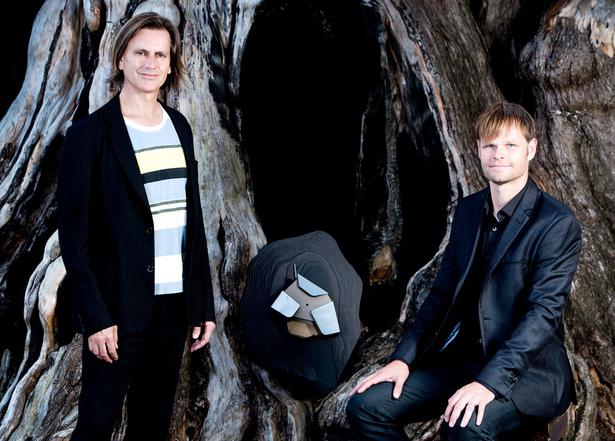 Friday April 26, 2013
When you've walked off with New Zealand's most prestigious award for domestic architecture four times in a decade, you have to be doing something right.
Auckland architects Nicholas Stevens and Gary Lawson first took out Home New Zealand magazine's Home of the Year award in 2002 with a dramatic modernist box made elegant with Japanese influences. In 2007, they were back on the podium with a linear home in Auckland's Cox's Bay mysteriously wrapped in dark cedar battens. They flew south in 2010 to the golden hills of Wanaka, where they created a haven of geometrical beauty to reflect the mountainous landscape. And now they've trumped the competition again.
The 2013 Home of the Year is a seemingly ad hoc arrangement of curvaceous "pods" on a spectacular Waiheke headland, which pushes the boundaries of conventional planning. But how has the local architectural scene developed in 10 years and has their design philosophy changed? Viva spoke to the two directors of Stevens Lawson Architects to unearth the secrets to their success.
You formed your architectural partnership in 2002. What was the thinking behind becoming a team?
Gary Lawson: The bottom line is that we enjoy working together. Perhaps it's because we both love architecture from all eras and periods, and of all styles. We push each other creatively and it's an entirely enjoyable pursuit. There's no friction, just this compulsion to take the whole enterprise to a new level. Over time, we've become stronger at taking a concept and working it in its purest form. That's not to diminish the projects we were doing in the earlier years. We love all the houses we've worked on - it's just that, naturally, you build on experience.
Nicholas Stevens: When we're designing, it's such a quick-fire interchange, so much so that our roles are not distinct. One of us will have an idea that the other elaborates on and that may be reversed in the next project or even within the same project, so it's a fluid process, constantly morphing. It just works and when we've tried to analyse it, it hasn't felt accurate or helpful.
Has your style changed in a decade?
Nick: Of course, each house is different from the others but there are similarities too. Each of the four [winning] houses has an angular geometry and is clad in timber, albeit in different colours. Each, however, responds to different site and geographical conditions, and client requirements, of course.
We've always been interested in craft and buildings that are beautifully made and beautiful to use, and there are elements of this in all the Home of the Year winners. For instance, instead of seeing a handrail as just a functional object, we ask,"how can we make this an object of beauty or craft?"
Gary: Even so, it's not about more, more, more. It's about putting in just enough detail to make the project sing.
The latest Home of the Year winner includes many curved forms. Tell us about that.
Nick: Interestingly, if you took the six finalists in this year's award, there was not a curve to be seen in any of the others. Metaphorically, our building is like pebbles or shells scattered on a beach. So curves became integral to the planning. By creating three organic pod forms, a collection of smaller buildings, the home also felt more harmonious and its scale appeared comparable to a traditional Waiheke bach.
Gary: And the space between those pods is fluid like the beach, between the pebbles.
You use metaphors of nature quite frequently in the concept stage of planning ...
Nick: Yes, in the Wanaka house, the triangulated geometry is a direct reference to the mountains surrounding the home. It was named Te Kaitaka, which means "The Cloak" and essentially was a reading of the wider landscape. If you imagine the tussock grasses of that area laid over the rocky ground below like a blanket, the house was a draped timber "cloak" with a concrete interior to reflect this.
In our mind, the Cox's Bay home was like a piece of driftwood - albeit, as it turns out, a charred bit - with its long, narrow shape that runs with the site. The internal courtyards represent the hollows that you find in driftwood.
Are there any other common threads throughout these four homes?
Nick: Each of the winners is timber-clad. That's because we're working within a New Zealand architectural tradition of fine timber buildings, but trying to evolve that. Saying, "Where can we take this?"
Gary: Yes - the experience they offer with their spatial arrangement. We put a lot of thought into that. You move around them like a cinematic sequence. There's a sense of discovery, surprise and delight.
Can you give an example of this spatial journey?
Nick: The Waiheke house is a beach home so the entry to it is informal. You walk across a lawn and over some flagstones and are funnelled between two curved pod forms into the form of the house. When the door opens, you walk down a wide hallway, like a boat ramp. As you travel down it, internal courtyards open first on the left, then on the right. Eventually you come to the view of the water.
Gary: For us, it's about revealing the qualities of the site and the house slowly. There's so much layering and many twists and turns. Even the front door is special. We think about the way you'd need to touch, push and use it so that it will offer a delightful engagement with the entry to the house and reflect something of the bigger idea.
Have you taken advantage of new materials and technologies that have developed over the decade?
Gary: We're traditionalists, really. We don't take on new materials just because they're there. Our approach is to design houses that key into New Zealand's skill base. Our carpentry skills are exceptionally high - we're a country used to working with timber.
Nick: Certainly advanced computer modelling has allowed us to experiment more easily with the complex geometries of our designs.
All these homes seem to be big-budget designs. What about working on other smaller commissions?
Nick: We're designing some affordable housing at Hobsonville in a public/private partnership with Housing New Zealand and Jalcon Homes. It's terrace housing over three urban blocks and, unusually for us, we've clad them in Monier red brick, which we love and is very economical. We've separated the units with balcony boxes, clad in Vitex which is a sustainable timber from the islands. Although they're terrace houses, we've used a variety of forms, which gives some visual interest to the streetscape.
We also have a concert hall and a library under construction in Hawkes Bay. It'll be the first time we've had a public building actually built. We've won some public commissions [but these] haven't gone ahead yet because of the economic climate.
Gary: We see those projects that haven't gone ahead as repositories for good ideas in the future - we'll find a way to use them in another form.
What do you think of the houses you've designed when you go back to visit several years later?
Gary: You get so attached to the houses at the time - you live and breathe them for two to three years - then you have to let them go. So when you go back, it's like catching up with a great old friend. As an architect, I feel I learn a lot from experiencing our own work all over again. I see what I can bring forward into the next design, so it's like research in a way.
How would you describe the personality of your architecture?
Nick: If you were to imagine mainstream architecture as a motorway, our buildings are more like a country road that bends and folds with the landscape. The Home of the Year winners, to me, are like siblings who live in different parts of New Zealand and have adapted to their local environment.
It's ironic that even though you're celebrated for your cutting-edge designs, neither of you lives in new houses. You must surely dream of one day designing something for yourselves?
Nick: One day. However, I love the Gummer [and] Ford apartment building I live in with my partner Deborah and work from, and we have a house at Bethells Beach, so it's the best of both worlds really. It would be exciting to design something for either one of us, but Gary is married to an architect, so I might have to leave them to it.
Share this: