Organic Beauty Guru Hannah Jack's Country Garden & Studio
Home is where the herbs are for botanical nester and founder of Country Kitchen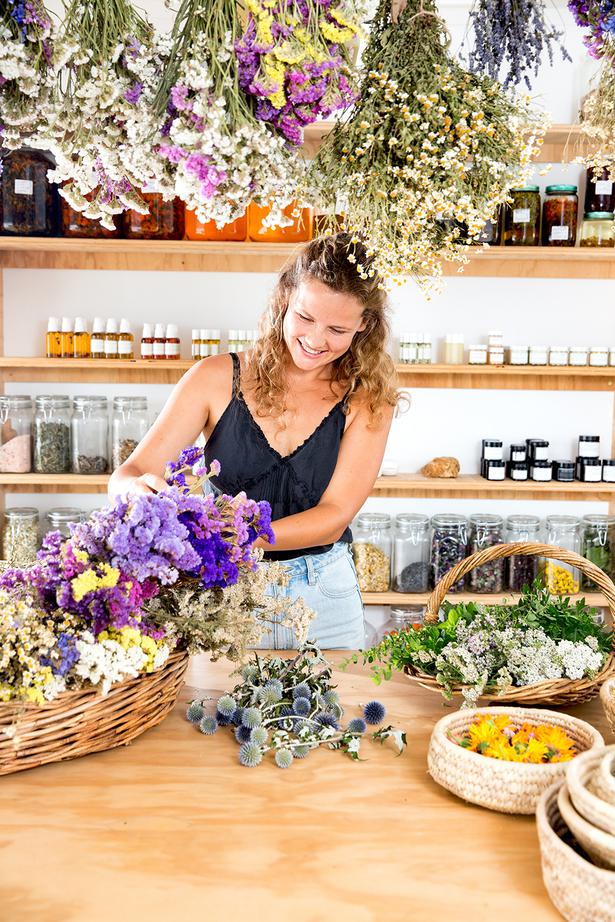 Wednesday Jan. 31, 2018
Home is where the herbs are for Hannah Jack, founder of Country Kitchen. From her country garden and studio, she creates handmade herbal oils, organic lip tints, luscious face creams and botanical perfumes.
You might find Hannah roaming through her flower-and-herb garden harvesting Bulgarian roses for her floral waters, or casually collecting sage for her organic body oils, or she could be in her studio workshop infusing her dried flowers and herbs into oils.
Far from it being a chore, Hannah can't think of anywhere she'd rather be.
"I grew up in this area, my mother loved gardening and my Nana used to make various plant-based balms. I guess I have a passion for nature," she says from her Kaukapakapa home and farm, 40 minutes north of Auckland.
Describe your home and work set up?
We live in a small home on a 4.4ha farm where our young family, my parents and an array of farm animals live. On the farm, I grow flowers and herbs for my business. Originally I worked in our kitchen, which was a challenge as it was hard to keep work and family life separate.
READ: Luscious Oils Your Skin Will Love
Then last year, my partner converted our large garage into a studio. It is an open space overlooking gardens of vibrant flowers and lush vegetables. Having my studio close, yet separate from the home, gives me space to walk away from work at the end of the day, yet still allows me to work at home and care for my children.
The children have huts to hide in, trees to climb, sand pits to play in and a whole lot of grass to explore, all while I watch over them.
As a mother, what are the challenges and advantages of working from home?
I was brought up on a farm with a stay-at-home mum. We have been fortunate enough to be given this same opportunity, with the bonus of having incredibly supportive parents close by. I turned a passion into a living to help my partner with the bills.
I adore being home with my little ones — to wait at the stop at the end of the drive, to teach them the simple ways of the land and to appreciate every growing moment. Working from home is a grounding opportunity that I could never look at negatively.
READ: How To Make Your Own Perfume Balm
How do your surroundings inspire you?
My studio is filled with flowers, vibrant colours and a beautiful energy. It is a space I am so proud of and a place I hope to inspire others in. Nature is by far the most inspiring thing of all. The shape of a plant can hint at the healing properties it holds.
The seasons are in constant change, and with them, different plants with unique properties. For example, dandelions brighten the fields in spring and in turn help us cleanse our bodies after a long winter.
Nutrient-dense wild mushrooms in autumn aid as adaptogens to naturally build our immunity for the cooler winter months ahead. Every day I write down what inspires me from the gardens.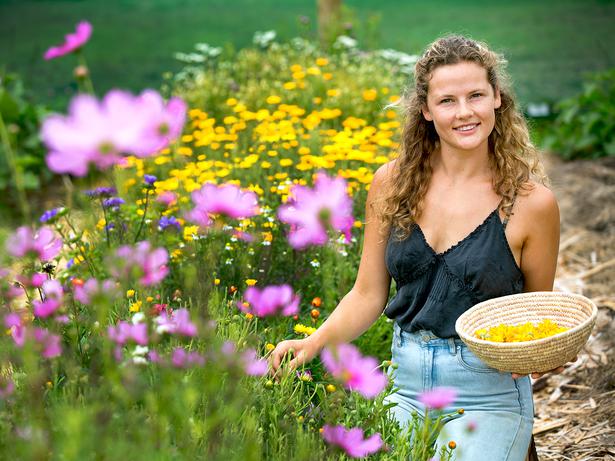 Do you have a favourite flower to work with?
I love chamomile, it's the first flower I fell in love with. It has a sweet yet calming scent; it's a joyful flower that makes life a little brighter. The energy of flowers is so important in my work.
You can literally feel the difference between applying something with good energy and intention to your skin, to something without. It's like baking a cake, you can follow the same recipe but, with a little love, you can create something beautiful; have a bad day and the cake can turn out completely differently.
READ: Floral Artists Mark Antonia Beautiful New Kingsland Store
Describe an average day.
During the growing season from spring to autumn, my days start and end in the garden. The time in between I hide from the heat in the studio, completing orders and making products. The process of making the products is long and heartfelt. I grow all of the medicinal herbs and flowers as organically as I possibly can, although the slugs get the better of me after a wet winter!
I harvest every few days, then take the plants into the studio to be dried and infused into plant oils. These then rest for up to four months before they can be used in my herbally infused products.
Days are long during the growing season, but there is brief rest in winter to cosy up by the fire with a herbal tea, hold a few workshops and then plan another year ahead in the garden.
READ: Edible Garden Tips with Tamsin Wilson
Your favourite product?
The Rose and Marshmallow face cream, which is also my bestseller. Nearly every component to this face cream is handcrafted.
From the hydro-oil made from the rose petals and rose geranium, to the marshmallow root that is grown, harvested and infused into another plant oil to give the cream incredible soothing properties.
The cream is then blended with a sweet, wild-harvested rose hip extract, an activated rose quartz-infused oil and wild rose flower essence, all blended into a velvet-smooth face cream. Countrykitchen.co.nz
Share this:
More At Home / Features & Profiles