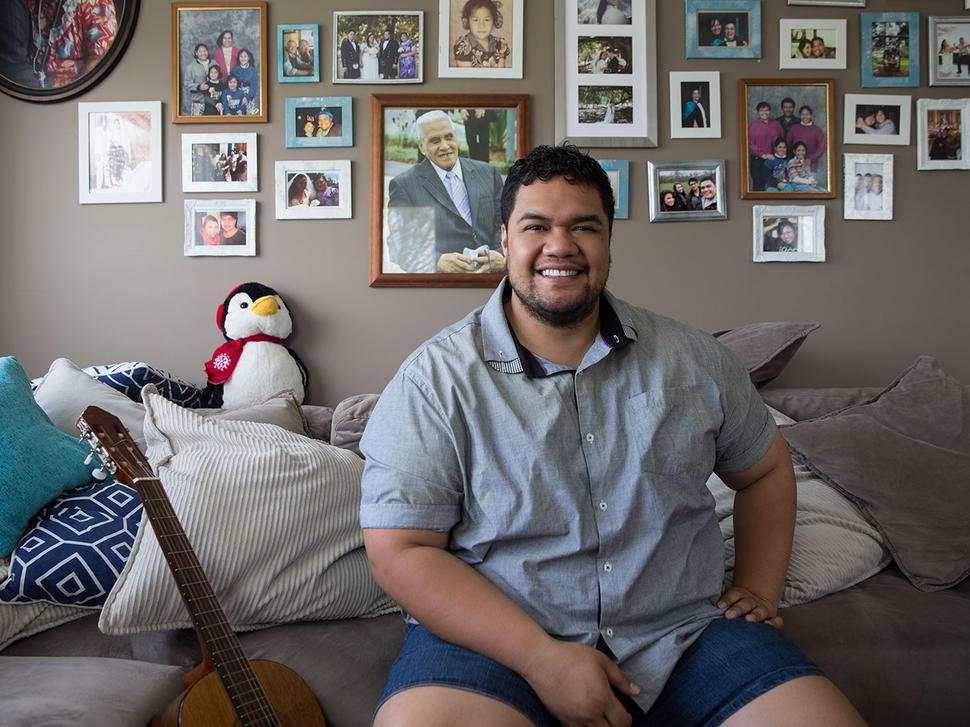 Inspiring Spaces: Pene Pati of Sole3 Mio
Rebecca Barry Hill visits Pene Pati of Sol3 Mio in his favourite room
Wednesday Nov. 18, 2015
One third of chart-topping opera trio Sol3 Mio (with brother Amitai Pati and cousin Moses Mackay).
"Because we're away all the time, my brother and I live here in Mangere East with my parents when we're home. My sister lives here too. We renovated the kitchen and lounge in June. There was ridiculous carpet, old-school blue, it was ugly as. The walls were wallpapered. There was a doorway, so the dining room was separate and tiny. My parents were in Samoa for two weeks so we thought, 'This is the perfect time.' We opened up the whole thing.
"My brother and I paid for most of it but everybody chipped in: my sister and her husband, my fiancee, my older sister and my fiancee's brother, and two contractors. My parents had no idea. I'm not lying man, they had all these ornaments and plates, and we just threw out the lot.
When they walked in, it was too much, there was almost no reaction, they were really shell-shocked. At first, they were like, 'Oh my gosh, this is amazing.' Then the reality sunk in and that was the funniest. 'Where's my shelf?' It's gone, Mum. The old place was so cluttered – they'd been here since 1996. Whereas now it feels open, great for a family gathering.
"We changed just about everything — the blinds, the walls, the lights — but we couldn't get rid of the old fireplace. It reminds me of Christmas, and of my grandpa who always sat directly in front of it to keep warm. It reminds me of my brother and my cousin.
"Because we're on the road so much, there's nothing like it. This is where everything happened for me. I learnt music in this room. It's where we did our evening prayers. Our parents parked our old piano around the corner because the bedroom's next to it, so they'd know if you were practising. 'Are you playing PlayStation? I can't hear anything …' We did a lot of our rehearsals here for the rest home [where they gave weekly childhood performances].
READ: Inspiring Spaces: Scuba Diva aka Jimmy Mac
"When you come home the first thing you'll do is have a meal together and talk about how you've been doing. Every time I come home I sleep in the lounge first, I don't know why. There's a lot of memories connected to this room for me and my family. Births. Weddings. Deaths.
My grandma and grandpa have moved on but it's like they're there, watching. We wanted to do a feature wall so it's like a traditional Samoan living room, with all the photos on the wall. We bought all these frames and painted them and chipped some of the paint off others. The colours are my fiancee's palette.
"Oh man, I have a lot of good memories in this room — and a lot of bad ones! Good ones like my first opera win. I came home and my parents and my grandpa were sitting on this couch. I didn't tell them I was competing in fear of not getting placed anywhere, I guess I didn't want them to see me fail. But I happened to have won that competition and I got home with the trophy. They were like, 'What the hell is that?' Instead of being happy they were really angry, because they weren't there to see it.
"A lot of disciplining has happened in this room. We were very mischievous boys. The backyard was like a forest and we used to play tag and make lots of noise when Mum and Dad were trying to sleep. They'd bring us in here and make us sit in silence for hours on end. Then we had to recite an apology Dad had written.
"Mumble [the stuffed penguin, pictured] is from Birmingham. I won this little guy from a snip machine. Funnily enough we won all the toys in the machine, a stroke of good luck. They filled the machine, and we won the next eight. So they banned us from the arcade."

• Sol3 Mio play Christmas in the Vines on December 20 at Villa Maria Winery, then head off on national tour in February to support their album, On Another Note.
Share this:
More At Home / Features & Profiles