Peta Mathias' French Renovation
In an extract from her new book, Never Put Your Eggs in One Bastard, Peta Mathias writes about renovating her home in Uzes, France, and shares a recipe for olive oil icecream
When I bought my house in Uzes, I could see - because it was so ugly and unlovable - that I needed something quite different for the transformation, and Gina was the only person who could do it and interpret my professional and lifestyle needs. She has known me for so long that she understood I would be up for anything. She doesn't plan the same thing for every house, but rather adapts her design to what she has been given to work with and the desires of the owner.
She asks the client what the point and end use of the house will be, so when I told her cooking school, she immediately moved the kitchen and dining room from the first floor to the ground floor and put in a bathroom so there would be a natural separation between the cooking school and the private levels above.
She would never use colour in her own home, preferring a dusky palette, but in mine she understood immediately that she would have to create light with lots of colour. Because she knows how hot it is in Uzès in the summer and how desperate you are to be outside, in the absence of a garden she created a big terrace at the top.
The most difficult challenge for Gina was the fact that the house was very hemmed-in and hard to access. She also had to talk her regular workers into doing it; a proposition they weren't too enchanted by. The build was a real drag for all concerned, not to mention my immediate neighbours, whom Gina plied with cakes and wine. The easy part was the big bash where most of the original house disappeared; the hard part was building a new modern house within the old walls that ended up being about 120 square metres, plus the big terrace.
The house is made of brick, with very thick insulation, and Gina hopes that the sun will flow in through the large windows in the winter, thus helping to heat the house. The terrace floor had to be made of concrete, not wood like the rest of the house, and old-style tiles were found and installed in the traditional way on the roof, some of them being made of glass to let more light in.
One old beam had been saved from the original house and another one found by the builder. When I asked Gina if she was cured of fixing up old houses and taking on almost impossible projects, she said:
"Absolutely not - I am already looking for another project, and if I don't find one I will just have to sell my place and find another do-up."'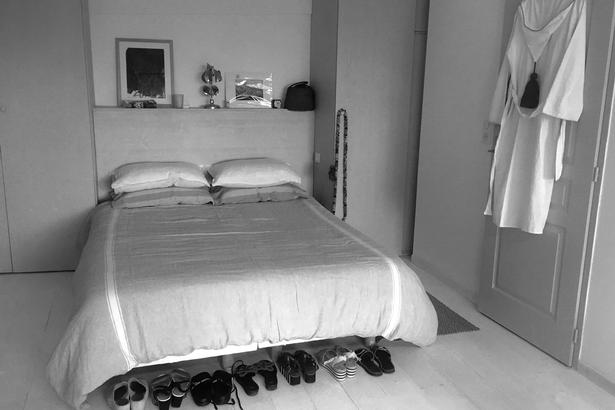 One fine day I walked up the road to the house and found the steel window frames had been installed. Because in France you are not allowed to look down on your neighbours, I was forbidden to have windows on all sides of the house but one. I was allowed a window on one other side, but it had to be clouded. Thank God we had decided to have nothing but windows on the one permitted front wall or I would be crawling around in the dark writing angst-ridden novels about life in a primeval swamp. Having made the build so difficult for us, to Gina's pleasure, the Batiment de France are now showing photos of my house façade in meetings as an example of a good modern solution in a heritage context.
Next the industrial spiral staircase went in, giving easy access to the top floor. Then it struck me. The kitchen's on the ground floor, the bedroom's on the third floor — what about my cup of tea in the morning? We decided that each floor would have a little kitchen set-up with mini fridge and kettle. In fact, it looked like the whole house was turning into one big, three-level kitchen — which was absolutely fine with me. This house is about having lots of areas to entertain, rest, talk, work and read.
I went to the Basque Country to host my culinary tour and returned in July to find the double-glazed windows had gone in, so I had to have a window party. Can I say how very easy it is to have a party in a construction site, because there is no kitchen so no expectation of food. You rock up with some good Languedoc wine, some plastic glasses, open the new windows, close them again and call it a party.
Gina's fearlessness and cleverness in the design was becoming evident to my worried friends. The Louis XIV chimney had been reconstituted, repaired, installed on the second floor and made to work by a very expensive specialist, who charged €3000 [$4500]. There it stood: majestic, masculine and graceful all at the same time, a simple but stylish monument to the past and the only thing in the house that was actually very old, except for the two ancient buttress stands on the ground floor. Yannick, the iron, tile and wall man, had explained to me that the stands were a monument classé, and I pointed out that I was also a monument classé and they'd better hurry up with the work.
Needless to say, everyone periodically disappeared and reappeared in August, and I knew the house wouldn't be finished as agreed, but as I could see that the major work was done, I chose to be at one with the universe regarding the rest.
READ A Taste of New Zealand in France 
In rural France they have a clever post-box system where you buy a certain large post-box with a lock and key and the postman has a master key for all of them. This allows him to deliver parcels when you are absent, instead of you having to walk around the town looking for them for the next week. As the French adore bureaucracy, you practically have to produce your parents' marriage certificate at the post office to retrieve the parcel. Gina had a label made for my post box that covered absolutely every aspect of my life so there would be no mistaking who lived there: my name, the name of the house (Maison de la Diligence), and the name of my business (Fête Accomplie).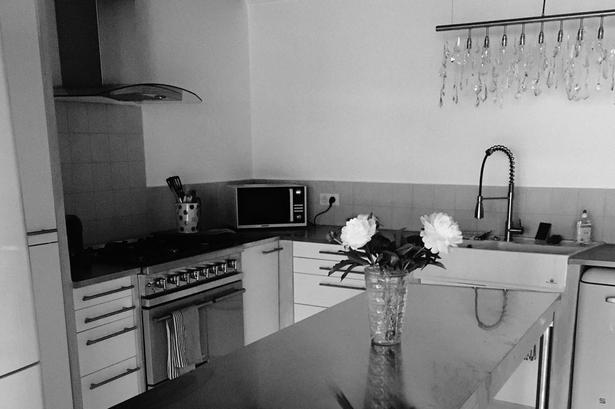 Amy told me about made.com, so I went online and ordered some funky stackable chairs for the kitchen table, only I made a mistake and ordered six raspberry chairs instead of two, so ended up with 12 chairs in total, the other six in a range of different colours. Gina, who owned a castle so has quite a lot of furniture lying around the place between Uzès and Switzerland, asked me whether I wanted her lounge set of couch, three armchairs and coffee table. This furniture is ornate fake Rococo and had belonged to her aunt but looked exactly like my mother's dining-room curtains. Gina spray-painted the fabric black, and we bought some fuchsia paint to cover all the wooden parts.
In keeping with my desire to use old and new, on-cycle anything that could be on-cycled and control costs, we combed flea markets and garage sales. We took ourselves off to the Saturday antiques market at Villeneuve-lès-Avignon and found stashes of fabulous old Sarreguemines plates, covered in flowers, birds and leaves. Another time I found some little Italian yellow-and-green splash bowls in which to serve my olive oil icecream. 
OLIVE OIL ICECREAM
Makes 1.2 litres
875ml full fat milk
250ml cream
220g caster sugar
10 egg yolks
75ml extra virgin olive oil (a fruity one)
Vanilla seeds from 1 pod pinch of sea salt flakes and more to serve
1. Heat the milk, cream and sugar in a large pot, stirring to help the sugar dissolve. Remove from the heat when it starts to boil.
2. Beat the egg yolks in a large bowl with a wooden spoon. Slowly pour the hot milk mixture into the yolks, stirring constantly.
3. Pour all of this back into the pot and cook over a low heat, stirring all the time. It takes about 10 minutes and should end up being thick enough to coat the back of the wooden spoon.
4. Pour the mixture back into the bowl, and gradually stir in the olive oil, vanilla seeds and sea salt. Cool and then chill until cold.

5. Process in an icecream machine.
TO SERVE
Drizzle with olive oil and sprinkle with sea salt.
 • Extract printed with permisson from Never Put Your Eggs in One Bastard by Peta Mathias. Published by Random House, $40.
See Peta live at Southward Theatre, Paraparaumu, Wellington, Friday 18 November, 7.30pm; SkyCity Theatre, Auckland, Saturday 19 November, 7.30pm; King's & Queen's Performing Arts Centre, Dunedin, Friday 25 November, 7.30pm; Charles Luney Auditorium, Christchurch, Saturday 26 November, 7.30pm. For Wellington, Dunedin and Christchurch tickets go to ticketdirect.co.nz; for Auckland tickets go to ticketek.co.nz
Share this: