How Photographer Anna Kidman Decorates For Christmas
The popular photographer and self-confessed Christmas devotee shares her festive style
Tuesday Dec. 4, 2018
It's no secret that Anna Kidman loves Christmas. "I feel as though every person in my life is compelled to tag me in every Christmas picture they see on Instagram," she laughs. "Seriously, I get about five tags a day at this time of year." The popular wedding, food and portrait photographer is a self-confessed Christmas devotee, having to restrain herself from putting up decorations from early November, although she usually gives in and goes wild by mid-month.
READ: Siostra's Esther Lamb Shares Her Christmas Entertaining Approach
When she was growing up in Wellington, Christmas was a time for Anna's large, close family to come together over good food, a shared passion. "I come from a very festive family," she says. "My childhood Christmases were filled with the same traditions every year. The same red china would come out every Christmas, and my grandmother, who is Chinese, would always give us red envelopes. And all my family are amazing cooks and love food. So I think loving the tradition of Christmas came from my family, but I've taken it next-level. It doesn't help that some of the people I'm friends with are the same."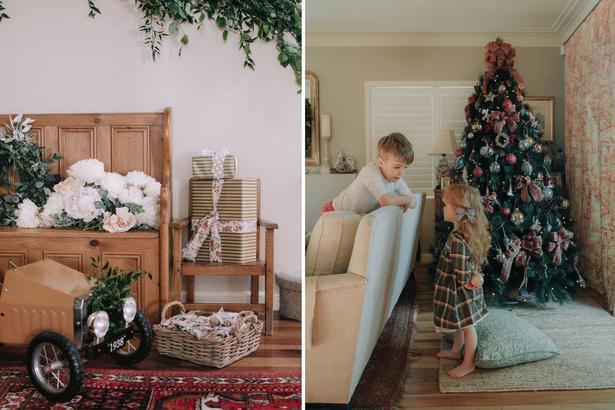 Christmas decorating at Anna's Glendowie home goes well beyond putting up a Christmas tree and hanging a wreath on the door. The front door opens to a scene of glowing miniature ceramic houses on the hall stand, accompanied by a botanical installation by floral designer Alex Lovich of Wonder Florals, whom Anna often works alongside at weddings. There are wreaths on doors and mirrors, gilded miniature Christmas trees, angels, bells, bows and candlesticks, and not one, but two trees — one in the living room and one in the bedroom of her and husband Zach's children, Max and Darcie.
It's all about imbuing the time of year with a sense of magic, by creating a space that takes you outside the everyday and gives you a sense of occasion, she says.
READ: These Boozy Gin Baubles Belong On Your Christmas Tree
"I grew up with a friend whose dad was high up in Saatchi & Saatchi, and they always had the most amazing trees. I remember seeing the first one and just thinking, 'Wow'. I think my love of Christmas decorating started to grow from there. Being a photographer, I'm constantly surrounded by beautiful things and my job is to make a scene look nice, so it's kind of an extension of what I do every day."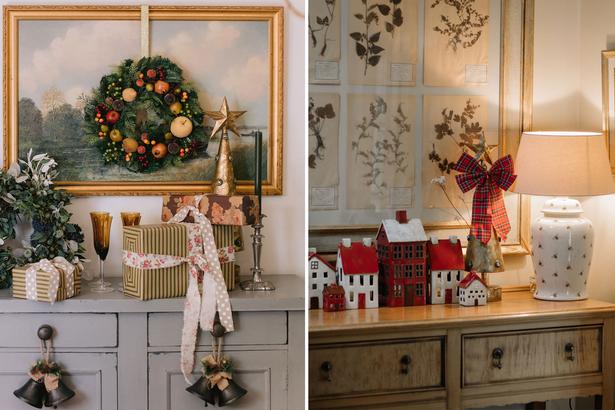 Her decorating wasn't always so extensive, but she's slowly collected a few special pieces every year that now find a place every year. "It's a life-long thing!" she admits. "I've been doing this since my early 20s."
Although she was born and raised a Kiwi, Anna loves the traditional English decorating style, both for the year-round interiors of her home, and the special pieces she buys for Christmas. "I like colour in an interior. I'm obsessed with fabrics and love the look of a home when it doesn't look like everything came from the same store. I like a home where everything's a bit different and quirky but when it's put all together, it looks perfect — warm and affectionate and well-loved."
READ: Counting Down: The Best Beauty Advent Calendars For Christmas
She has accumulated a hit-list of places to pick up great deals — like Pan Pacific, a gift-wrapping wholesaler where she buys rolls of wrapping paper and elegant ribbons. "They have big bins for end-of-line patterns and you can get 50m of really beautiful paper for $10."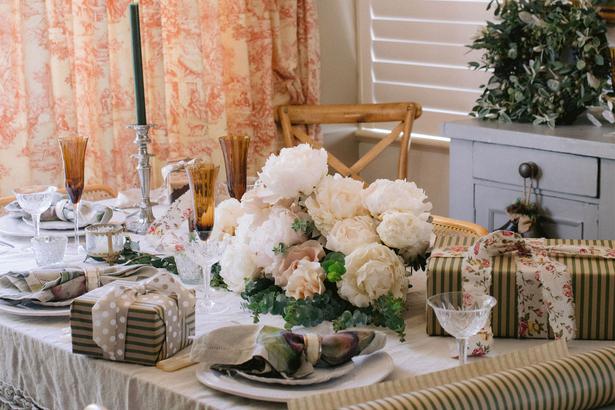 Christmas celebrations start on Christmas Eve at her home, with a Christmas Eve box for the kids, containing a new outfit for the next day — "just something simple like a dress and pair of sandals for Darcie and shorts and a T-shirt for Max" and a book to read before bedtime. The next morning, she and her husband are woken up at the crack of dawn by children eager to open presents. They're allowed a handful to open, but for the rest, they have to wait for the arrival of the rest of the family for breakfast. "Breakfast is a big thing for us," says Anna. "It will be the four of us plus my mum, my brother and some other members of the extended family — maybe some of Zach's brothers."
READ: 13 Beauty Christmas Crackers We Can't Wait To Pull
Anna makes Gordon Ramsay's blueberry pancakes "because they're amazing. My brother actually comes home from Melbourne for them." The breakfast table is beautifully laid with crackers, champagne, flowers and a lazy long breakfast. Afterwards, it's "a quiet day, and then we come back together for dinner at my mum's house, which is just down the road."
For Anna, doing the same things and bringing out beloved decorations year after year is a soothing pattern that gives structure to the year. "I think that sense of repetition creates a real comfort. It's the tradition of it. Holiday seasons come and go, but the traditions endure."
Share this: