Power Art Couple Janet Lilo & Courtney Sina Meredith At Home In Avondale
Award-winning artists Courtney Sina Meredith and Janet Lilo find love in everything they do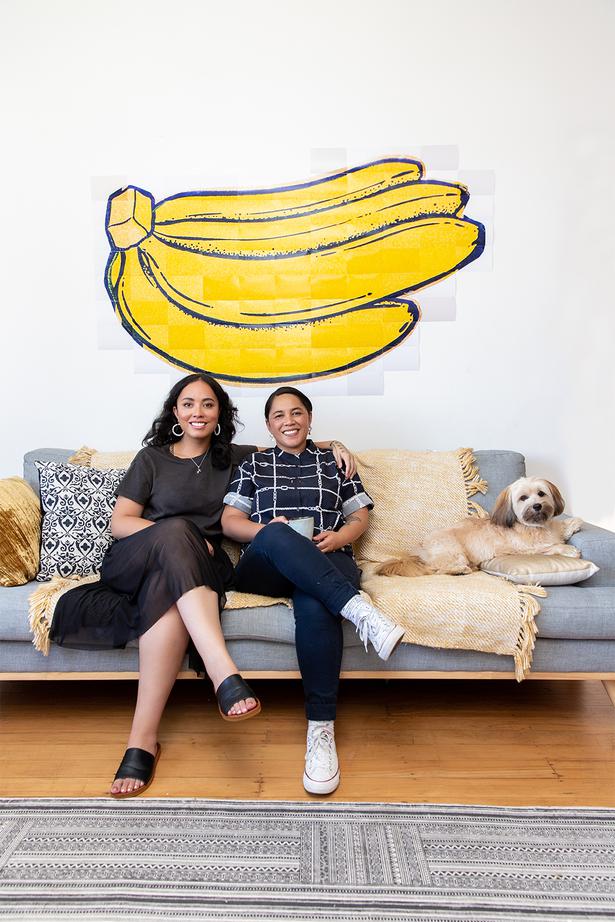 Wednesday March 25, 2020
Sitting down with artists Courtney Sina Meredith and Janet Lilo in their Avondale home and listening to their story is compelling and uplifting. It's a story filled with mana; tales about love, family, community and giving back.
It would be easy to just label them a "power" art couple; Courtney is an award-winning poet and the director of Tautai Contemporary Pacific Arts Trust; Janet is an influential visual artist with permanent works in Te Papa and the Auckland Art Gallery.
READ: Starving Artists Fund Designer Natasha Ovely Is A Creative Force
Yet it's soon evident that family and community are their most important works to date; each of them excelling in their respective roles as mothers, lovers, civic leaders and artistic pioneers.
Lately, Courtney's focus has been on Tautai. Previously inhabited by Artspace (which has moved downstairs), the gallery is expanding to take over the whole of the first floor to include a new space, which is a first in Tautai's 34-year history.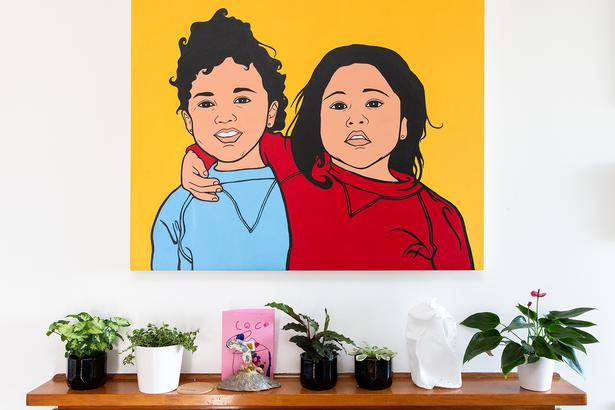 The new gallery, when it opens, will be a platform for artists making room for more exciting Pasifika-curated exhibitions. "Artspace has been an emblem for contemporary New Zealand art. So now to occupy that space and make it all about contemporary Pacific art, well there's something really beautiful in that and something really now," says Courtney.
"When we talk about the rise of Pacific art," she continues, "I genuinely believe there's a new consciousness, or an awareness, that [Pasifika artists] have always been here. That these aren't new voices, it's an awareness of those voices, and an infrastructure for those voices, and I'll say it — new funding for the amplification of those voices — where we're seeing change. More and more we're having people in leadership positions who are saying 'This is important to us; these are our key values'; it's not just dressing."
She and Janet have known each other for years, since they were both high school students at Western Springs College, but fell in love and moved in together just a year ago. They share their home with Janet's boys — Harry 12, Milo, 9, and Manaia, 3 — and Courtney's "baby" Sadie Rose, a dachshund/shih tzu puppy.
Courtney has lived in the home for nearly two years; it's been in a family trust for some time and several years ago she helped her father renovate it. With vast open views to the Waitakere ranges, the house has an enormous, slightly sloping backyard that the boys turn into a giant waterslide in summer.
Their love affair represents the merger of two incredibly talented Pacific artists. In addition to her role at Tautai, Courtney is an award-winning poet, playwright, fiction writer and musician.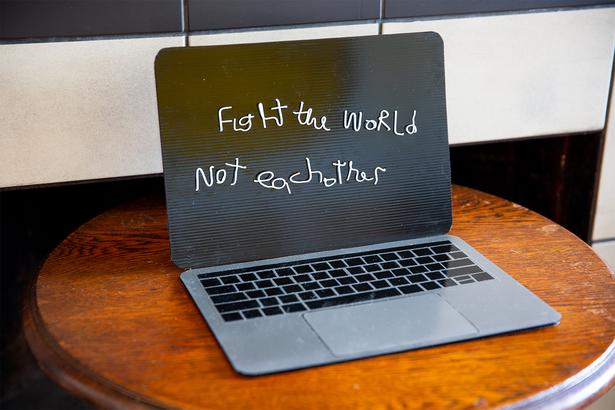 She's earned critical acclaim for her published works, including Tail of The Taniwha, a book of short stories, and The Adventures of Tupaia, the story of a Tahitian priest navigator who sailed on board the Endeavour with Captain Cook on his first voyage to Aotearoa.
Janet, an artist, lecturer and social commentator, uses digital photography, video, and multimedia installations to explore issues of popular culture, and is prestigiously represented in permanent collections at the Auckland Art Gallery and Wellington's Te Papa.
"I went to all of her shows, I fan-girled her!" says Courtney, who is four years younger than Janet. After high school their paths would criss-cross over the years.
READ: Inside A Music Industry Couple's Charming Waiheke Island Home
When Courtney was 24, and working at Auckland Council, she curated an art project and recruited Janet to be involved. Subsequently through their mutual involvement with Tautai — Janet was previously on the board — a seed of friendship was born that later blossomed into love.
"Part of why we fell in love and why I'm so in love with Janet and so obsessed with her — I'm infatuated, I really am," says Courtney, "[is that] there's a natural ease in our relationship.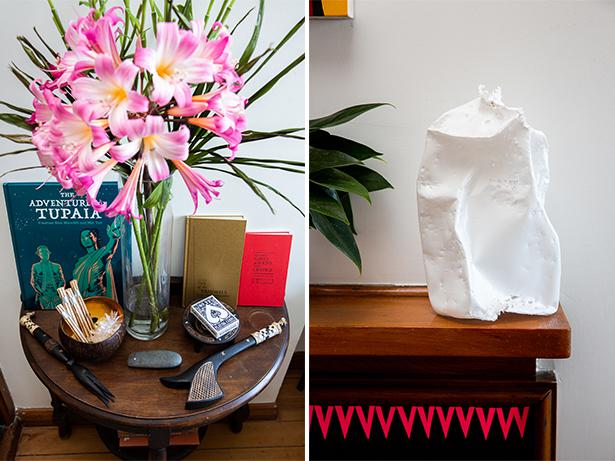 I've never admired someone as much; I've never had a partner who I look across to and feel so inspired by, or in awe of, constantly. I find magic in all that she is, in all that she does."
Their mutual love is palpable. Displayed on a living room sideboard table are a collection of works by Courtney, including the Poetry New Zealand 2020 Yearbook which features a love poem written from Courtney to Janet.
Will they plan on having children of their own? "It's a work in progress," says Janet, adding with a laugh. "We already have a fourth child, Sadie."
Although Janet only recently moved in with Courtney, she is no stranger to Avondale, having grown up in the suburb with most of her family close by.
She's also no stranger to giving back to her community; as a trustee of Whau the People Charitable Trust, an Avondale-based arts collective, she co-runs the All Goods Gallery, a non-profit space for arts, established a year ago.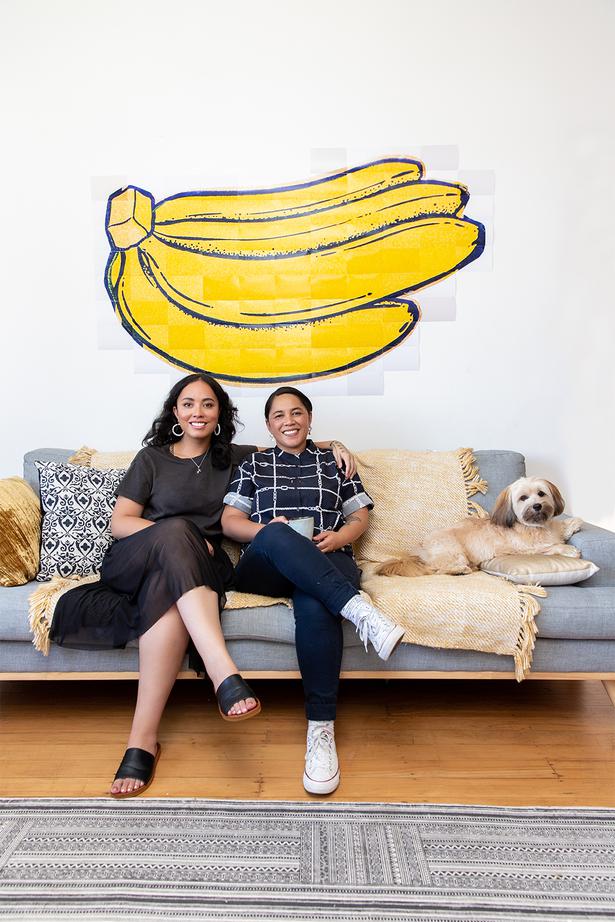 Her next big project is organising The Whau Arts Festival, set to be this June. "I have always worked with community in the context of arts. There's a balance: to do the little things, you do the big things," she explains.
After the Christchurch attacks a little over a year ago, Janet decided to show her solidarity with the Avondale Islamic Centre by anonymously leaving an artwork on the fence inscribed 'ISLOVE', along with the hundreds of other tributes from other strangers.
Twelve months on her sign is the only message the centre has not taken down. "The community is our home," says Janet. "It's probably my most favourite work of 2019 in terms of what it means to me."
READ: This Melbourne Warehouse Home Is Full of Playful Spaces
Their house is a "work in progress" from a decorative point of view, mainly due to the fact they've only recently moved in together. "We haven't been together for so long to 'grow up' a house. These things take time," says Janet, showing me one of her favourite pieces — a milk bottle punctured by thousands of tiny holes, which she explains is the result of the dog's teething period. "That's quintessentially New Zealand."

The walls are filled with pieces of deep sentimental value. Courtney's pieces include a photograph taken by Ralph Brown of Coven, a collective of queer artists activating an arts space. Below that is a painting by Courtney's step-grandmother Patricia Melhuish, of a beach scene in Napier.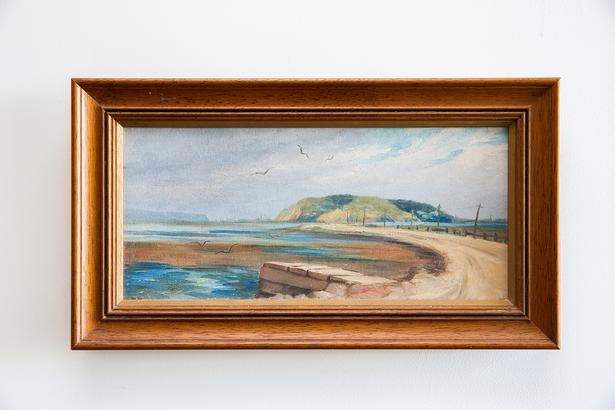 Janet's recurring use of bananas as iconography — think of her 6m-high light poles on the Karangahape Rd overbridge in 2017 — began with her original work, Banana (2012), which now sits on the living room wall behind the sofa.
She explains her use of bananas was originally inspired by her late Samoan grandmother, who used to hand out bananas to her and her cousins when they were children.
For the Viva shoot to accompany this story Janet has set up a temporary installation of corflute laptops — emblazoned with MAKE WRONG RIGHT NOW — in the backyard. It's an edit from her work Man in the Mirror that was part of the 2019 Honolulu Biennial, where she represented New Zealand. "I quite like using things that have a local or global context," she says.
Above the mantle in the living room is a painting by Courtney's cousin Danielle Meredith — appropriated from an early childhood photo, which her grandfather still carries in his wallet — that holds a special place in Courtney's heart.
"It's a little portal to a moment in time when you were young and everything was perfect and you hadn't experienced anything horrible yet."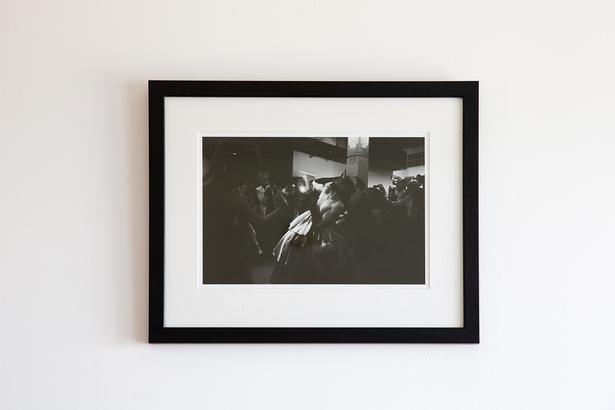 As a child growing up in Glen Innes, Courtney developed a deep love for her grandmother who she fondly remembers as an incredibly kind and empathetic soul; she remembers her working tirelessly in a denim factory for much of her life, having immigrated from Samoa at the age of 17.
Despite her grandmother's death just a couple of years after the photo was taken, the legacy of her hard work and passion is what inspires Courtney every day. "She encouraged me from a young age to speak my mind and have a voice," she says.
"From her challenges and her journey, to having a grandchild who's now opening this beautiful big space [Tautai]; the journey for me to be able to do these things began a couple of generations back."
• Tautai Contemporary Pacific Arts Trust was set to reopen on March 26, with Moana Legacy, an exhibition curated by Cora-Allan Wickliffe. It has now been postponed. Check Tautai.org for updates.
Share this:
More At Home / Features & Profiles