Q+A with designer Tom Dixon (+WIN)
Internationally renowned designer Tom Dixon will talk about his latest collection in Auckland next week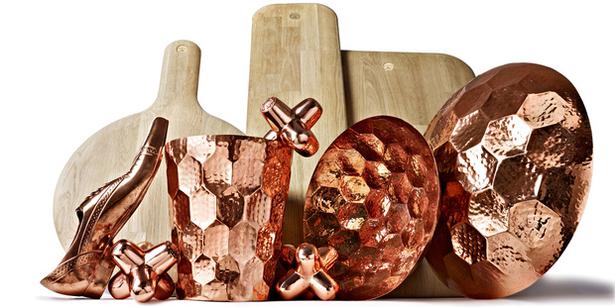 Wednesday Feb. 20, 2013
When you lend your name to a design company selling lighting and furniture in more than 60 countries around the world, you have responsibility. And you have people.
Tom Dixon's people in London contact mine (that is, me) before the interview to pass on a press briefing of dos and don'ts. They are naturally protective of the man who shoulders the load as the voice and face of his company.
Born in Tunisia, Dixon moved to England with his parents when he was four.
His innate affinity for creating objects that embrace a functional beauty has allowed him many career highs. In the 1980s, while working for Italian company Cappellini, he designed what was to become an iconic piece of furniture - the "S" chair.
In the 1990s, his stacking Jack light, made of polypropylene, became a symbol of the decade. Little wonder Sir Terence Conran turned to Dixon when he was looking for someone to steer the design department for his ground-breaking Habitat stores.
Awarded an OBE in 2000 for services to design, Dixon launched his own company two years later; products such as his Mirror Ball, Copper Shade and Wingback Chair won worldwide acclaim and the firm has grown exponentially. So it's understandable his press people are keen to carefully expedite any press coverage.
They needn't be concerned. Dixon himself is charming, funny and erudite with a grass-roots energy that translates into a never-ending array of ideas for products and projects. Later this month, Dixon will visit Auckland to help launch his latest collection of playful, yet chic, accessories under his company's Eclectic brand.
You are described as 'self-taught'. Has this helped or hindered you?
It helps me have a naive attitude to design, and approach it from a different perspective. A lot of people who are properly trained seem to cluster together and have similar styles. Some people relish training; I tend to recoil against it. Plus I still haven't completely decided what I am. I was described as a designer, even though I was just making things for pleasure. To me, this job still feels a bit like a hobby.
But, as head of such a significant design company, you must feel the pressure?
In a funny way, I have slightly less pressure than most designers who own studios and offer design as a service. At Tom Dixon, there is a limit to how much we can develop, stock and distribute. So a lot of my job is about that process rather than having 20 or 30 pesky outside clients to design for. The pressure I feel is self-inflicted.
I read that you once played in a funk band called Funkapolitan. Is music still part of your life?
My first professional years were as a musician and I did have a spot once on Top of the Pops. I was a bass player in the 80s, which was great and informed a lot of my thinking about design in general. Being 'untaught' was something that was made visible to me through music. In London, everyone seemed to be in a band and created their own music, wrote their own songs and made their own posters for their gigs. They were self-propelled, with no certificates and no parental approval. I transferred quite a lot of that home-made creativity into what I was doing with objects. The idea that you could make something yourself without being a professional, you could get out there and create your own aesthetic, and potentially sell it, came from there. The end of my music career came when I broke my arm on the eve of a tour. I was replaced by a much better bass player.
It was also a broken limb that launched you into design.
Six months at the Chelsea Art School ended when I had a motorbike crash and broke my leg. To be honest, I used it as an excuse to wriggle out of art school. I had a fair few crashes, which is where the welding idea came to mind. I thought that if I could maintain and fix my own classic cars and motorbikes as a student, that would be useful. I loved the welding more than the fixing and realised it was a great way of making structures. I still own two classic motorbikes - a Moto Guzzi California from the 1970s and a 1980s BMW Scrambler.
Who were your design heroes?
Oddly, I never used to look at designers at all. I was more interested in art and sculpture. The people I thought were doing great work at the time were the British school of sculptors - Antony Gormley, Anish Kapoor and Tony Cragg . I was looking at art, rather than design, but I always preferred the framework of functionality as a departure point. It was easy to be anti-establishment in the early 80s; people practising [design] at the time were easy to rebel against. In Europe, this was mainly the Italian postmodernists, whose work was plastic-y and comic-book, with patterned Formica and fake surfaces. In Britain you had a choice of the nostalgic look (Laura Ashley - floral, chintzy Victorian) or an updated Bauhaus style with yuppie black leather and chrome tubing. All the offices were done out like that and all the homes were nostalgic, so it was easy to be opposite. It's harder today because so much design is the legitimate thing.
What approach is Tom Dixon taking to address the growing concern of plagiarism and replicas?
Chinese manufacturers roam the trade fairs and sometimes things are copied, produced and offered for sale faster than we can do it. We have to go through a lot of testing; for example, lighting electrical certification takes a long time. They can nick details of our dealerships, dimensions and our press photos, then make a catalogue and get quite a big global spread quickly. We are unprotected by the law in New Zealand and Australia. You can use a picture of me and my name, and as long as you say 'replica', it's okay. This used to be almost flattering - like Louis Vuitton, with copies all over the world. But it's causing all kinds of problems for our dealers and supporters. Our challenge is to make products faster, of better quality and that are more complicated to copy. We have a series of strategies, but legals isn't one of them. You could spend your whole life trying to sue people, but you just have to go to China to understand the scale of the problem. There are hundreds of factories; it's like a multi-headed beast. You cut off one head and a whole new lot pop up. One aspect of our strategy is to use technology. I'm interested in the flexibility of using it to produce things closer to the cusp. For example, we've been experimenting with making things live on stage, right in front of the customer. At the Milan Furniture Fair, we used a super-efficient German machine with digital controls to make 200 chairs in two days.
You talk a lot about honest, resilient materials, yet at the same time, the joy of technological advancement. This seems contradictory.
I don't see why they should be opposite. Although the Milan chairs were made in a significantly new way, the material is still galvanised steel, which has been around for eons. I'm keen to be part of modern world, but not part of characteristics such as planned obsolescence, which is not attractive. I want to make modern objects that will stand the test of time. We're always using new technologies, and new finishes, particularly in the lighting sector where technology is moving apace, pushed ahead by both scientific advancement and government legislation.
Just the introduction of LED bulbs [which do not get hot] changes what we can do. Now we can make lampshades out of basketwork [and they won't burn]. So, old-fashioned, noble materials can be used together with the latest innovations.
Your style seems to wander all over the place. In fact you've been called "maverick".
I'm always seeking a different sensation, or to dabble in things I'm not very expert in. Any label or person trying to create a thing should have uniqueness about them. I hope I can stick out like a sore thumb in an increasingly oversubscribed field. Although I take maverick-ness as a compliment, it's not an active strategy. It stems from me getting bored very quickly.
The whole Tom Dixon organisation is set up so I can make my own decisions and keep things moving at a pace. I want to be able to do things because I feel like it - not because I am asked to or told to. That, of course, brings all kinds of other constraints.
Sustainable design is something you are not known for. Is there a lot of lip-service given to this?
I'm keen to try and do what I can, but I think that there is hypocrisy in producing lots of stuff, sending it across the world and then turning up in New Zealand to talk about design - my carbon footprint is really rather large. There's quite a lot of "greenwash" and people claiming sustainability, and we've done several experiments [in order that we] have slightly less impact on the world. For me the objective would be to slow down disposable culture. I aim to make things that people want to hand down over generations. I try not to make them too fashionable and, while we do tend to use more materials, rather than that being excessive our products are made for durability. Most use relatively simple combinations of materials which are recyclable, but if I have done my job properly, they shouldn't break and will last forever.
Tell me about the Ladbroke Grove water tower that you converted into a home. You don't live there and never intended to?
The tower is a personal project and not to do with the company - it's a folly, more than anything, like my version of a shed. I've stayed there occasionally, but we're still building it and have another five floors to go. The nature of a folly is that it has no practical purpose. But I have lots of dreams for it. It's like my country house in the middle of London, a good place to escape or let friends stay.
In 2000 you were awarded an OBE. Designers have recently been afforded rock-star status. Is design that important?
If only that were true! The level of exposure is very different - there are no queues of girls at hotel rooms and we don't get recognised in the street. I only get asked for autographs in Japan, which happens to everyone and anyone. Yes, design is getting a bit more recognition, but not even on the level of cooking. Architects, on the other hand, have had rock-star status since Le Corbusier, really. Frank Lloyd Wright and Mies van der Rohe were quite powerful individuals in every sense of word. As far as product designers go, Raymond Loewy and Philippe Starck are the only dominant figures to become household names. In a much narrower group of cognoscenti, more people have more visibility, but I wouldn't call it rock-star.
The latest collection, Eclectic by Tom Dixon, comprises 30 new accessories ranging from rulers to tea-sets. What's the idea behind this?
We've been working for a long while in lighting, then furniture, but always with the intention of being able to do a "whole universe" - so accessories is part of the jigsaw puzzle. Because I worked at Habitat, I was interested in a broad range of things, from toys to textiles. I'm also interested in cooking and clothing, so I wanted a place where I could design a dog coat or a pack of tea if I wanted to. Now I can do this within my own company.
I see Eclectic as a repository for the best of their kind: the perfect corkscrew, for instance. While the Tom Dixon range [of furniture and lighting] has to hang together as an aesthetic, Eclectic is a layer of archetypal extras that can sit on top of that, but without the same rigour.
Have you ever been to New Zealand? What are your impressions of the design scene?
My sister is an osteopath who lives in Auckland. Even so, I've been there only once. We do employ a lot of Kiwis and, despite the massive distance, I feel a kinship, perhaps because we are both island nations. When I turn up in New Zealand, we'll be hanging out with the Simon James guys. For a small country, New Zealand punches above its weight in terms of sales and enthusiasm. I met David Trubridge when he showed first in [the Milan Furniture Fair] Italy and I did try to include him in a collection with Artek at the time, which never came off. Jamie McLellan is also an ex-employee of mine. He's fantastic and has a great future.
Share this:
More At Home / Features & Profiles