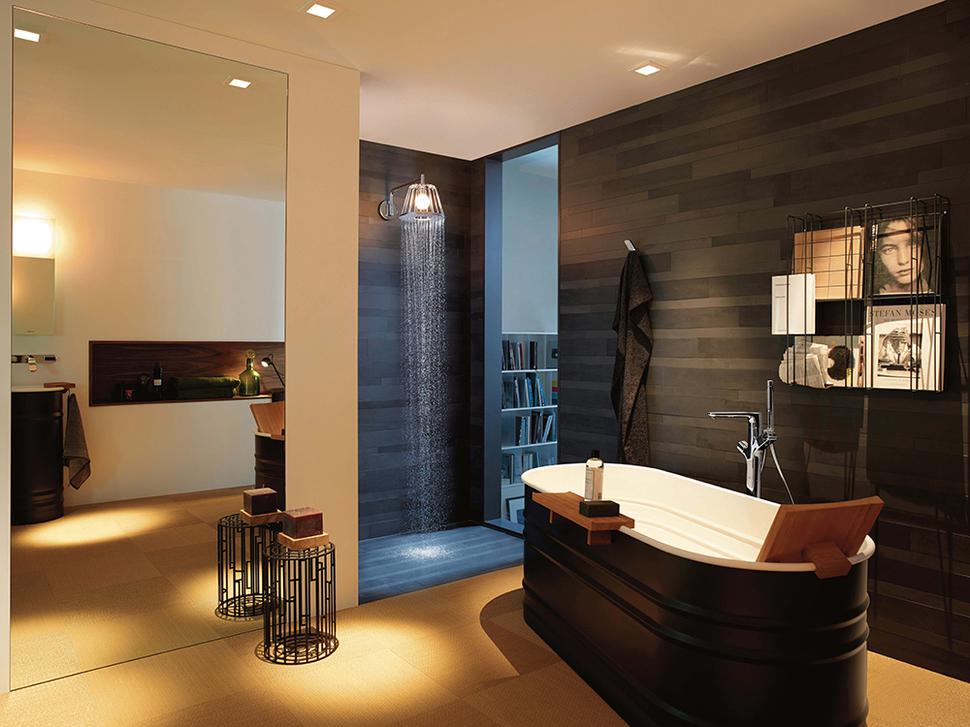 Why Your Bathroom Should Be Just As Relaxing As Your Lounge
The once function-focused bathroom has transformed into the most relaxing space in the house
Monday June 4, 2018
Now, we're not about to suggest you host your next dinner party in your bathroom. But, over the years, the bathroom — once a mainly functional space — has become increasingly important as a place to spend time in beyond a quick hose-down in the shower and a scrub of the teeth.
Today, it's a place where you can retreat, relax, perform rituals that nourish your skin and hair, read, think and even chat with a loved one.
As part of that transition, the materials, forms, colours and textures used in bathrooms have started to move closer to those found in spaces like the lounge and kitchen. Where white ceramic tiles and practical materials such as linoleum once dominated, more tactile textures like wood, stone and water-resistant plaster now give a softer finish.
READ: How To Pick The Perfect Pots For Your Houseplants
Colours, too, have gone darker, with deep greys, greens, and even black, creating a more enveloping and restful space. The traditional chrome taps are being replaced with brushed or coloured finishes, and visually softer materials like brass and copper.
Alex Walls, who with her partner, Corban Walls, won the 2014 season of The Block NZ and then founded their own homewares brand, says the opportunity to make the bathroom more of a living space is often overloooked. "The bathroom is an under-utilised space in the sense that people often miss the opportunity in styling it." Focusing purely on the practicalities means that people can miss the chance to "add character and personality".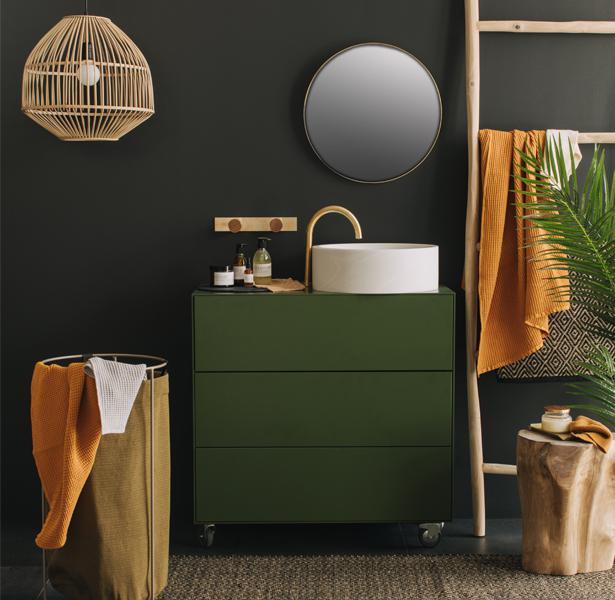 Alex & Corban Home Winter Washroom reveal. Photo / Supplied

5 WAYS TO TRANSFORM YOUR BATHROOM INTO A RELAXING SPACE 

1. Deepen The Colour Scheme
For this winter, Alex & Corban Home released a "room reveal" of a Winter Washroom that takes a bold approach to colour, with a deep green wall as a backdrop. As a Dulux ambassador, Alex says the walls are where they always start in a room concept, as the colour sets the mood.

"People don't actually enjoy being in a sterile-looking bathroom anymore. All the whites, clean, clinical — that's not what people want anymore," she says.

"If you've got a bath, you want to be able to enjoy relaxing in the bath. I have noticed that people are really loving the idea of quite a moody bathroom, which is the total opposite of the traditional white, clean bathroom. For our washroom, I love the low-light effect that the bathroom is showing, with dark walls and dim lighting." Dark floor tiles keep the look unified.

READ: Boutique Homeware Stores To Visit

2. Choose Sculptural Fittings
Taps, showerheads and mixers have come a long way in the last few years. Aside from improvements in the water flow rates to conserve water without loss of pressure, the forms and materials available are becoming more sculptural and refined.

Some brands are making direct references to shapes found more commonly in furniture, lighting and decoration, such as freestanding bath mixers and, in the case of Hansgrohe's Axor Lamp Shower, designed by prolific Japanese designer Oki Sato of Nendo, a showerhead that both looks like a lampshade and contains a light source.

For her styled washroom, Alex chose round, brass mixer knobs with a walnut veneer that look more like something you'd find on a vintage stereo than a tap.

"They're from Kitchen Hub, and are made by a company called Wood Melbourne that also do really cool raw concrete basins and tapware. It's great to add that extra element of material without being over the top about it."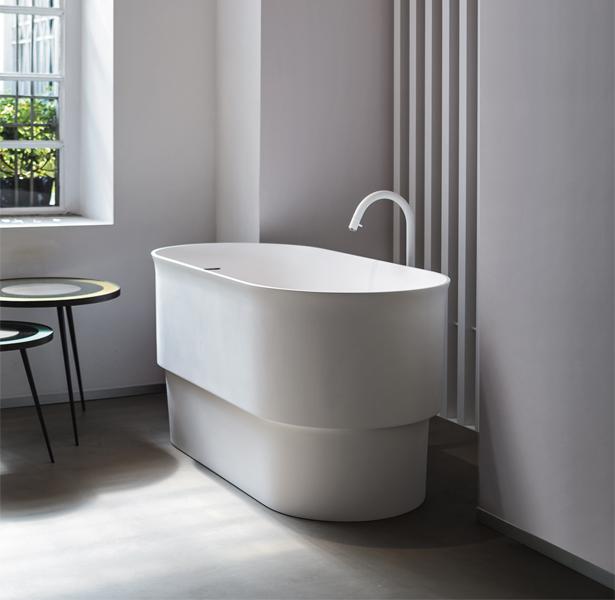 Agape Immersion bath, from Matisse. Photo / Supplied

3. A Bath You Can Relax In
A place you can sit or lie down, relax, read a magazine, have a glass of wine — you could be talking about your sofa, or you could be talking about your bath. Either way, they're places that need to be supremely comfortable without compromising on looks. Freestanding baths tend to have more flexibility in their shape, making them more comfortable.

And they don't need to be gigantic — slipper baths, like the Adesso Mecca Bath (available through Mico Bathrooms) have one end higher than the other, giving excellent neck and back support.

Even in a small apartment bathroom, a square, deep tub, like the Agape Immersion Tub by Shanghai-based designers Neri & Hu, can be extremely relaxing. A small seat within the tub allows the bather to sit comfortably, while the deep sides allow for full immersion.

READ: How to Create the Perfect Bedroom

4. Don't Be Afraid To Decorate
Bathroom decor can go well beyond a couple of scented candles and a pretty bottle of handwash. Plants are an ideal addition to the bathroom — tropical flowering plants like orchids, bromeliads and peace lilies thrive in the humidity of a bathroom, while shade-loving plants like snake plants, string of pearls, bamboo, sword fern or ivy will bring a lush feel to lower-light bathrooms.

Vessel basins, that sit atop a vanity, can give the same effect as a glass, metal or ceramic serving bowl displayed on a sideboard. And adding a stool to the room serves a practical as well as a decorative purpose.

"The teak root stool we used in the washroom is something that people might only ever see in a bedroom or lounge, but I love the idea of it being there to plonk your towels on, or if you're having a bath, put a candle or a glass of wine on it," says Alex. A pouring jug in brass or ceramic can be a beautiful addition to hold cold water for drinking — or to dip in the bath to rinse your hair after a masque.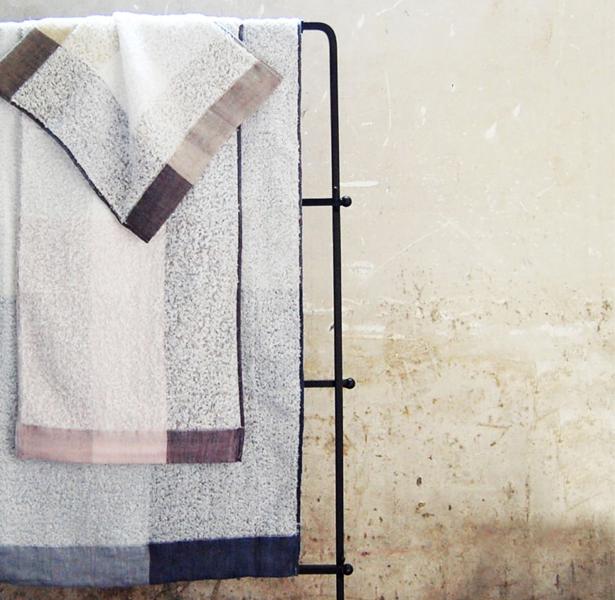 5. Add Luxurious Soft Textures
Bathrooms require a lot of hard, water-resistant surfaces, so bringing in some softer textures gives them a more liveable feel. Many of the newer types of towels available are more texturally interesting than traditional cotton loop. Turkish towels are thin, large towels, often with a subtle striped weave pattern that are quick-drying and look great hung on hooks.
Waffle-weave towels have a throw-like texture and Kontex Japanese towels are woven slowly on a weaving machine until they have a softness that's more like wool or cashmere than cotton.
Share this: