Siostra's Esther Lamb Shares Her Christmas Entertaining Approach
The co-owner of Grey Lynn bistro Siostra has plenty of experience being the host with the most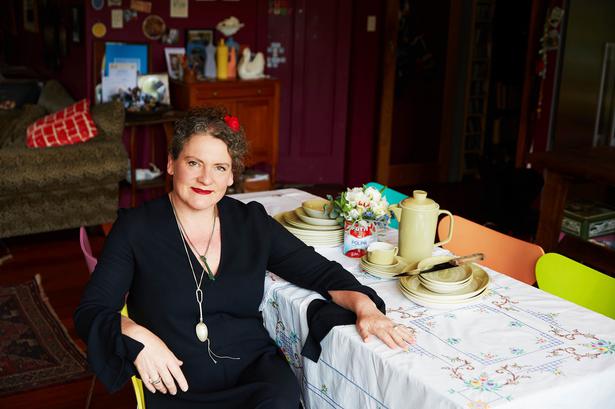 Thursday Nov. 29, 2018
Renowned for being one of the most gracious and welcoming hosts in the Auckland restaurant scene, Esther Lamb uses that same approach when entertaining at home. Her kitchen is filled with well-loved and nostalgic cookware and serving ware that's served her well for years, and will continue to do so for years to come.
READ: Restaurant Review: Siostra, Grey Lynn
How often do you tend to entertain at home? Does the rate go up towards Christmas?
November/December is really busy at Siostra so entertaining at home takes a back seat. I tend to pack in all my cooking for family and friends on my days off, Sunday and Monday.
Christmas is very much an extension of these events. A big table of meats, salads and vegetables for everyone to help themselves smorgie-style. I keep in mind what I know people like or don't so everyone is happy. Crunchy potatoes for the kids. Grains and pulses for my mum and older daughter. Always a big salad. Usually a big selection. Offer a drink on arrival, preferably fizzy or a spritz. I like to have something nice for the kids — "kids' wine" (non-alcoholic grape juice) or a fruit cordial with soda.
What's your favourite way to entertain at home — cocktail party, casual meal, formal dinner, picnic in the backyard?
Casual is my entertaining milieu. I live in an eclectic, mad, messy house, so it's very much as you find us. Certainly nothing formal.
What are your favourite appliances that you use when entertaining?
I have a very basic kitchen but I use a big Smeg oven so I can cram it with different dishes. I have a beautiful old wooden handled Victorinox knife and several old cast iron pans that I inherited from my godfather Sebastian Black. He was the consummate dinner party cook and I remember him every time I use them so that's a nice connection to my cooking whakapapa. And I love my handheld mandolin. It's great for doing courgette, beetroot, and carrot for salads.
READ: How to Throw A Memorable Dinner Party
How far do you take it when entertaining — are you the sort who sends invitations, assembles colour palettes for the table and orders flowers? Or do you throw it all together on the day?
I'll plan what I want to cook in advance but it is very much bought and thrown together on the day. I have an open-plan kitchen/living area so I can be part of the action while prepping. I try to do as much prep as I can before guests arrive so I don't have to be totally monopolised and distracted by cooking. Cooking for friends and family should be fun not stressful!
Tips…
I guess, be an attentive host. Keep an eye out for what guests need… a top up, an extra slice. Attention to music is important. My partner Mark will put together a particular soundtrack for the evening.
What do you have planned for Christmas this year?
For Christmas, I bust out my collection of vintage embroidered tablecloths and my Crown Lynn Egmont dinner service but still keep it casual. I'm conscious of not buying disposable straws, napkins, etc. Crackers are out this year. The world doesn't need the junk. My youngest daughter and I agree the jokes and hats are the best bit. We are going to write out some jokes, make some silly hats from newspaper and recycled wrapping paper and give everyone a 4Ocean bracelet as a favour. Flowers will come from the Enchanted Rose in Herne Bay or the Grey Lynn farmers' market.
Share this:
More At Home / Features & Profiles