Why You Should Live in a Small House
Living in tiny houses could be the way of the future, writes Rebecca Barry Hill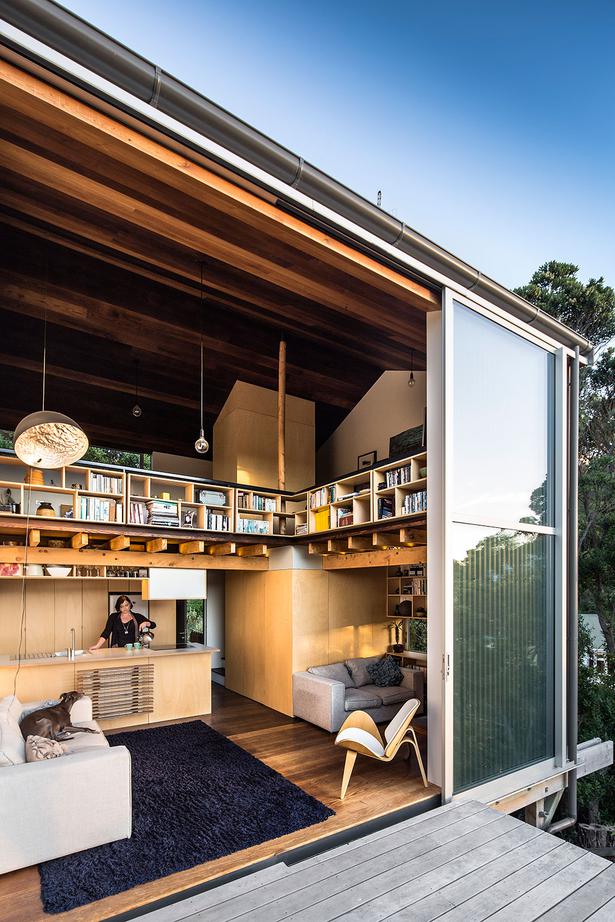 Tuesday Sept. 22, 2015
The pros of living in a small designer house seem virtually spiritual. Less vacuuming. Fewer possessions. A reduced carbon footprint. But how many of us could happily exist within a space that measures less than 90sq m?
Quite a few, judging by Small House Living. The fascinating new book by Catherine Foster examines 20 of New Zealand's most "design-conscious" homes, measuring less than half the size of your average 205sq m Kiwi new build.
Many of them boast ingenious design features, a byproduct of architectural creativity and necessity.
A 65sq m studio in Christchurch by architect Jae Warrander came about after his parents' home was irreparably damaged in the February 2011 earthquake; it served as a temporary home until their original house could be replaced.
Then there's the 57sq m Dorrington Atcheson design in Titirangi. The Valentine family chose to downsize so their children and grandchildren could live in a small sister house next door. Others shrink their floor plans for baches, to bring the family closer together on holiday.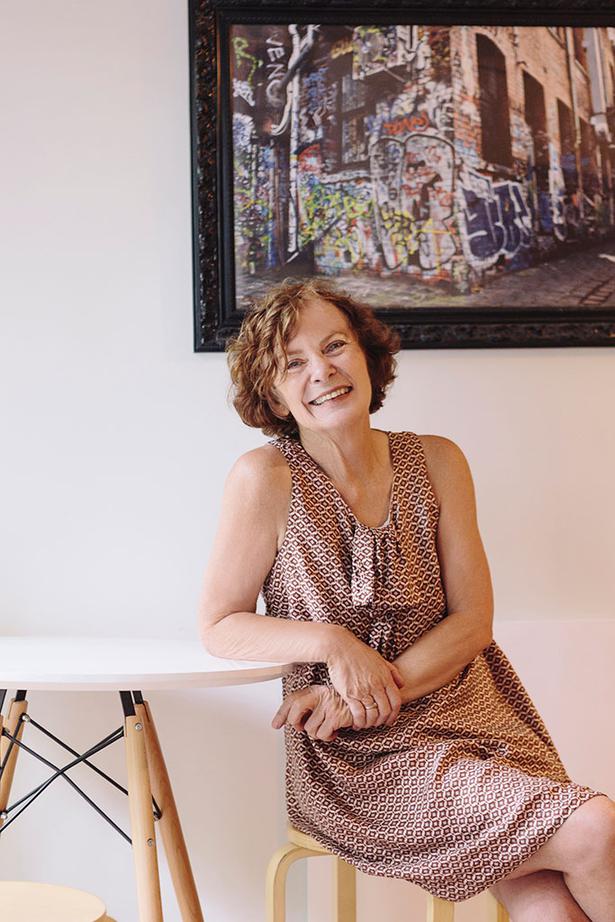 "The pros are definitely freedom," says Catherine, who lives in a small house. "If you cut down the size of your mortgage and responsibilities you also cut down on the maintenance. But you have to be disciplined and if you're a sentimental sort of person who can't bear to get rid of stuff, you're probably not going to be very happy in a small house. You've got to cull your belongings ... do you really need 10 sets of bed linen?"
In other words, living small may not work for collectors or messy types. You'd also have to quite like the people you're living with, something Catherine says she found to be true.
If you get the design right, however, you needn't have to sacrifice aesthetics, light, space and flow.
Naturally, the majority of owners of small homes are singles and couples, many of whom had made a commitment to do without wasted space. Architect Andrew Simpson and his partner Krysty Peebles from the 50sq m Wellington Nine Tsubo house — inspired by Japanese architect Makoto Masuzawa's answer to the postwar housing crisis — had always lived in small dwellings.
Likewise, Catherine and her siblings grew up in a Northland home that she says would have been no bigger than 65sq m. Later, living in London she grew accustomed to terraced housing.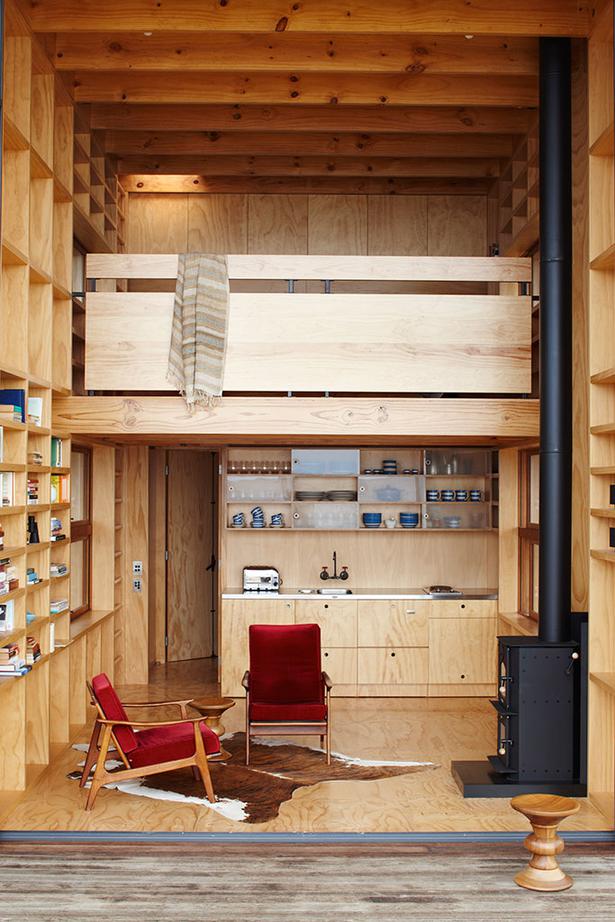 "When I came to New Zealand I was sucked into 'gotta do better', and I ended up having to sell the house of my dreams and my children's dreams, a waterfront cottage in Westmere. Silly me. If I hadn't thought I had to extend it and modernise it, we'd still be there, annoying the neighbours because it looked pretty shabby but it was magic. And I didn't need to do it but I came from that mindset."
The housing crisis and lack of affordability squeezing buyers out of the market — not just in Auckland but in big cities around the world — convinced the freelance lifestyle and property journalist (and co-author, with Shelley Bridgeman, of Buying Your First Home) that the time was right for such a book.
"It's not just that everyone wants to get rich," she says. "We want to control our space. I think that's a human desire, especially once you have a child. But it's no longer affordable and the irony in Auckland at the moment is that, until our planning densification laws change, and I really believe they will, we can't build small in Auckland."
Add to that public concerns compounded by attitudes of nimbyism, and it's uncertain if and when small house living will take off in urban centres.
"When the densification rules change, I think we're going to see that suddenly, 'Oh I can build a $200,000 house in Auckland on 100sq m' and the banks will go with it. But, at the moment, we're not there because of this dialogue going on behind the scenes."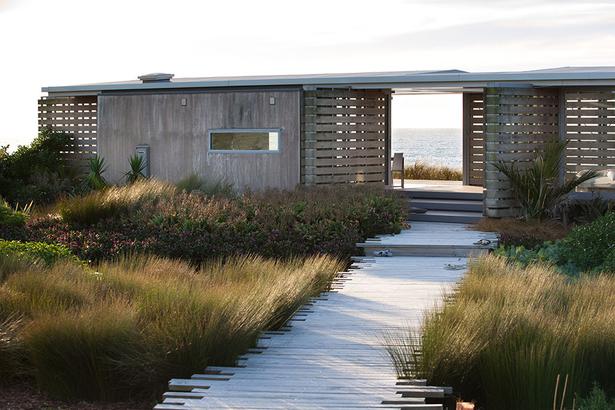 In a telling chapter, when small house owner Dot Dalziell and her partner took their building plans (from boutique design-and-build company Box) they were "laughed out of the bank". Long-time owners of a tumble-down ex-orchard workers' cottage in West Auckland, they had found that building new rather than renovating was the only feasible way to improve their home to an environmenally sound standard, Catherine writes.
"We could build a huge five-bedroom brick-and-tile for the same money and they'd lend to us, but not for a 90sq m beautifully designed, passive solar-efficient home," Dot explains in the book. "What's called the loan-to-value ratio was all wrong for our area."
Box's solution: to design a home with multiple uses that could either be lived in by a nuclear family (what the bank saw as the typical future buyer) or by a combination of sharers. The result is an 88sq m home in Sunnyvale with a 35sq m flat attached.
Willing owners should also be aware that smaller houses have a higher build price per metre, says Catherine. Although some houses cost around $200,000 to build, others were a lot more — many of the baches were built on difficult to reach sites.
"Every house needs a kitchen and bathroom — they're the most expensive things. To build another 100sq m worth of bedroom or open living space, that's the cheaper end of the deal."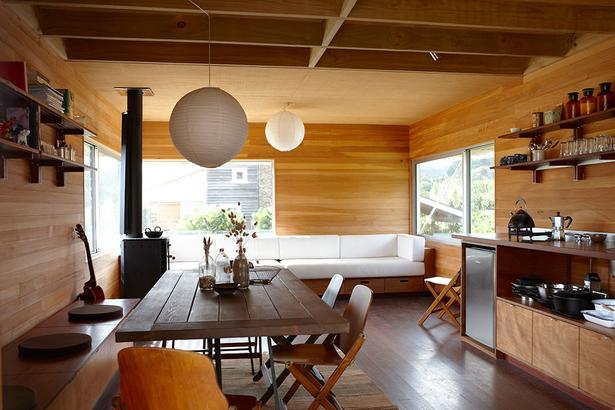 Catherine nonetheless found a wealth of photogenic material for the book, a sort of aspirational style bible for living with less. She reached out to her architectural contacts and scoured the net, looking at award-winning designs.
Size and aesthetics were key criteria but so was a home's eco-footprint. For instance Colin McCahon's 75sq m Titirangi artists' residence, by Bossley Architects, was designed not to disturb the property's well-established kauri trees. And the 87sq m Te Modular house by Herbst Architects on Great Barrier is self-sufficient for all electricity, water and sewerage needs.
Some of the space-saving solutions are also particularly nifty. In both the 70sq m Black house from Queenstown Architects and the Warrander, the staircases double as drawers. The 62sq m Bachelor Pad, by Colab in Christchurch, built on a long, narrow site, has sliding doors opening to a courtyard, virtually doubling its entertaining space. And the ingenious 40sq m Hut on Sleds in Coromandel, by Crosson Architects has cantilevered windows that close it off when no one's there.

• Small House Living by Catherine Foster, $50, published by Penguin Random House New Zealand, is out on October 1. 
Share this:
More At Home / Architecture