Where to Shop: So Vintage, Cape Kidnappers
This vintage shop is home to a range of impressive collectibles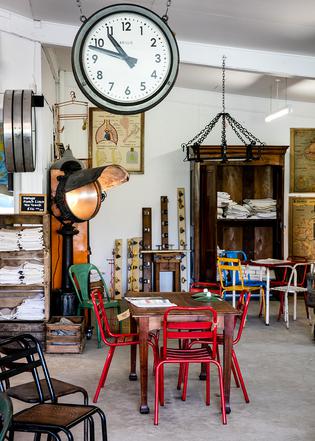 Seeking original French cafe chairs? A metal locker from the 1930s? A mid-century Roger Feraud coat stand?
In-the-know Hawke's Bay-based hunters and gatherers head to So Vintage, near Cape Kidnappers, but it's not just for locals. Frenchman Mehdi Sanssar, who runs the 600sq m vintage furniture and lighting store with his Kiwi wife Korreen, sources pieces for cafes, homes and baches throughout New Zealand; their treasures have even caught the eye of buyers as far afield as New Orleans and Japan.
Medhi got into the French "national sport" of weekend market hunting when he was a kid, and it didn't take Korreen long to fall in love with it either. When the couple moved to New Zealand in 2009 they brought their love for French and European antiques, vintage, retro and industrial pieces with them, setting up in the seaside location of Te Awanga. They return to France several times a year, scouring the country's brocantes for the chic and original: bistro tables salvaged from the library at a Parisian high school, iconic Jielde floor lamps, vintage wine crates from Bordeaux.
"You can buy an original piece from a famous designer in fabulous condition and pay no more than what you'd spend on a brand new piece," says Mehdi. "These pieces have so much history, style and character. You can't beat that."
• So Vintage, corner of Clifton Rd and Pipi St, Te Awanga, Hastings. Ph 027 956 9415.
Share this:
More At Home / Trends & Shopping