Favourite Things: Sophie Wolanski of Muck Floral
Florist and store owner Sophie Wolanski has an appreciation for conscious craftsmanship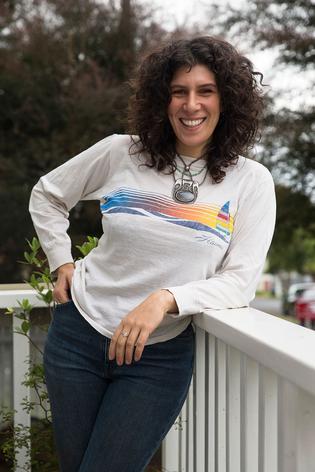 A holistic touch runs through Sophie Wolanski's work. Operating from her Grey Lynn store Muck Floral, she crafts everything from simple bouquets to large-scale photoshoot installations. Her approach to floristry is loose and natural. "I have a background in sculpture so I guess I approach it the same way — objects in a space. For this reason I love doing vase arrangements. Each stem has its own lines and letting them dictate where things go will get the most natural outcome."
Sophie lives in a Mt Roskill bungalow which has been updated in just the right places, namely the garden and kitchen. The garden is her favourite spot; it's here where she grew her prized Kumi Kumi pumpkin. "We dug up the lawn when we moved in and put in two 3m beds for vegetables and flowers. Being from Sydney I'm still getting used to the winters here and in our lounge we have a log burner, so I'm pretty excited about that."
An appreciation for slowing down, reducing waste and local craftsmanship is at heart of the Muck ethos — the handcrafted objects in her home and store are a testament to this. "I would love to see a shift in the way people view flowers. I think right now it is seen as a luxury item — a gift you give, or a condolence, not an everyday item. However there is nothing more beautiful than bringing flowers into your home in a natural way. It's actually one of my favourite things to do, to bring a home alive with flowers. It doesn't have to be an extravagance, just a couple stems of something here or a branch of something interesting there."

MY FAVOURITE THINGS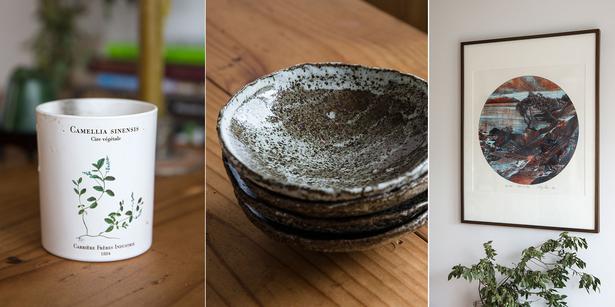 Carriere Freres Candle; Alex Standen bowls; Stanley Palmer wood block print. Pictures / Guy Coombes.
1. Carriere Freres Candle
I have a strong sense of smell, so I often find candles way too sweet or pungent. These are the only candles I have in the house — I am obsessed with the Tea Plant scent — they are so amazing you just have to light it until the wax melts and then blow it out and it will scent the room for hours. The one in the picture has been going since 2012. The packaging is so simple and beautiful.
2. Alex Standen bowls
These bowls were made for me by Australian ceramicist Alexandra Standen. She only makes them for friends and trades for art, but I charmed her into letting me buy a small set. They are the perfect shape and size for all kinds of meals. I will hopefully be getting some in my shop later this year.
3. Stanley Palmer wood block print
This isn't actually my item, it belongs to my partner, Rob, but I'm commandeering it for the purpose of this piece as I love it so much. Aside from the beauty it pervades in its own right, it's especially significant because Rob inherited this painting from his grandparents, who were friends of Stanley's. To him it carries memories of his family and their love of New Zealand art.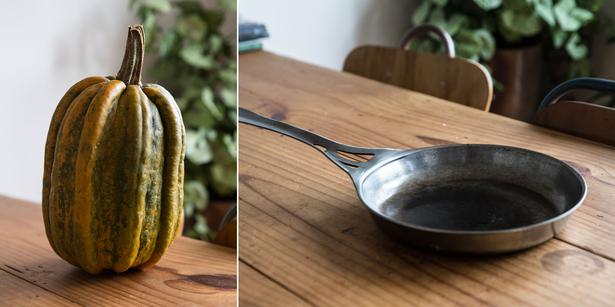 4. Homegrown pumpkin
This was the first successful pumpkin we grew when we moved into our house. It's a kumi kumi, which is a heritage Maori pumpkin. Watching it change from green to orange was so spectacular, it happened in an almost pixelated way. We're so proud of it, we haven't been able to bring ourselves to eat it yet. But maybe now it's had its 15 minutes of fame it can be our dinner.
5. Solidteknics AusIon 26cm skillet
This is my newest addition to the kitchen and I'm completely obsessed. Solidteknics are made in Australia and designed by an ex-chef so have all these little adjustments to make them good to cook with. Using Solidteknics in the kitchen is like cooking using cast-iron but not nearly as heavy. That said, I have some of their cast iron too. I literally threw away all of my other pans when I got them.
Share this: