SPONSORED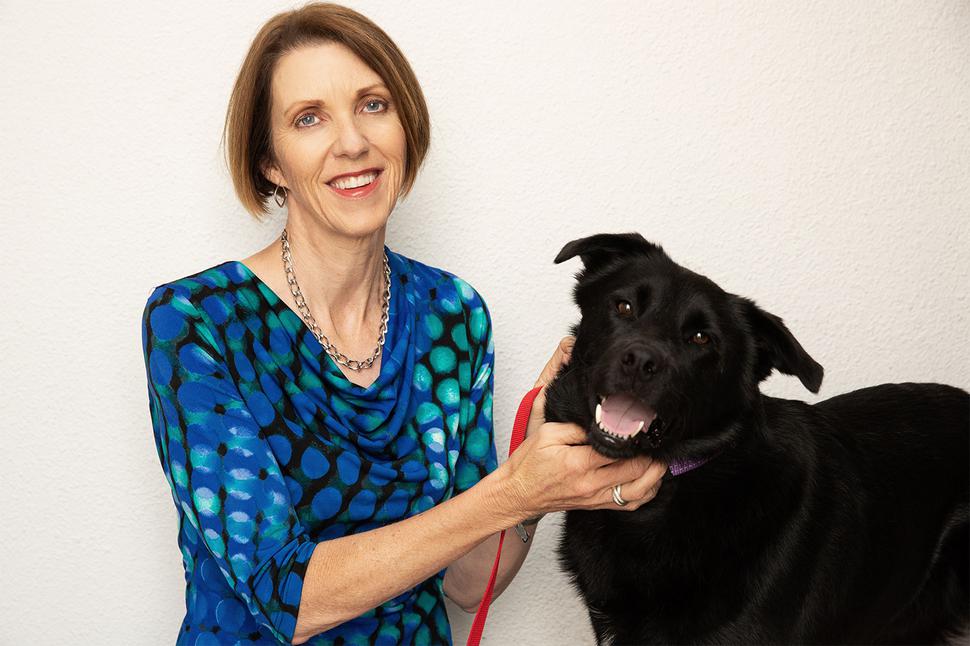 Take Paws For A Good Cause
Dilmah and Viva join change-makers throughout New Zealand for a cup of tea to discuss how they are creating positive change
Wednesday Dec. 11, 2019
Not many people can say they love Mondays as much as Andrea Midgen.
As the CEO of SPCA New Zealand, Andrea spends much of her workday surrounded by furry friends who have yet to find their forever homes.
But it's not all tummy rubs, pats and cuddles, and no two days are the same for the self-confessed 'jack of all trades'.
"Part of my job involves leading people, but I can also be found meeting with SPCA donors and supporters, overseeing building projects, out in the field, being available for media, working on the SPCA's strategy, the list goes on," Andrea says.
Her current role as the CEO of the SPCA is pretty far removed from where she started out. A trained accountant, Andrea has worked across finance, business integration and strategy, and customer service. During her tenure at Vodafone, she acted as chair of the Vodafone Foundation, which reignited her passion for doing good. 
But after years spent in the finance and technology sector, Andrea quickly realised she was more interested in people than numbers and figures.
"I joined the SPCA in April 2015 and I genuinely love my job," she says.
And who wouldn't when they get to bring their dog to work every day? Andrea is the proud owner of Jack, an ex-SPCA dog who comes to the SPCA offices most days. "He loves being around his people and dog friends," Andrea says.
Jack was rescued by one of the SPCA inspectors in Ruakaka. Sadly, he'd been chained to a tree for the first year of his life.
"The inspector called me and said: "I've found a dog for you!" She was right. It was love at first sight. When I first adopted Jack he knew nothing – didn't know words, what water was, or what to do with toys. We've done lots of training since and he really is the most wonderful, chilled out dog."
A perfect example of 'practice what you preach', Andrea lives and breathes the SPCA's #AdoptDontShop message. It's something the SPCA takes time to arrange – matching up people and their pets by lifestyle.
"It's so important that people are adopting pets that fit their life: how active they are, whether they work long hours, if they have children in the house or not. We do a lot of work to educate people about the commitment of having a pet, so they're prepared before making that decision," Andrea says.
Christmas is one of the busiest times of the year for the SPCA, mainly because it coincides with kitten season. But if you're thinking of giving a kitten as a gift for Christmas, make sure you check with the person you're gifting it to first, Andrea warns.
As New Zealand's largest not-for-profit animal protection agency, the SPCA relies on the support of the local community to raise funds.
"The SPCA is almost entirely community funded, and our work is only possible with the support of animal lovers around New Zealand," says Andrea.
Karen Walker is one such animal lover, who collaborated with the SPCA earlier this year in a limited-edition collection. Several SPCA dogs were photographed for the campaign (including Andrea's Jack), with a portion of the proceeds from the sale of each piece being donated back to the SPCA.
One of the SPCA's better known community initiatives is Cupcake Day, which runs every year in August. This year alone 1800 participants managed to raise more than $400,000 by selling cupcakes at their workplace or school – making it the most successful Cupcake Day in the 11 years since its inception.
"It costs $43 million to run SPCA each year, which is a significant amount of money to raise – and events like Cupcake Day make that possible," Andrea says.
On November 9, the SPCA launched its Great NZ Paws Walk to fight animal cruelty. The event saw 11 dog walks held across the country, with supporters and their dogs walking together to make a difference for animals in New Zealand.
Andrea says her team was humbled by the outpouring of support and enthusiasm the initiative had for its inaugural year, and hopes to make the event bigger and better in 2020.
But that's not all that's on the agenda for the SPCA in 2020. The SPCA's primary focus for next year is expanding its free and low-cost de-sexing programs. It's one of the main ways of improving animal welfare in New Zealand, Andrea says, which in turn helps prevent the problem of unwanted or unloved litters of animals.
Education is another key focus, with the SPCA's education program rolling out across schools to encourage teachers to give their usual classroom lessons within an animal welfare context, for example, children writing persuasive speeches on the importance of de-sexing, or a maths lesson that calculates the cost of owning a pet.
But ultimately, Andrea doesn't want to there to be an SPCA at all.
"My ultimate goal for SPCA is that I don't need to be here, and all the wonderful people looking after the animals don't need to be there – because we're not needed. I want there to be no animal cruelty, and no unwanted animals," Andrea says.
"I want all New Zealanders to understand that animals are sentient beings and to have compassion and respect for them."
Viva readers are encouraged to support the SPCA by making a donation to the animals, volunteering in one of the SPCA's centres, or signing up as a foster parent. Visit Spca.nz for more information.
This is part of a special Viva and Dilmah editorial series. To see more, go to Viva.co.nz/Dilmah.
Share this:
More At Home / Features & Profiles