Talking to Andrew Maynard, architect of our future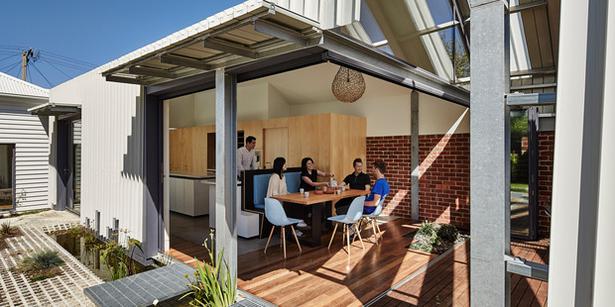 Wednesday Jan. 28, 2015
Young. Talented. A rising star. That seems to be the consensus in the media about Australian architect Andrew Maynard. And the superlatives just keep coming. "Creatively boundless" enthused a journalist from The Age; "His stuff just blows my mind", waxed another; "His designs are always full of surprises", reportedWallpaper.
If that is not enough to convince you, Maynard's no-BS bio on his website will win you over. Its tongue-in-cheek tone is a refreshing take on the gravitas that tends to pervade the market-speak of the profession. With a keen interest in sustainability and a focus on residential design, Maynard will visit New Zealand in mid-February as a guest speaker at the annual conference of the New Zealand Institute of Architects (NZIA). Viva caught up with him in Melbourne...

Tell us a bit about your background. Where did you study and why did you decide on architecture as a career?
I'm a simple kid from rural Tasmania. Although I lived throughout Australia (Adelaide, Brisbane, Melbourne) during my younger years, I did all my later studies in Tas. I always liked drawing, making and building as a child. Architecture seemed like a straightforward and natural evolution.

What was one of the most important lessons you took from your studies?
I was very privileged to have studied under Rory Spence, who sadly died in 2004. Rory was extremely knowledgeable, calm, patient, generous and kind, the type of educator who you hope to come across at some stage during your life. Luckily, he was there during my five years of architectural studies. His approach was one of straightforward, modest design that was more concerned with place rather than any grand monumental notion. He also was keen, as was the University of Tasmania in general, that architecture students learn by making. UTAS has a fantastic workshop and arms their students with a sense of tectonics and buildability unmatched by other universities in Australia.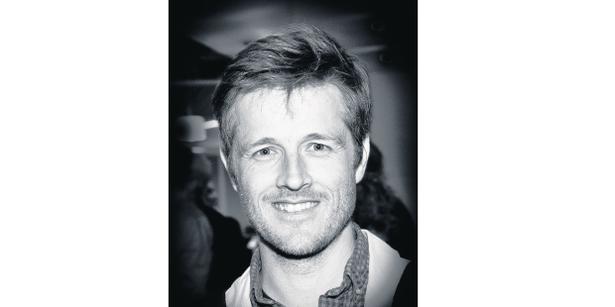 You've twice won awards where the prize was a trip to the other side of the world. What were the highlights of these journeys?
Architectural travel is fantastic. It gives you great purpose to explore well beyond the typical tourist routes. By far the highlights are in Japan, with Scandinavia a close second.

You are an investor in a Melbourne-based apartment complex called The Nightingale. It's a project that attempts to change how people perceive apartment buildings and living. Tell us more. It will have no parking and no air conditioning, for example?
We are trying to create apartments that are environmentally, socially and financially sustainable. We want to challenge the status quo where meaningless apartments are designed to investor specifications for maximum yield. Our cities deserve better. We've gathered a number of shareholders (all Melbourne architects) to fund the project and they can expect a fair and reasonable ROI. We've trimmed costs by taking out what is not needed. For example, basement car parking, air conditioning and second bedrooms.
We've also marketed The Nightingale ourselves, so [there are] no real estate agents or display suites, or advertising expenses. By sharing infrastructure through centralised systems such as solar PV and hot water, rainwater harvesting and shared laundry facilities, we are decreasing the ongoing costs for residents, and reducing consumption.

In the "Cut Paw Paw" house, you have taken the indoor/outdoor flow concept to the extreme. How and why?
Cut Paw Paw is the weird name of the parish in Seddon, Victoria where we completed a renovation and extension to a double-fronted weatherboard home. Cut Paw Paw is a structure that is deliberately incomplete. The owners asked that the house be "ridiculously inside-out".
To accomplish this we used tried-and-tested ideas such as sliding walls, bi-fold doors and decks, but also left the building incomplete. The central space, between the dining area and the studio, is an unclad frame within and surrounded by garden. It is both inside and outside. It is both a new building and an old ruin. It is both garden and home.
Sustainability is at the core of Cut Paw Paw. Rather than simply extruding the existing structure we have run the new form along the southern boundary so that it is soaked with sunlight. The openings and windows have been designed to optimise passive solar gain, which drastically reduces the demand on mechanical heating and cooling. All windows are double glazed.
White roofs also reduce the home's contribution to the urban heat sink. There's a pond at the largest north-facing opening. Providing a home for fish and plants, it simultaneously passively cools the house through the natural process of evaporation. Water tanks and solar panels have their place as they do on all of our projects. And high-performance insulation is everywhere, even in the walls of the original house.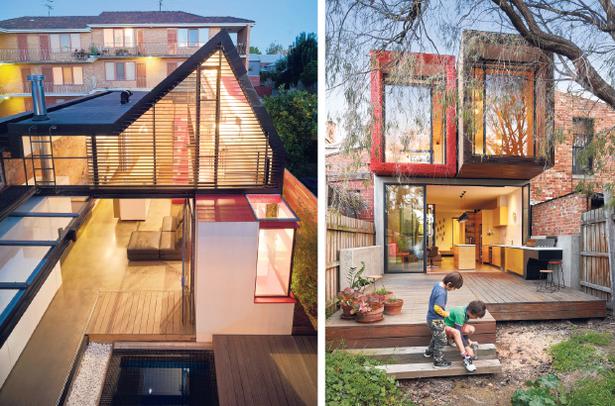 There's a lot of lip service given to sustainability in architecture these days - what do you think?
Climate change is by far the most concerning issue of our age and, sadly, one that we are failing to address. In architecture, we discuss sustainability a lot but unfortu- nately cannot contribute significantly to positive outcomes. It may sound dull, but we need economists with vision to get us out of the difficult environmental situation that we are in.
Sustainability in architecture is often a token effort, or just a sales pitch. While we must address these issues through all aspects of design, sustainability and climate change problems can only be solved through political pressure and economics. That is why, if we were sincere, we would, as a profession, lobby for broader sustainability in all things, not just our buildings. And, if we are serious about helping our community, we would be better off dealing with issues of housing affordability. Generally architects are working at the wealthy end of the spectrum, which is sad as we have much to offer the world.

You advocate the concept of "fluid habitation" which enables the individual and family to continually recreate, reassess and invent their living environment. Tell me how this works in practice?
As a community we seem to be addicted to renovating and extending our homes. Homes rarely seem to be finished. They are in constant flux as life takes twists and turns. Surprisingly, these ideas have translated into event structures more than houses. Andrew Maynard Architects has created a series of mobile and compact designs - Nebula, Bot Pod and the Infiniti Pod - which are all highly adaptable and can change to suit the place they occupy and the needs of the users. Bot Pod, for example, was created especially for the Royal Botanic Gardens. It is a simple recycled timber crate that can be parked up anywhere in the gardens and then unfolded to become a temporary touch point for visitors. It comes complete with a roof garden of its own.

You are very keen on prefabrication and modular design. In which specific context is this form of building suitable?
All contexts. To address affordability, sustainability and to increase quality we need to be building houses like we build cars. The construction industry is old-school. Imagine if cars were manufactured the way that buildings are. They would be prohibitively expensive, poorly made and probably defective in a number of ways. This would be unthinkable for car users, yet home owners don't get to benefit from automated construction processes. It seems odd that we are still building houses this way in 2015.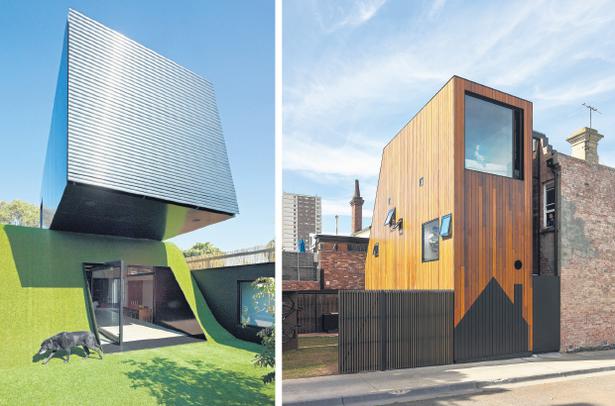 You have argued that most architects and all recent graduates work in unhealthy, unsustainable and exploitative conditions. How so?
Many women leave the profession due to poor work cultures, long hours and low pay. But these conditions affect everyone - women and men - as well as the viability of the profession as a whole. At 27, like a surprising number of architecture graduates, I cut and ran from commercial architecture. A number of my peers disappeared into graphic design, 3D rendering, fashion and retail. I did my time and mused that, "Life's too short. I'll start my own practice. I won't work for another architect again." What I didn't know then was how unlikely it would be that my practice would survive. (It was more luck than anything else).
We all imagine working for ourselves - a situation where we become the authors of our own work, get the credit and, most importantly, gain full control of our working conditions. After 10 years I now have what could be described as a good work/life balance. My office is an old shop front on Brunswick Street in Fitzroy. I live upstairs with my 8-year-old son and my partner. At 5.30pm all staff leave the office, including myself.
On some nights, once my son has gone to sleep, I'll return to the office to play video games. On very rare occasions I work at night, however, this is done under very specific conditions: Firstly, I am inspired and, secondly, I want to work. My practice fills a tiny niche and I recognise that it is not financially viable for the profession as a whole to do as I do.

Do architects take themselves too seriously or not seriously enough?
Far too seriously, and that alienates us from the general public. We need to be professional in what we do, however, that doesn't mean that we can't be humble and down to earth. It is common to hear architects say that the general public don't understand our value. That simply illustrates the profession's failure to communicate. We are often guilty of just talking among ourselves.

• For more information see maynardarchitects.com.
Share this:
More At Home / Architecture