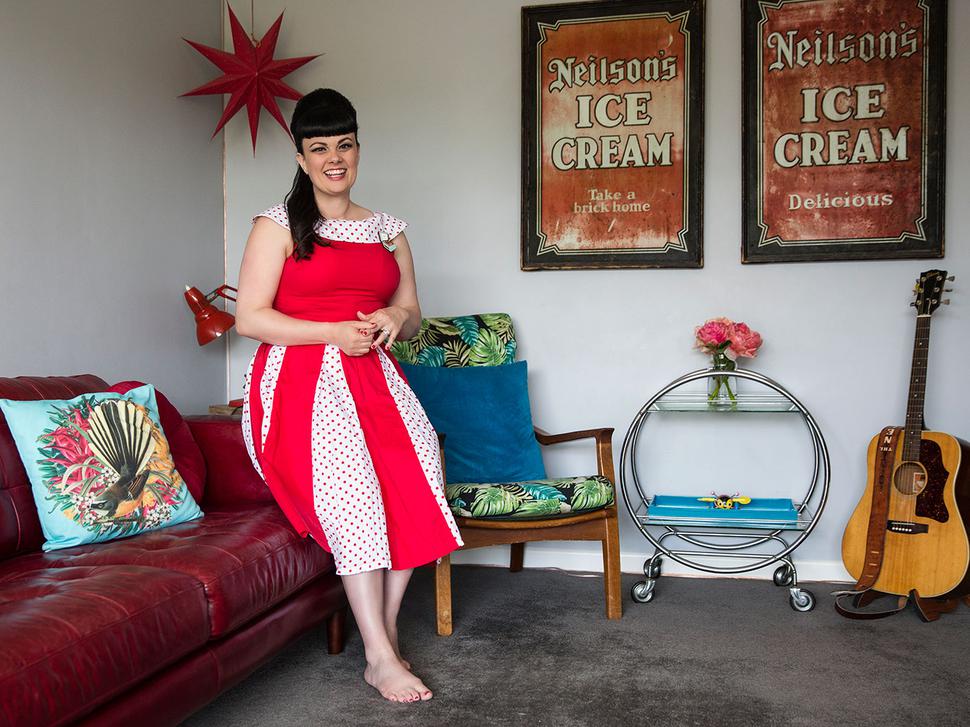 Inspiring Spaces: Tami Neilson
Rebecca Barry Hill visits Tami Neilson in her favourite room
Wednesday Nov. 18, 2015
This Canadian-born country singer has won nearly every music award possible in New Zealand, including the Apra Silver Scroll.
"I do everything in this room at home on a semi-rural property in North Auckland. Hanging out with my boys [aged 3 and 1], and when they're in daycare, the administrative stuff that comes with being a self-managed artist. I scored The Brokenwood Mysteries in here, playing blues harmonica into my laptop and emailing the files to my brother Jay, who composed the score.
"You can have chaos and toys and mess and laundry and things scattered in bedrooms but this is my tidy space. I'm one of those people who needs everything to be in its place in order to create. The outlook is really beautiful as well, into the trees [and across the road, a field of white horses].
"I've always gravitated to mid-century furniture and pieces with a history. This couch is probably the first new purchase I've made. Before this I had a retro set which was really cool but so uncomfortable! That's the thing with retro stuff, it's not always practical, especially if you have children. The chairs I found at the Salvation Army for $10 each — I asked a crafty girlfriend to cover them. The fabric hides a multitude of sins.
"I try to find ways to be practical but I like really quirky stuff. Like the Jesus statue [not pictured]. I call him "My Own Ponsonby Jesus". Ponsonby was having an inorganic rubbish collection and he was sitting on top of a rusty old broken cable so I scooped him up. He's next to a bobblehead Hank Williams snr, so that's my country music coming through.
"I love things that have a memory tied up with them. Grant bought me a Tretchikoff Green Lady print for Christmas, our first as a married couple so that's really special. A lot of the colours in the room were pulled from that.
READ: Inspiring Spaces: Boycrush aka Alistair Deverick
"The first time I saw the old tin sign we were at a restaurant with my parents and it was hanging there — Neilson is a dairy company in Canada. A year later, my dad had a word with the owners, and my parents bought it for a wedding present and brought it over from Canada. On the bottom it says it was made in St Thomas, Ontario, close to where Dad grew up.
"After my dad passed away in February, just being here is really comforting. He installed the light in the kitchen. The starburst clock (not pictured) is from an op shop in Canada. It was really ratty and Dad cleaned it up and spray-painted it gold. He also fixed the old stereogram that Grant and I found on a roadtrip. You feel like you're surrounded by family even though you're far away from home.
"The trolley table was my husband's nana's. So are some of our bevelled mirrors and Crown Lynn pieces, so they're really special.
"My guitar is one my dad gave me when I turned 18. It's an early 70s Gibson, and it used to be a session guitar for RCA Studios in Nashville, so you think, 'Who's played that and what albums is it on?' Every time I play or write that's in my arms.
So I feel him with me. My guitar strap was my dad's and he gave it to me when I moved to New Zealand. It says 'The Neilsons' on it because it was from our family band. I still wear that strap every time I play, and it's on my guitar when I write. It's really important to have that history, the tangible evidence of that legacy passed down to me."

• Tami Neilson will perform with Dave Dobbyn at the NZ Music Awards tomorrow night and at summer festivals including Marlborough Wine & Food, Auckland City Limits and Womad, plus gigs nationwide with her band to support her album Don't Be Afraid.
Share this:
More At Home / Features & Profiles