SPONSORED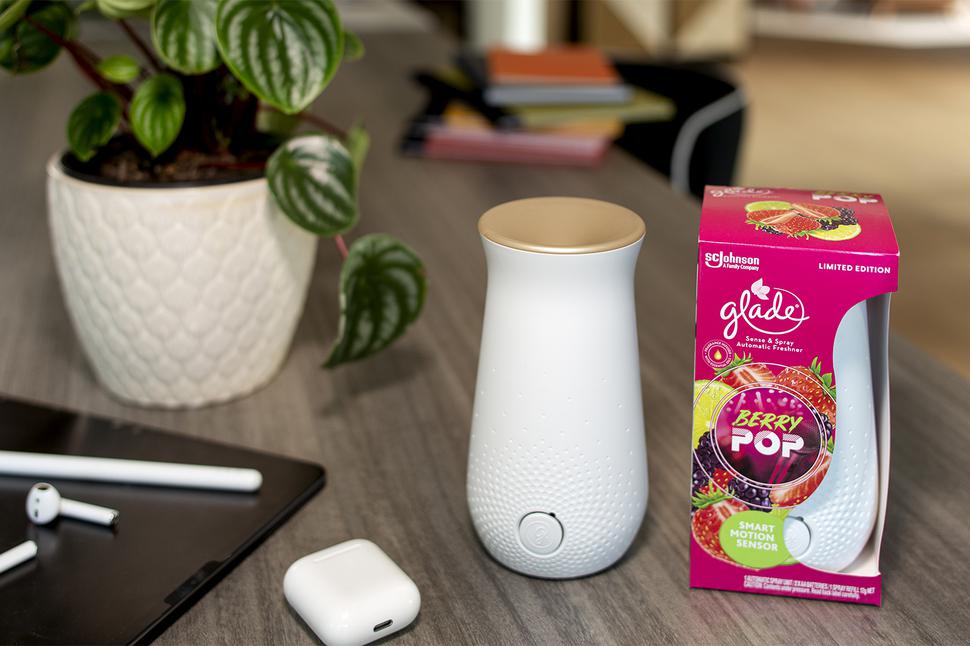 The Intuitive Fragrance Freeing You Up To Have Fun
Delivered with zest aplenty, Berry Pop is the new scent to add to your home, and Sense & Spray is the effortless way to make it happen
Friday June 11, 2021
With all the demands of busy modern life, the more things that can be easy-breezy the better. Convenience is everything for the contemporary shopper.
Our homes and their contents are getting smarter and more intuitive – from apps that turn your heating on, to subscription deliveries and wireless entertainment systems, it's all cutting-edge stuff that combines fun with function, and frees us up to focus on other things.
Another gadget that's a modern must-have is Sense & Spray, the unique fragrance delivery system by Glade, and it's the perfect vehicle for the brand's limited-edition new fragrance Berry Pop.
Sense & Spray is also super intuitive; in fact, it's the only motion-activated air freshener in the market. Harnessing smart sensor technology, it can detect movement from up to 1.5 metres away, spritzing an aromatic mist of fragrance.
Smart tech is matched by smart design, and Sense & Spray has a sleek, on-trend appearance. The smooth white casing is ultra-contemporary, while golden accents add a luxe touch.
Berry Pop, the limited-edition release from Glade, is a trend-driven release that channels pop culture and youth, and it's a bold new step from the popular brand.
Infused with essential oils, the scent is fresh and fruity, and Berry Pop is bursting with sweetness in the most irresistible way – and adds a cute touch to any room.
For those who are looking for more options, there is also a Berry Pop jar candle to get your hands on. It's a very vibrant shade of bright pink, and is a vivacious addition to your room.
READ: The Fun New Home Fragrance With A Fresh Attitude
With their sweet, irresistible scent, both the Berry Pop jar candle and Sense & Spray are sure to sell quickly.
They join Glade's popular, diverse and ever-evolving range of home scents – and with Berry Pop the brand is shaking up the fragrance market (and clearly having a lot of fun doing so).
Try Glade's new Berry Pop for yourself, available at all leading supermarkets.
Share this:
More At Home / The Latest