The man that was born to collect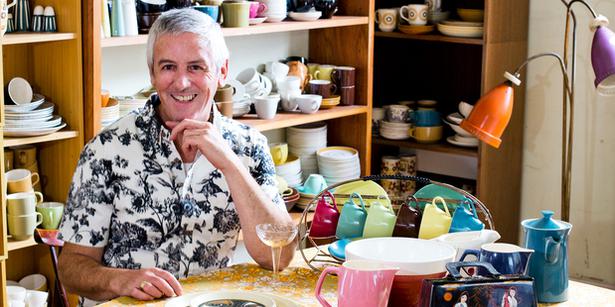 Friday April 26, 2013
Robert Lloyd was born to collect. "I have garage sales in my blood," jokes the makeup artist and hairstylist for theatre, film and television, who has been collecting Crown Lynn and other retro treasures for over 40 years. The avid collector will soon embark on a new phase in his life and style, moving to Sydney and into his "Japanese Scandinavian phase" - opening a pop-up vintage "shop" within his Grey Lynn home as a way of letting go of his accumulated past. Made up of mostly Crown Lynn ceramics, there are other retro treasures too: Tretchikoff prints, retro lampshades, a set of 1950s black and white Woolworths "Homemaker" plates, groovy coloured vases that previously held bubble bath, silk scarves and much more.
Lloyd credits his vintage fascination with his Dunedin roots, where scouting garage sales and second-hand stores is almost inbred, and delights in seeing a younger generation's interest in rediscovering the treasures of the past - in interiors as much as in fashion, like I Love Ugly's retro print shirts. He isn't moving on completely though: he'll take some of his vintage collection with him to Sydney, like boxes of New Zealand Hanmer pottery, a beloved retro print of a lounging beatnik girl, and a quirky talking clock.
Vintage pop-up shop, by appointment only. To book, email lissy.patterson@gmail.com or ph 021 2099 925.
• Robert wears an I Love Ugly paisley shirt $109. Ph (09) 377 7022.
Share this: