The no-frills style of George & Willy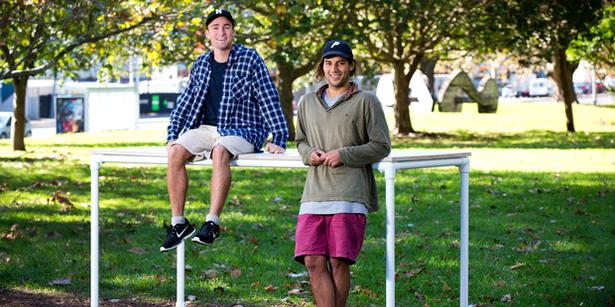 Tuesday May 27, 2014
They're not very talkative these two - they haven't yet mastered the spin of self-promotion - but perhaps that's because industrial designers George Wilkins and William McCallum prefer to say it all through their hands.
They met as 10-year-olds at school in Hamilton, kindred spirits who loved to hang out on the ski-field during the holidays or in the workshop on weekends.
"My grandfather is an engineer and can make anything out of anything," says George. "He taught me how to weld."
"Dad was a forestry man," offers Willy. "We mucked around in the garage making knives from old saw blades."
Theirs is a good, keen background then. And it shows. This no-nonsense attitude translates into the furniture and objects they create for their online business, named, unsurprisingly, George & Willy.
"We tried for ages to think of another name," says Willy.
Although George, 22, has a degree in management and Willy, 23, is a marketing graduate, it was the tag-on subject they took at the University of Otago together that steered them in their current direction.
"We're both minors in design," says Willy. For an end-of-year project they made kitset wooden helicopters, painted in the Westpac brand colours, and sold them as a fundraiser. "We had heaps of fun."
As for a business plan, it was, well, pretty basic: use good materials to create decent products that weren't ridiculously overpriced and would last. "We never meant to start George & Willy, it just evolved."
They were motivated by pragmatism, a desire to make things that served a purpose. Look at their website and you'll not only see our two protagonists fording rivers and using Allen keys to put up robust shelving, but a line-up of practical items: trestle desks, wooden boxes, clothes racks and even a concrete dog bowl.
George: "We originally came up with the idea of the desks for students, until we realised they had no money at all."
So they switched focus and now market these to start-up businesses as easy-to-install, affordable office furniture. The tables feature pine plywood tops and trestle legs, which are also sold separately. Clients have used them as hobby tables, dinner tables and the pair still use the trestle legs for their original purpose - to provide a support on which to make stuff. The tables can be easily carried by one person, yet they're super strong. To prove this, they photographed a ride-on mower on top of one and used it on their website. The duo don't like to overcomplicate things design-wise, but they do like to over-engineer the structure.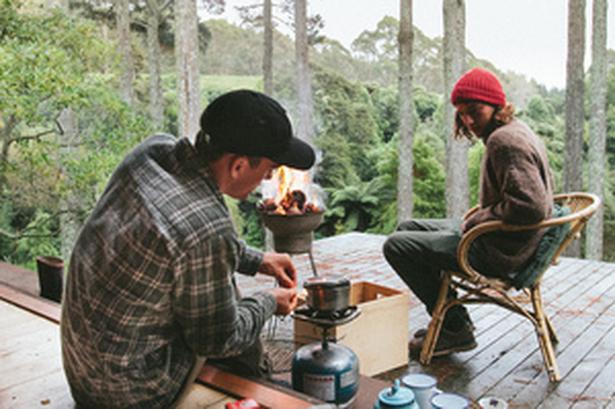 That's an important part of their philosophy and it's why their clothing racks are put together with galvanised-steel piping, normally found in farm gates and handrails. George explains: "In Dunedin, you'd see so many broken clothes racks thrown out by university students. We decided to make one of our own." The George & Willy version is guaranteed to last way longer than a four-year degree. That same piping is due to appear in their latest product - the Tuesday table - with a base of galvanised tube and a plywood top.
Strength is also an attribute of their cast-concrete dog bowl. It was road tested by Willy's hungry black labrador, Bo, and embraces indestructible functionality and no-frills style. It's lined in enamel and, weighing a hefty 6kg, it's not going anywhere.
Willy is though. He's leaving the Tauranga base for New York to take up an internship with architect David Howell. Although they share responsibilities, it's Willy who concentrates on designing, while George is happiest when he's working with wood and steel. They plan to continue their serendipitous collaboration in cyberspace.
"We'd like to develop a few products that we can sell internationally," says George.
To start, they've made, of all things, a dispenser for paper. Their wall-mounted roller frame in matte black steel holds a standard-sized roll of brown Kraft paper. It has already been shipped to cafes in London and a design studio in the Netherlands. "We wanted one for our workshops so we could write daily reminders on it and found no one was making them," says George of the origins of the idea.
In an age of electronic diaries and digital notice boards, they're adamant there's still room for pen on paper. There's something satisfying about ripping off the sheet and crumpling it into a ball once day is done.
George and Willy may have unwittingly stumbled into a global trend the New York Times calls "rustic artisanal twee". But it's not in a Kinfolk magazine-type way, where scrubbed-clean young people do earthy things. There's the feeling it comes from a more authentic place.
"It's hard to compete in this world where manufacturing costs are high, but we're learning as we go," says George.

• See more at georgeandwilly.com.
Share this: