The Unassuming Elegance of New Zealand Modernism
Claire McCall meets the man documenting a slice of our modernist history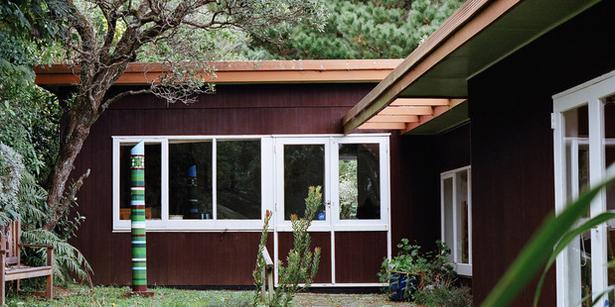 Wednesday Jan. 14, 2015
Matthew Arnold freely admits he's no writer. Nor is he a photographer. But he "can't get enough" of Modernist houses, so can often be found stalking the streets in pursuit of portraits of these structural muses to add to his collection.
For this Jack Ryan of architectural documentation, the tools of the trade are Google maps, a nondescript bicycle and a Smartphone. Once he's captured a shot, he shrugs off his furtive cloak and will boldly go to engage the homeowners in conversation.
These are the photographs and thoughts he posts to the blog Christchurch Modern, an online catalogue of mid-century houses that he started in 2008 with a friend.
One curious conundrum is that Arnold is not a native of that Southern city. He's an Aussie who grew up in Sydney, in a house designed by Andrew Metcalf.
"My mother was a Sunday painter who loved the work of architects such as Harry Seidler."
So, while Matt cut his teeth on Scandinavian and Italian design at home, his appreciation of architecture was nurtured by his mother, who took her young son to visit a number of Seidler classics. Later on, in the mid-90s, she introduced him to the museum-like white minimalism of Ian Moore's Price O'Reilly house.
"I'd never seen anything like it and it made a lasting impact."
In 2006, when Arnold's wife, Kate, a vet, took on a job in Christchurch, he initially filled his time strolling the avenues, trying to discover a sense of place.
"I walked past the Dorset St flats and thought 'That's hot', and loved the distinctive Town Hall and the Radio New Zealand offices in Durham St."
The brutalist concrete forms with deep recessed windows - all, as it turned out, Warren and Mahoney projects - tugged at sensibilities developed during childhood.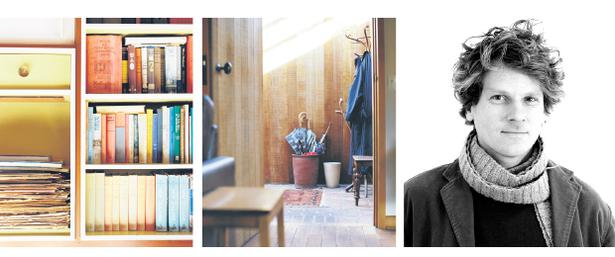 "When I started to talk to locals, I discovered there were a whole bunch of guys doing this stuff in the 50s and 60s, people like Peter Beaven, Don Donnithorne and Paul Pascoe. Christchurch was a hotbed of design talent at the time."
Since photos of most of the commercial or public buildings had been published, Arnold set himself a challenge; this man on a mission wanted to record dwellings from the 1940s-1970s, many of which were unremarkable, unloved structures.
His happy snaps and wry observations ("Dean has done a nice job inside and needs to club the body corporate like baby seals until they return the exterior to crisp white" or "Bafflingly, the garden has been replaced with a pool which, due to the Christchurch climate, acts for the most part of the year as a hole full of water") won hearts and minds, and a loyal following for the blog. It wasn't long before the interconnectedness of such cyber publishing meant that, oceans away, photographer Mary Gaudin spotted a like-minded spirit.
Gaudin grew up in Central Otago and was pursuing her career between London, Paris and her home in Montpellier, France. When the 2011 earthquake metaphorically gave her world a shake, she returned immediately to see her parents. That visit stirred a deep emotional response and Gaudin hit upon the idea of publishing a book about these mid-century houses, many of which had been damaged or destroyed, as her way to reconnect with New Zealand.
She turned to Arnold as her feet on the ground in finding homes in Christchurch, Wellington, Auckland and Hawkes Bay that she could photograph.
Arnold was in his office on Cambridge Terrace when the chaos of February 22 began. His first thought was for his wife and year-old son, Clem, at home in Huntsbury Hill. Their house was another Warren and Mahoney design, built in 1968 for a young couple in a subdivision atop a decommissioned brick quarry.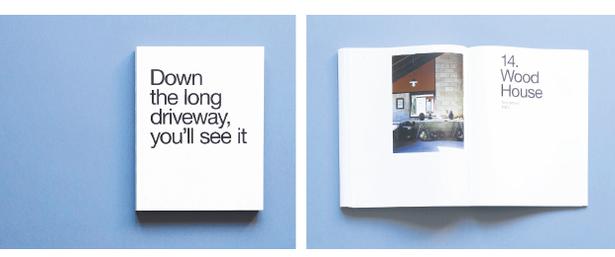 With no other way to reach his family, Arnold ran home to be greeted by a sight that struck fear into his heart. There were broken windows, tiles that had been thrown off the roof, and the concrete block cladding on the apex of the second storey had sheared off like fleece.
Mercifully, the steel-reinforced concrete-block walls had not reached the point of catastrophic failure. Kate and Clem were huddled unhurt beneath the kitchen bench. Clem was fast asleep.
After seeing a portfolio of Gaudin's work, Arnold, who co-owns a website design company, gladly offered his sleuthing abilities to her cause.
"Mary's images are more evocative than many architectural photos, which are sometimes so sleek they could slide off the page," he says.
Their collaboration has resulted in a self-published book, which Arnold describes in his tongue-and-cheek manner as: "a fun project with a market of about 34 people".
The photographic celebration of 14 houses is entitled Down The Long Driveway, You'll See It, a reference to part of the directions given by Bruce Martin, the owner of a celebrated John Scott home in rural Hawkes Bay, which features in the book.
"I like that title for its poetic style that seemed to match the photography and the pared-back layout," says Arnold.
Other examples, including architect Ted Wood's own home in Wellington with walls covered in diagonal rough-sawn cedar boards, and the Fletcher residence in Ilam by Hall & Mackenzie, which shows influences of Frank Lloyd Wright's Usonian houses have, according to Arnold, never been published in any meaningful way.
This, then, is first and foremost a visual essay of homes that share a modesty of materiality, but are not short on thoughtfulness.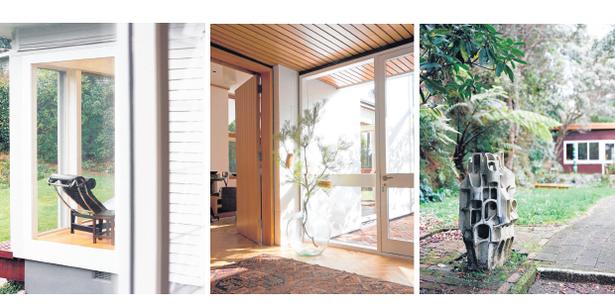 "We wanted them to be as original as possible or at least for the architectural vision to be evident. They needed also to be well lived in."
Gaudin's eye takes in these human elements: a coffee stain on the edge of a bench, scuff marks on a jag-treaded stairwell; mould on a skylight with a sculpted treetop beyond.
Equally, she expresses the wear and tear on the decades-old architecture, often in microcosm: a pattern of light and shade on a red-tile floor; the intersection of slate patio and schist wall; the utilitarian perfection of a door hinge.
This visual quietness teams with words Arnold has gathered over endless cups of tea and stale gingernut biscuits. Rather than describe the places in architectural terms, he captures in "extended captions" a history and an emotion.
"I remember talking to Guy Sellars years ago, when he was in his carport building a beautiful handmade sailing dinghy. His house was not well known in any way but Guy and his wife, Gaye, had designed and built it when they were both just 24 years old."
The Sellars' residence is a natural for the book and Arnold still visits Gaye occasionally, enjoying her twilight years amid a lifetime of things collected on their travels.
"It's such an unassuming house, but she loves it to bits. She says they'll carry her out in a box."

• Down The Long Driveway, You'll See It by Mary Gaudin and Matthew Arnold. $65 from downthelongdriveway.com.
Share this:
More At Home / Architecture