SPONSORED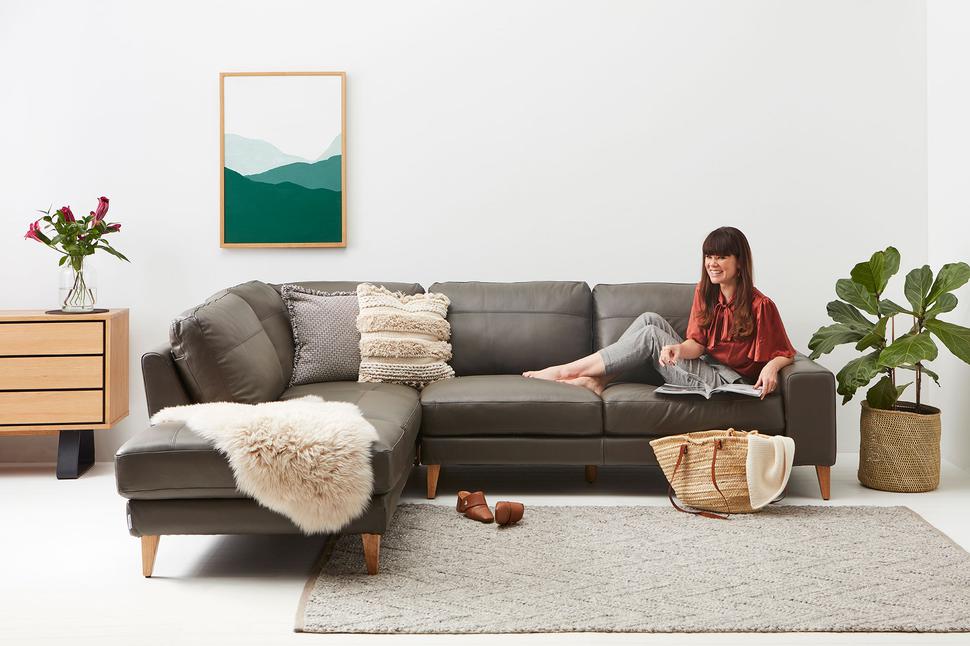 Three Kiwi Luminaries Share Their Creature Comforts
Viva sat down with three Kiwi luminaries living three very different lifestyles to discover how they create a sense of calm and comfort in their households
Friday Sept. 12, 2008
What do Amber Peebles, Mel Homer, and Annabelle White have in common? Besides being prominent players in their respective fields, all three gave Viva a glimpse into their lives – offering insight into the age and stage they're in.
IN HER 30S: Amber Peebles
No stranger to the spotlight, stylist TV presenter and media personality Amber Peebles cottoned on to the blogosphere long before it was a mere blip on everyone's radar. The 35-year-old shares daily inspiration on her blog, Amber's Edits, but has proven her fashionable eye extends far beyond her wardrobe.
"I've become a bit of an interiors nerd, so I love to flick through magazine for inspiration," Peebles says. "My mother-in-law has a subscription to Vogue Living so I pounce on that when I can, and Instagram is a great place for anything visual."
Her love of neutral tones, warm browns and mustard golds are evident when scrolling through her feed, but Peebles says this colour scheme is reflective of her home, too.
"They're all tones I'm drawn to at the moment. I think large, fresh white towels and crisp white linen makes almost any place feel homely," she says.
"I think it's important to have a sense of ease when you're home, so you can walk through the front door and exhale," Peebles says. "The ultimate for me is to feel both comfortable and inspired by your personal space."
Perched on La-Z-Boy's Prague modular, Peebles says she was surprised to discover the range of fashion-forward styles, fabrics, and textures available in the La-Z-Boy range. "I had really only thought of La-Z-Boy as single recliners, so I was impressed to see what a huge range of pieces and styles they had!"
"I think we are lucky to live in a time when we are spoilt for choice – we really can have it all. It's so important to feel comfortable when we do have the time to relax, but it should also compliment the space with its shape and texture," she says of La-Z-Boy's Prague modular, available in a range of customisable fabric and leather options.
IN HER 40S: Mel Homer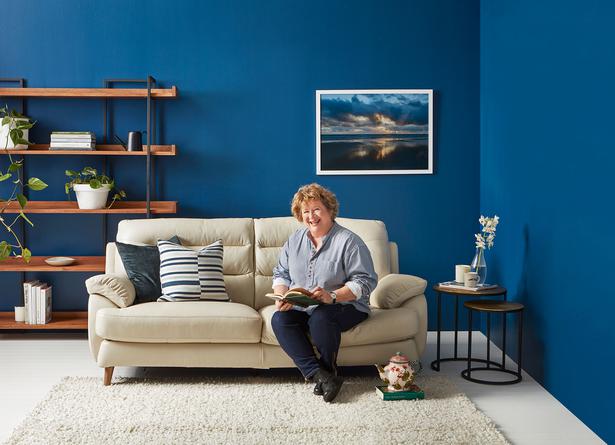 Annabelle White. Picture / Wendy Fenwick
She's raised three boys, rubbed shoulders with celebrities, been a mainstay on our TV screens and a regular on the radio waves. So, when the media personality finally manages to steal a quiet moment at home, she relishes it. "I love curling up with a big mug of tea and a good book. I light some candles and just relax," she explains.
For Homer, her relaxed home life is about enjoying these moments of comfort at home with her three sons.
Creating a warm, inviting atmosphere is at the heart of Homer's interior aesthete. Rather than being bound by trends, Homer explains her interior style is: "a little bit retro, a little bit boho, a touch of Scandi and a whole lot of photos on the walls of our families many travels."
"I'm big on knick-knacks; pieces of art; photos collected on holidays. I like things that tell a story," she says, noting her favourite pieces include a Matryoshka doll she picked up on a trip to Vladivostok.
But when it comes to bigger pieces – like a sofa – Homer has pretty specific tests to check if it'll stand up to three growing boys. Big enough for a family of five, plus a cat and dog, yet not overwhelming in size, as well as being snuggly and practical are all must-haves in the Homer household.
Mel looks right at home poised on La-Z-Boy's United suite, a popular suite in La-Z-Boy's First Class range. Offering full body relaxation thanks to the lie flat feature, an adjustable power headrest for a tailored sit, and the ability to charge your device from the sofa or recliner via in-built USB ports. La-Z-Boy's United suite passes Homer's rigorous comfort test with flying colours. But her favourite feature? "Don't judge me, but the ability to recline using an app is amazing", she says.
Creating the most comfortable fit at the touch of a button, via the First Class app, makes life all the more easy for Mel. "I love that the United Suite is so adjustable, the headrest in particular. Plus, being able to customise what kind of fabric or leather you like is a real bonus."
"I've realised you can have a beautiful, functional, sleek La-Z-Boy, with all the comfort and quality you'd expect from the trusted name," she says.
IN HER 60S: Annabelle White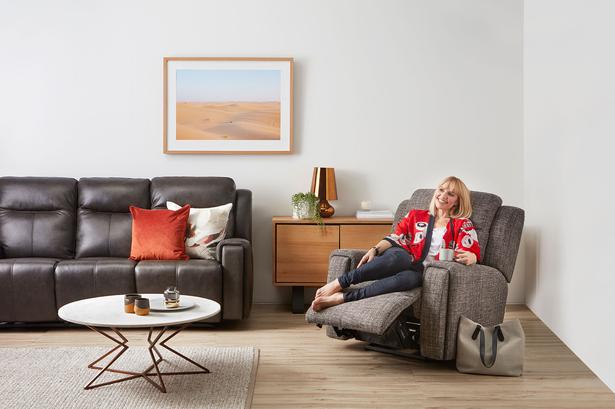 Mel Homer. Picture / Wendy Fenwick
You'd be forgiven for thinking Annabelle White's favourite room in the house is the kitchen. But as much as she loves cooking up a storm, "I love to read and watch movies while reclining on the sofa. Even talking to a good friend lying prostrate on the sofa is a laugh," she says.
The self-described maximalist adopts a 'more is more' approach when it comes to her interior style, noting her decorating is eclectic, chaotic and generously proportioned.
Her love of collecting keepsakes and trinkets is evident – side tables are sprinkled with items that have been treasured then passed on. "To me, it's all about creating a comfortable, warm home where you can relax… not be guided by a design expert," she says.
And when it comes to colour? "I love blue and white in the bedroom for its calming and crisp feel, as well as yellow in living spaces for its sunny, uplifting vibe."
White produced her first cookbook in 1997, and has been a mainstay on the New Zealand foodie scene ever since. Her constant pursuit of balancing flavours and textures extends far beyond her approach to food, noting she places more emphasis on being comfortable in herself and her home now that she's in her 60s. "Comfort to me is so important – it's like good flavour is far more important than presentation," she explains. "It's the ability to relax, and feel loved, secure, warm, nourished and calm." 
Relaxing on La-Z-Boy's Romano Suite, White remembers her mother's approach to keeping comfy. "My mother always says never stand when you can sit, and never sit when you can lie!" says White. "My dream would be to have La-Z-Boy chairs at bus stops!" she laughs.
"La-Z-Boy's Romano Suite is not only comfortable, but it's beautifully designed, too, meaning you can select your desired fabric or leather option to suit your living room."
White explains her perception of La-Z-Boy has changed since relaxing in La-Z-Boy's Romano 3 and 2 seater "This contemporary design is stylish yet still delivers the same reliable comfort."
"But," she warns, "The only problem is that my cooking suffers as I do not want to get off the sofa!"
Share this:
More At Home / The Latest