Timeless vintage style in Palm Springs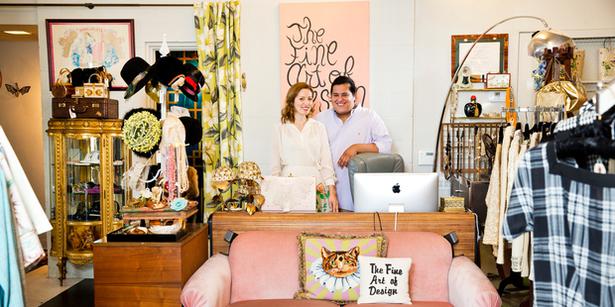 Wednesday Aug. 27, 2014
Palm Springs is a haven for vintage, with thrift, antique and consignment stores to be discovered across the wider desert valley. At The Fine Art of Design, a charming boutique in Palm Desert, 20 minutes from Palm Springs, the selection is a swoon-inducing example of fashion made to last: racks of high-end designer vintage, from a copper 70s Saint Laurent Rive Gauche wrap pencil skirt to an 80s gold-beaded Bob Mackie dress; Todd Oldham tie-dye to a linen orange Moschino jacket; Dior, Escada, Karl Lagerfeld and Chanel.
Run by owner Nicolas Delgado and stylist Luisa Marilee, the boutique - in a striking white building with mannequins dressed in their finery in the window - features refined vintage sourced largely from consignments from wealthy women who retire to the resort area, parting ways with wardrobes that reflect their social lives in Chicago, New York, Washington and more. That sense of a history appeals to Delgado, who studied design and fashion history at Parsons. He recalls a recent visit from a daughter whose mother had lived in New York, whose incredible wardrobe was a timeline of her life from the 30s.
Through his store, these clothes continue to be appreciated and worn. "The women like that their dresses are going to a younger girl who will 'get it'," he says.
• The Fine Art of Design, 73717 Highway 111, Palm Desert. Open weekends and by appointment.

• To find out more about Palm Springs visitDiscoverAmerica.com and try its Trip Tuner for bespoke travel ideas, and Greater Palm Springs for more tips.
Share this: