Inside Timothy Oulton's World of Antiques and Eco Homes
The founder of British furniture and interiors company Timothy Oulton talks antiques and eco homes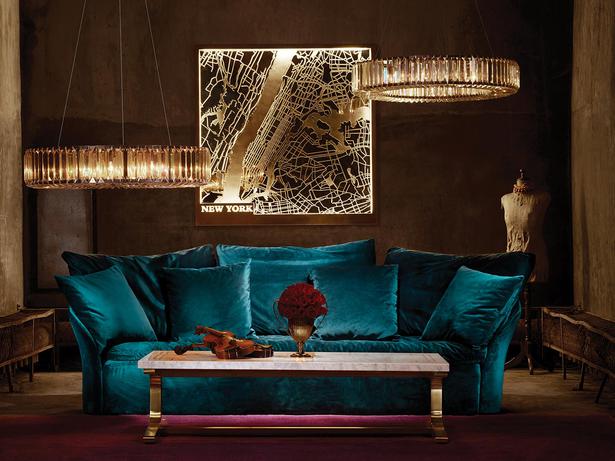 Thursday July 27, 2017
A Beatles tune blaring in the background is the first clue one has entered a realm of Britishness. A billowing Union Jack drape stitched together in plush velvet is another hint, but a perfectly worn but decidedly shabby Chesterfield sofa gives it away.
There's more. Old English telephones decorate the walls, rows of antique trophies adorn an oversized console with hundreds of little drawers, there are old propellers and polo sticks, dried-out saddles and rackets from yesteryear, but the piece de resistance, although not particularly Pommy, is a submarine hanging perilously from the ceiling.
"I've got my eye on that one," says Timothy Oulton of this sub-aquatic machine — all the other subs he collected have sold, making this one seem rather appealing to this old-time magpie, an antique dealer's son from Manchester.
Timothy, founder and creative director of Timothy Oulton is here promoting his furniture business, now a global brand with 40 stores worldwide. One of his retail galleries is in Auckland — a large-scale space that sits in a corner of the Dawson's showroom on The Strand in Parnell.
"They were very brave to devote a part of the store to us, particularly to paint the walls black and install all this stuff," he says gesturing to two 20m-high book stacks, that look like colourful totem sculptures in the vast warehouse-like space.
The brand creates a similar antiques-on-acid feeling in all their showroom spaces — antiques ramped up to epic proportions, opulent chandeliers, reworked, oversized leather trunks and brass-trimmed consoles.
READ: Auckland's Best Retro Stores
Perhaps his most famous space is his long-standing store in the iconic ABC Carpet and Home on Union Square in New York, and there's another in Harrods, London.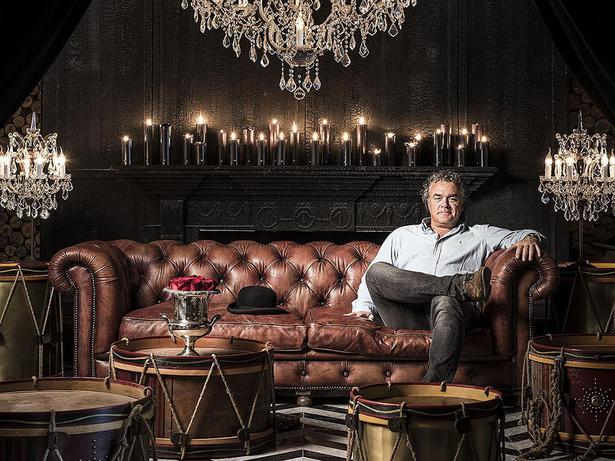 The seed for the business was sprouted when Timothy worked out he no longer wanted to "sell dead people's s***". This was a realisation he came to after working for his father at their family antiques business, Halo Antiques, founded in Manchester in 1976.
"I never went to university," he says, instead leaving school at 18 to work for the family business.
"I had visions of being a banker, but that never really turned out," he says, laughing.
Instead he gave the antiques business "a whirl" and discovered it to be rather hard work.
"Dad said anything I earned before 8am or after 5pm was mine", so the determined Timothy took his father's van at 5am and scouted the markets for treasure.
READ: How to Build an Impressive Vintage Collection
Turned out, he explains, antiques isn't a lucrative business, so he decided to try his hand at manufacturing cabinets and tables made from recycled materials.
He struck a chord with the consumer, at a time when the concept of recycling was in its infancy, and 10 years later Timothy was sitting on a multimillion business.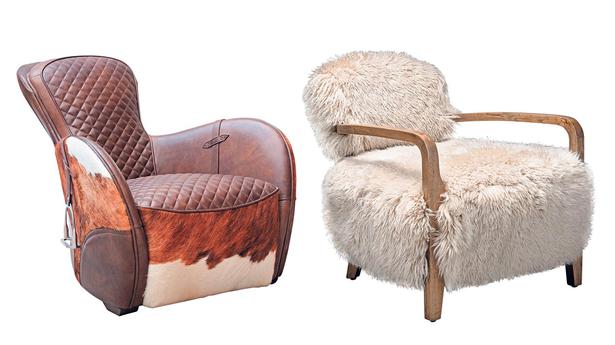 But not satisfied to settle with a national brand, he made the bold move to move his family and his business to China's Guangzhou province, one of mainland China's leading commercial and manufacturing regions.
What was particularly important to him then, and still is today, is that all his furniture is handmade, and quality materials, such as the best cowhides from Argentina, and craftspeople are involved in production.
Most pieces in the line are inspired by an antique Timothy has found, then his designers will riff on it to create a distinctly Timothy Oulton aesthetic. The Tomcat bed, for example, blends an old Chesterfield sofa for the head board with a base and sides that look to be torn from a World War II aircraft.
Other times he'll recreate antique trunks in the finest hand-dyed leathers, going as far to reproduce the brass name label they were found with.
"I found an old trunk originally owned by the Duke of Cumberland that formed the basis for our Globe Trekking Trunk Collection," he says.
The new version is a little bit antique, a little bit 1950s with its curved lines and metal-clad exterior.
Whereas some business leaders may be cagey in sharing the knowledge they produce their goods in China, Timothy is emphatic that it's the best place in the world for him to manufacture, and it's not purely based on cost.
"There are many other places I could manufacture — Poland, Vietnam, India — but the difference there is the quality of the craftspeople."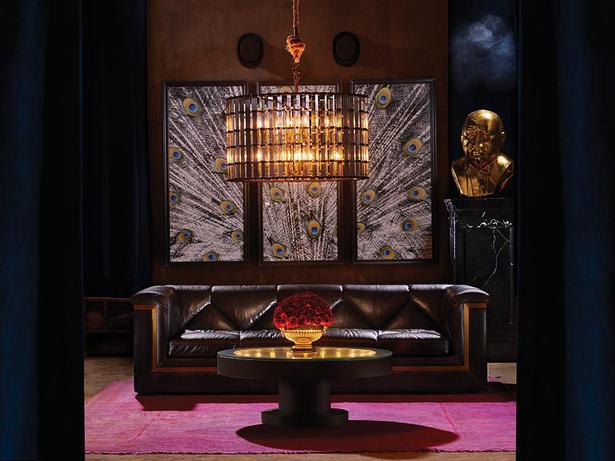 Timothy's firm train his staff in the arts of hand-carving, welding, leather tufting and old-age leather dying techniques. Videos on his website show all the handcrafted techniques in fine detail. "I do feel we have made a difference to our community by employing so many people," he adds, and he gives you the sense that's important to him.
READ: Inside Interior Designer Alice Sharp's Homes
He also insists that even though he employs 4000 workers it's not a factory, rather a giant workshop. The difference is that there are no production lines — typically one person will work on one item from start to finish.
Materials are of utmost interest to Timothy. He's interested in materials that will make his products more dynamic.
Take his chandeliers for example. He found a glass, classified as K9 — an optic glass that wins when it comes to twinkle factor and now produces all his chandeliers in this grade.
Looking locally, Timothy discovered Chinese junks washing ashore and thought the wood would make character-filled tables — enter the axel table, the name derived from taking an axe to one of these junks. In search of aged wood, Timothy still imports antique timbers from the UK. "If you lift it, blood comes out your ears," he says pointing to a coffee table made from English beams.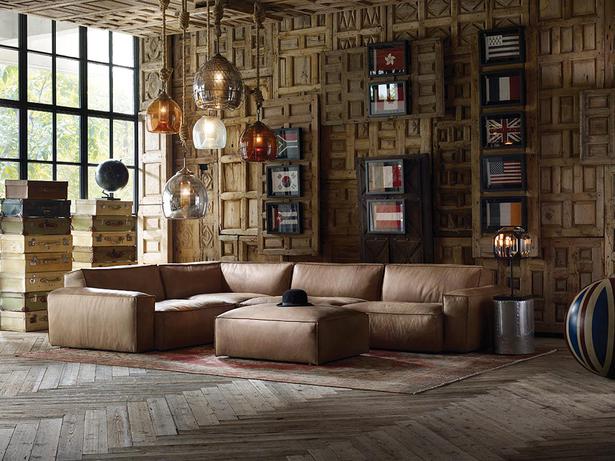 Fine leathers are of particular interest to the company, more for their imperfections than perfections.
"What other company would be mad enough to take to leather with alcohol and wire wool?" he asks with a glint in his eye. The softness of texture and colour is made to look more aged by adding natural pigments and oils.
Other products on offer are antique art installations. He's used more than 7000 old tennis rackets in his wall-mounted tennis racket installations worldwide and more than 4000 bowler hats.
The production of furniture and lighting may not be enough for Timothy long-term, so recently he has been exploring the concept of manufacturing eco-friendly kitset houses in China. He was behind the production of the first passive home there — a passive house is the world's leading standard in energy efficient construction. These homes require very little energy to achieve a comfortable year-round temperature.
Timothy's passive house is a dome home set in a lychee garden and was designed in collaboration with one of his on-staff architects. The home can be condensed to the size of two containers for transporting and can be churned out in 10 weeks.
But the most remarkable thing about this dome home, says Timothy, is that even in China's extreme heat it takes merely the power of a kettle to heat or cool the building. Now that's something Timothy would never dreamed of when he was a young man trying to stay warm, while scouring the Manchester flea markets at dawn.
Share this: