Update Your Interiors with These Plush Textures
Need to spruce up your home? Why not introduce a bit of colour and texture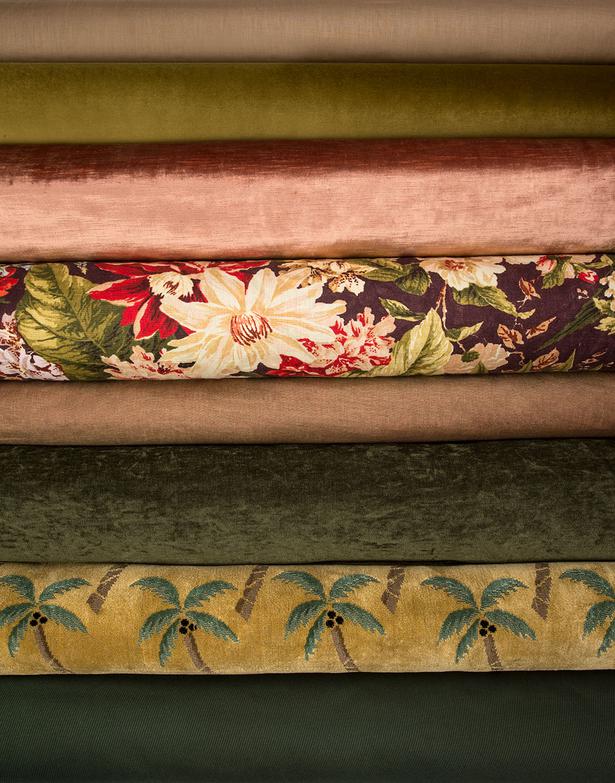 Thursday Feb. 25, 2016
When it comes to updating your interiors, one of the most effective ways is to introduce colour and texture through upholstery, cushions and curtains. For autumn, offset silky, lightweight linens with heavy jewel-coloured velvets to add warmth and weight — then add interest with Gucci-inspired florals and textured novelty prints.
"Linen is a huge look for 2016 across the board in fashion, bed linen, table linen and upholstery," explains Linda Abbot who, with Denise Waller, bought Martha's Furnishing Fabrics in Newmarket in November last year. The pair has analysed overseas trends and scoured the globe to buy fabrics from New York, Los Angeles and Berlin.
"The appeal is its natural nature, from its rawness of fibre and environmental considerations, through to its natural characteristics in appearance. This all works to lend a relaxed feel to interiors. Plus, it is extremely universal in its uses for curtaining."
Pictured, from top to bottom:
1. Linen in 'Mushroom', $18/metre, from The Fabric Store.
2. Velvet on 100 per cent cotton pile in 'Mustard', $110/metre, from Martha's Furnishing Fabrics.
3. Andrew Martin cotton velvet, $45/metre, from AB Fabrics.
4. Zoffany cotton 'Cactus Flower'print, $35/metre, from AB Fabrics.
5. Belgian linen in 'Cinnamon', $48/metre, from Martha's Furnishing Fabrics.
6. Jane Churchill velvet, POA, from Atelier Textiles.
7. Velvet cotton 'Palm' print, $80/metre from Martha's Furnishing Fabrics.
8. Text 100 per cent cotton in 'Forest Green', $20/metre, from Drapers Fabrics.

STOCKISTS: AB Fabrics (09) 522 4161, Atelier Textiles (09) 373 3866, Drapers Fabrics (09) 524 5716, Martha's Furnishing Fabrics (09) 523 3655, The Fabric Store (09) 366 1991.
Share this: