Flotsam & Jetsam's New Warehouse Store
You'll find vintage signs, homewares and garden creatures at the new Grey Lynn store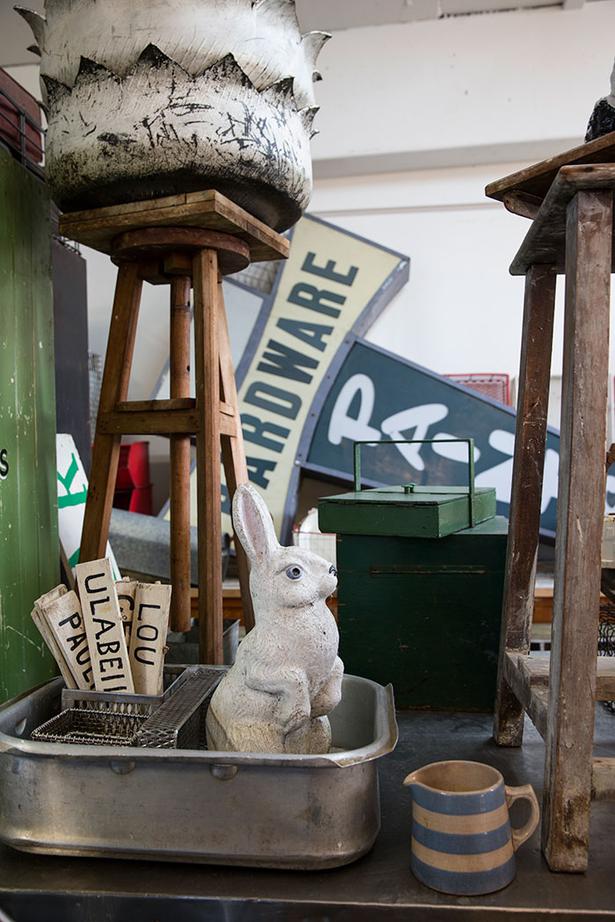 Thursday June 25, 2015
Weekend fossickers have a new excuse to go hunting and gathering with the opening of Flotsam & Jetsam's warehouse on Great North Rd this Friday. The new space means owner Cameron Woodcock has more room for bigger pieces; he also hopes it will inspire shoppers to rummage through items not yet in his Ponsonby Rd store.
"It has more of a warehouse feel to it," he says, of the plain white walls and concrete floors.
For years, the Ponsonby Rd store has been a haven for second-hand items that appeal to Cameron's eclectic eye: industrial pieces, homewares, whimsical ornaments. While the store will continue to stock the staples, the warehouse will house a new collection of rarer pieces and "one-offs".
Warehouse shoppers will find vintage signs, large display cabinets and garden creatures, many with a colourful past. Little signs displaying cows' names come from a Texan agriculture show, a hardware paint sign spent 30 years gathering dust in a lock-up, and wooden stands from West Auckland were used by a sculptor for his turning wheels.
Several of Cameron's pieces are sourced from the US but he also has friends who send stuff his way. Deceased estates, big clean-outs and families looking to downsize are great sources of treasure. Cameron once salvaged a few pieces after stumbling across a skip outside a house in Ponsonby. And yes, he did knock on the door first.
"I tend to stock stuff that's well used, well looked after and tells its own story," he says. "I love giving things a new life. It's always better than throwing them out."

• 1/285 Great North Rd, Grey Lynn (open Fridays and Saturdays initially, entrance off Beaconsfield Rd). Ph (09) 361 3831.
Share this:
More At Home / The Latest