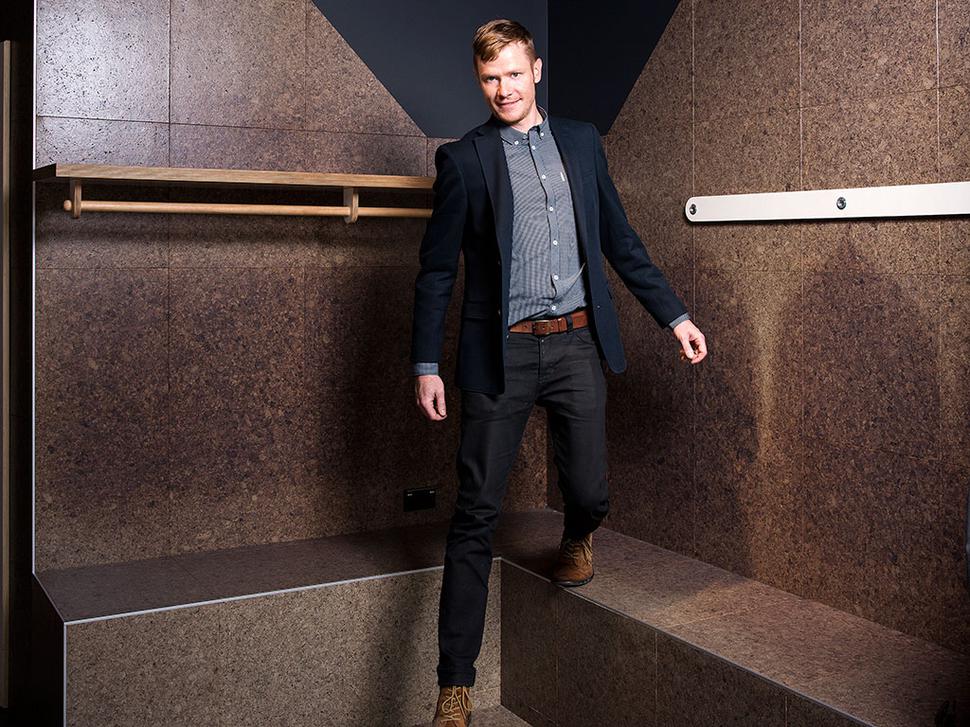 Challenge of the Changing Room
Put men in a retail space that soothes their shopping anxieties and just watch them stress the plastic
Thursday May 14, 2015
Turns out the bearded bravado of your average High St hipster might all be a front. Many men find shopping for sartorial garb angst-inducing. It's a situation where the grab-and-dash modus operandi they employ in other retail experiences (the supermarket or petrol station, for instance) does not serve them well.
Dave Sweatman, designer at Auckland's Space Studio, knows this mentality all too well. Firstly, well, he is a man but, more importantly, he specialises in designing for the way men shop.
Australian-born Sweatman graduated with a Bachelor of Design from Sydney's University of Technology and, in his first year out of college, worked for a company that helped small businesses bring their fit-outs up to standard for Westfield malls.
Doing six or seven projects that year was a baptism by fire that stood him in good stead for his role at SJB Interiors with Andrew Parr, one of Australia's most respected designers.
Marriage to a Kiwi brought him this side of the Tasman and he landed his job at Space Studio, right in the middle of the global financial meltdown.
"I quickly had to learn to do more with less, but that has changed in recent years and our clients now see the value proposition of investment in design."
Having worked on the redesign of menswear stores such as 3 Wise Men, Rembrandt, Farrys and Taranaki institution Kingsway, he's picked up many lessons from the retailers, but also through the invaluable, bare-all "beer and peanuts" focus groups the Parnell-based company runs.
"Men enjoy shopping for consumer goods but fashion is an area more loaded with anxieties," he says. "There is definite uncertainty as to what they can wear. They wonder whether their partner will like their choice and many don't have the confidence to wear something new or different."
One no-no when it comes to coaxing the male of the species into a store is a sparse environment. A single suit at the end of a vortex-like, empty corridor sends blokes into a cold sweat.
"That's far too threatening," Sweatman explains. Partly that's about merchandising — "men hate empty shelves and they also hate messy shelves" — but also a consideration that needs to be woven into the design.
At 3 Wise Men's Newmarket branch, one idea Sweatman used to make the space seem accessible and comfortable was to display an array of shirts in neat formality on a bespoke racking system made of unfussy materials: dowel, folded steel and plywood.
"The idea was to show 'abundance'. As soon as a man steps into the store, he can identify a colour or pattern he likes and he feels certain they'll have his size in stock."
Getting the spatial parameters just right — the Goldilocks zone of retail for males — is crucial, and starts at the front door.
"Men don't want to walk in through a small doorway and then feel locked in with a pushy sales person. You need to provide an easy escape route with a shop-front where they can really see into the space, a wide entrance and no place where you can be cornered."
A layout that allows for "self-navigated shopping" where they can easily locate what they're after without having to ask for assistance must be combined with the option of a quick getaway.
"Men tend to either want to get in and out fast, or will stay in the one store buying up large to avoid shopping elsewhere."
The aesthetics of the interiors also need the right balance: in most cases, a feeling of masculinity, without austerity, often modelled on a rather smart living room.
At Rembrandt menswear, in Sylvia Park, a company that was established in 1946, American walnut veneer on the shop-front columns and interior panelling is a nod to traditional values. However, black-gloss surfaces add a contemporary twist. "We've used chrome detailing in the material palette, too, rather like the dashboard of a Jaguar," explains Sweatman.
In one corner, a leather chair offers a place for exhausted shoppers to put their feet up. Built-in bookshelves display books, framed photographs and even pot plants to lend a homely, relaxed feel.
According to Sweatman, this approach is also about creating spaces for conversation.
"In Rembrandt, the sales counter is integrated in the middle of the store. It's 3m-long so customers can lay things out here and chat with the staff."
One common perception about fashion retail is that a "trick" is to equip the changing rooms with lighting and mirrors that distort body image for the better. Although Sweatman acknowledges it takes some clever "smoke and mirrors" methods to choose and use materials to make a space look more permanent than it is (since retailers often refit every five to seven years), any other hocus pocus is a myth.
The key, he argues, is to facilitate an authentic experience for customers. Store lighting is warm (instead of the fluorescent glare of the past) and tasked to give a true sense of colour. Mirrors show the truth, warts and all.
By the time men make it into the changing room, says Sweatman, they are willing participants likely to buy almost everything they try on. The challenge is to get them there.
Share this:
More At Home / Features & Profiles