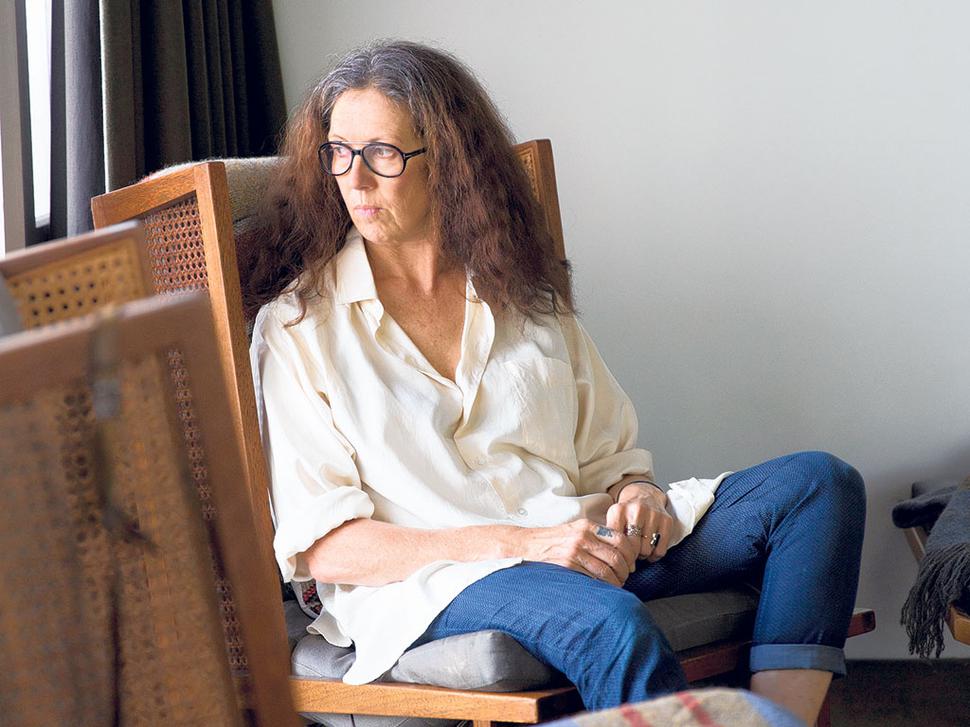 Kirsty Cameron's Favourite Things
The costume designer's unusual home inspires her broad range of creations
Monday March 16, 2015
There's not much Kirsty Cameron hasn't done. As a sought-after costume designer, she's worked on big local films (Whale Rider, Perfect Creature, No 2, In My Father's Den, and recently Slow West, which won the World Cinema Jury prize at the Sundance Film Festival).
She's also written and directed short films, designed costumes for dancer/choreographer Douglas Wright, and developed her own homewares. Her Godmother range of items, (locally made blankets and hats with more to come), are sold at Katie Lockhart's Ponsonby interiors store, Everyday Needs.
Now she's embarking on a first, designing costumes for the stage in Silo's The Book of Everything, at the Auckland Arts Festival from March 14-22. "I'm very excited to be involved with these more performative works, which are creatively challenging in quite a different way," she says. "In cinema, I am used to thinking about character and clothing with intimacy and detail, imagined and edited through the lens of a camera, whereas this has an ensemble cast that requires a more graphic, big-picture way of thinking."
An inspiring environment helps; Cameron lives and works in one of four Claude Megson-designed town houses in Freemans Bay. The houses have a shared central area where the residents often meet and there's a great sense of community and extended family.
"It's very playful, a little like a ship and a tree hut. A friend likens it to living in a Cubist painting or a poem. It's a product of the wonderful sensibility of Bill Cocker, who commissioned the houses, and Megson, the fanatical architect.
"When I have lots of projects on I turn the whole house into a studio, which seems very natural, and I like knowing the house has always been this way.
"Bill was a painter and art collector with superb taste."

MY FAVOURITE THINGS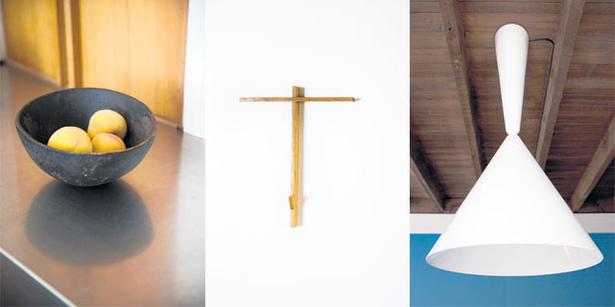 Wooden bowl; Souvenir cross from Notre-Dame du Haut; Castiglione Diabolo light. Pictures / Babiche Martens.
1. Wooden bowl
This Tongan bowl was left for me by the wonderful man who built this house; he used it to collect fruit from the pear, apple and fig trees he planted 40 years ago. I enjoy the layers of meaning and history that such a beautifully utilitarian object can have.
2. Souvenir cross from Notre-Dame du Haut
A present from special friends who had visited Le Corbusier's famous chapel. The cross is the first thing you see when you enter the main chamber of the house. I have some of Corb's colours painted on different walls. I agree completely with him that we need colours to live and that, as he put it, "Colour is an element as necessary as water and fire."
3. Castiglione Diabolo light
I have a friend who has no house but a great collection of Castiglione lights, and I have a house but not many lights, so it's a perfect arrangement. The soft pool of warm light it creates has been my constant companion while designing The Book of Everything.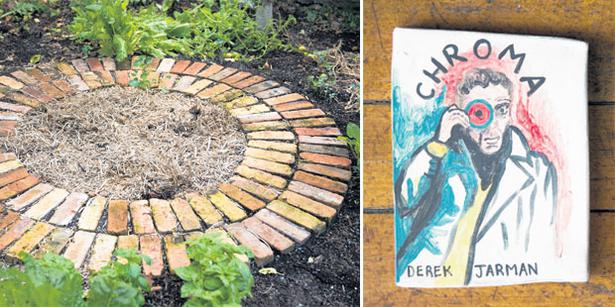 4. Brick circle
This is my own bit of earth art, a garden circle created by Sue Hillery, using recycled fire bricks from my mother's garden path down the road. The plan is to plant herbs and mosses in and around it but, for now, it's fun watching the thrushes smash snails on the double concentric ring.
5. Clay books
Artist Tessa Laird recreated all her doctoral research books in clay, and showed them as Reading Room in 2013. Tessa has been a naturalist long before many others, and I like that one of the books is by Derek Jarman, a great artist and filmmaker whose own garden at Dungeness was an artwork in itself.
Share this: