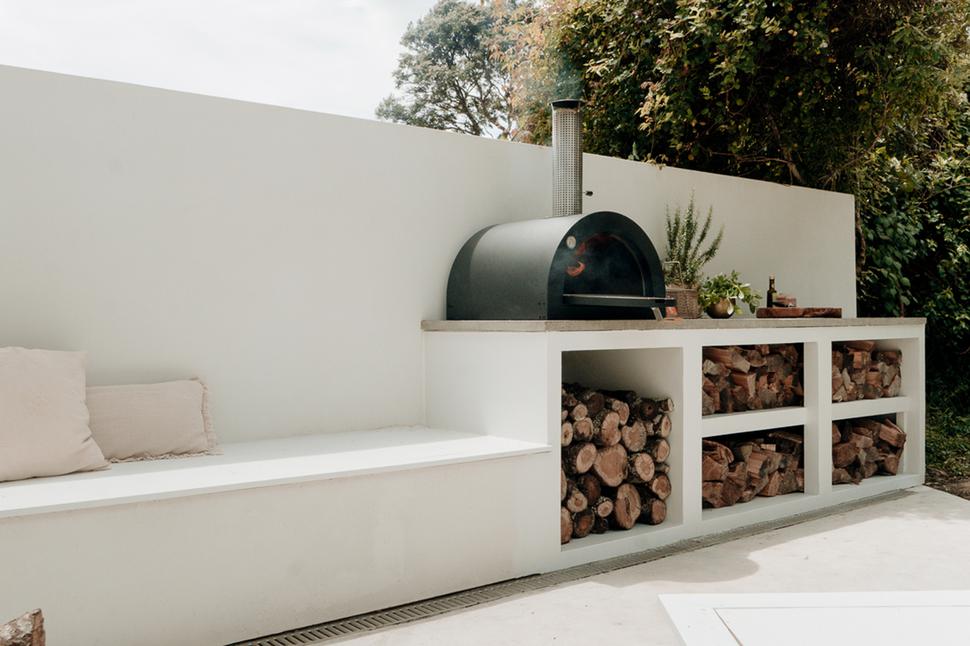 How The Owners Of This Lower Hutt Home Turned A Hill Into An Entertainer's Paradise
Mediterranean and Balinese influences course through this generous former blackberry patch
Sunday Jan. 30, 2022
Location: Lower Hutt, Wellington
Project team: Author and content creator Unna Burch and her husband, Aaron, a builder
The clients: This DIY renovation was for Unna and Aaron's own home.
The vision: To create a larger area for outdoor entertaining (the main house is 90sq m), with five main zones: a kitchen and bar, dining, sunken lounge/fire pit, woodfire pizza oven and a spa. The couple wanted to be able to spend time with family and friends outside and love the way cooking woodfire pizzas brings people together.
The original site: A hillside site covered in blackberry. Aaron completed months of foundation work before any building work could begin.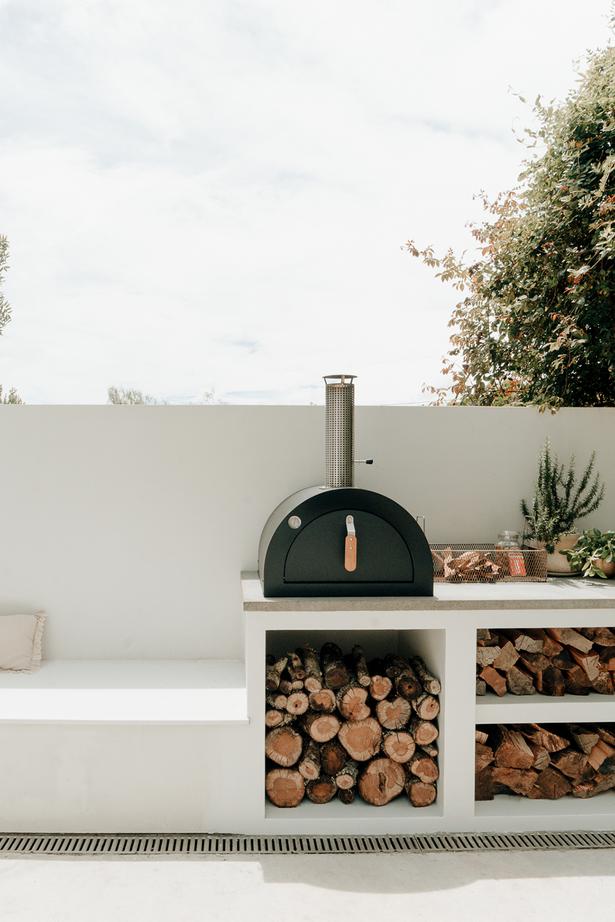 The solution: Unna and Aaron positioned the sunken lounge and firepit zone next to the woodfire pizza oven for easy access to a new wood storage area. They created a large benchtop for the woodfire pizza oven and, after much research, found that a concrete option was going to be the most economical without compromising on style. Aaron did the majority of the work himself, including the concrete benchtop, wooden framing and seating.
The aesthetic: A mix between Mediterranean and a Balinese-style villa. Unna and Aaron love lots of fresh whites and natural tones, clean lines and functionality.
The materials: All the materials for the concrete benchtop and the woodfire pizza zone: the melamine, silicone, concrete, and reinforcing mesh came from Bunnings Warehouse. The firepit is from Turfrey.
The finished product: "It came out just as we had hoped for and more," says Unna. "We had a pizza party with friends the other weekend — I made dough and homemade sauce, and they brought toppings. It was such a fun night and we finished with marshmallows at the firepit. Moments like those are the reason we created this space. The best summer memories."
Share this: