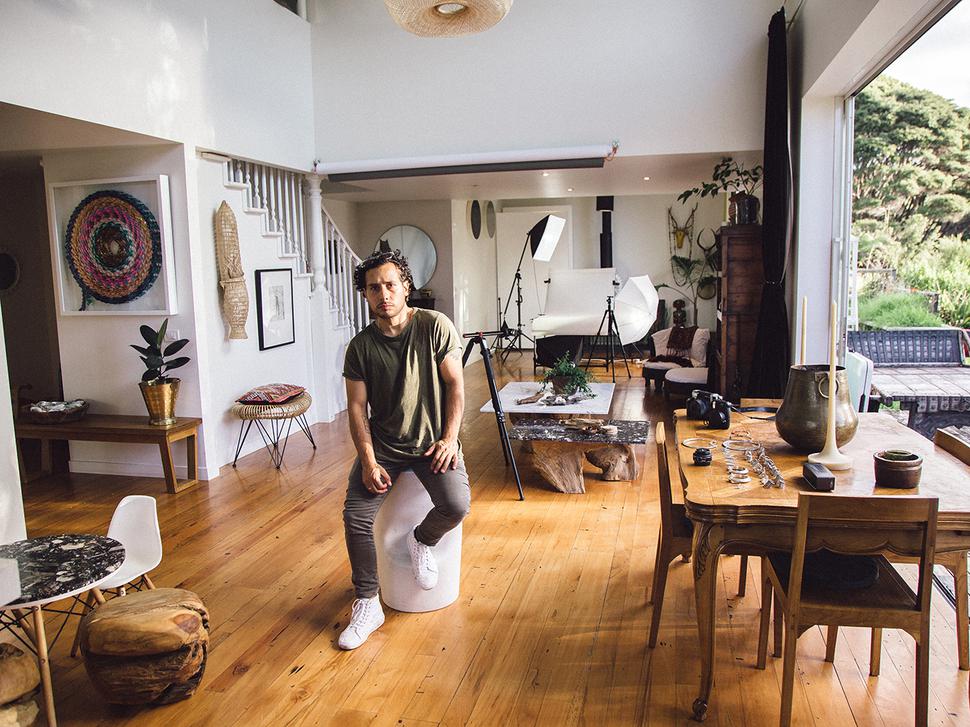 Work From Home with Francisco Cantú
Surrounded by water and lush West Auckland vegetation, it's no wonder the photographer finds it hard to leave his dreamy home studio
Tuesday Jan. 30, 2018
Photographer and creative designer Francisco Cantú can often be found in his West Auckland home studio, surrounded by water and lush vegetation, creating furniture, shooting product stills, fashion imagery or designing websites.
On an average day, what are your work tasks?
This question gets me... one of the hardest things in working from home, I have to say, is to be organised. First thing in the morning would be setting up the workspace and a quick clean up just to have a clear mind. On an average day I start with emails, going through the to-do list from the day before...
Every day is different and depends on the job I'm working on. At the moment I have been working on an experimental online store for a client in Dubai, also taking still jewellery shots, photographing models and editing photos.
What inspires you when you're working from home?
It's great to have an office to focus on design or editing, also to have a big space downstairs to do photoshoots, and use different parts of the space and surfaces and mix it all up. I really get inspired by composition, form and light.
How does the light in this space work for your photography?
The light is great, especially in the summer when the sun goes down. We have a huge pohutukawa tree in front of the house, and sometimes the light hits the water and reflects the leaves and branches into some beautiful, dreamy shadows.
READ: Photographer Deborah Smith's Bedside Table
Who would you most like to photograph in your home studio?
Uhhh, tricky. I would say that people who come to the studio are usually models to photograph look-books, which I enjoy but, to be honest, would I much prefer going outside. Would be awesome to run into Banksy and take a shot of him.
What are your preferred subjects?
Nature, landscapes, and very very conceptual photography. I guess the mix of all of this with some movement or stills.
How do you finish your workday at home?
Hard to finish, I can keep on going or until I get told off. The evenings are usually my best time to get stuff done and creativity strikes; helps a lot having some quiet time or enjoying some good music.
What is your screen saver?
Got a few, the main one is a photo taken from the Voyager of the Moon of the Earth taken from space.
READ: The Young Entrepreneur Behind Delivery App LazyAz
If you could set up a home office anywhere in the world, where would it be?
The last few years my office has been where my computer is. New York could be one, it would be great to be around that creative vibe. Thinking a few years ahead, I would love to settle on a beach close to Tulum, that would be the one...
What's your most common distraction during your workday?
Freedom is tricky, I can jump from thing to thing. Sometimes I find myself doing or working on something I was not supposed to. Definitely my biggest distraction is when my son Luca walks in the door from kindergarten or when he is around. I want to play or do something fun with him. Franciscocantu.net
Share this: