Young designers making their mark on the furniture scene
Claire McCall meets three success-bound friends who share a design and work attitude they're backing to the hilt.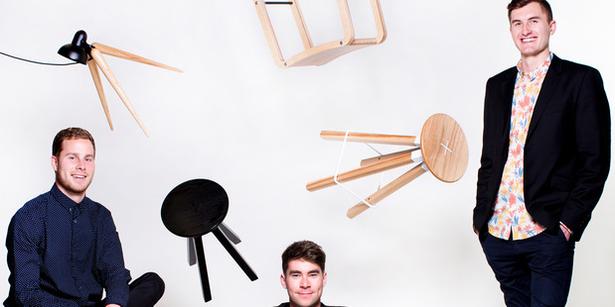 Wednesday Oct. 16, 2013
They just can't help themselves. When Daniel Kamp, James McNab and Samuel Griffin, designers and founders of YS Collective, head out for a coffee, it's not the boost of the bean they enjoy most. Instead, they'll likely be lifting up the bar stools to examine how they are constructed, or climbing on one to get a closer look at the light fittings.
Such fresh enthusiasm is engaging and it's carried them all the way to their own business.
When the trio set up their studio, workshop and showroom in a former art gallery in Tauranga about a year ago, it was the realisation of a dream they'd shared at design school at Victoria University.
With no business plan, a close-to-zero budget and just three prototypes ready to develop for marketing, the word "crazy" springs to mind.
At this year's Best Design Awards, the company's Profile Stool and Introvert Lamp were finalists in the product category. Crazy maybe, but these lads, all in their early 20s, are amped to succeed.
"We thought, well, we have no kids and no mortgages to pay, so we'd better do it now," says McNab.
The trio committed their time and money to making it happen. Converting the canvas of four concrete walls, anchored by a grotty carpet, into a space fit to showcase their clean-lined designs was step one.
"In the initial stages, it was a 24/7 project," explains Kamp.
Into the wee small hours they toiled with paintbrushes and hammers to re-purpose the 20 furniture pallets they'd inherited from Kamp's previous position at Design Mobel.
"We used the wood everywhere - to line the walls, as decking and in the kitchen cabinetry," he says. "We've all worked with our hands in the past, so that helped."
But why set up in Tauranga?
"We get asked that a lot," says Griffin, whose hometown is this portside enclave. "We are one of many emerging creative enterprises here. In Auckland, it would have been harder to do. Here, we have such a supportive group of fellow designers and we get together and share ideas."
Not that they're lacking in those. They exhilarate in the freedom of expression that comes with being their own bosses.
"We do take advice on board but we can also be very stubborn and a little insular. We don't really like asking for help," says Griffin.
It means, they say, that the process sometimes takes longer, but it speeds up the learning.
"Everything we discover in a business or design sense is immediately implemented."
They are earnest in attitude, an attribute that is reflected in the name of the studio - YS equals Yours Sincerely.
"We're sincere about wanting to share work that we've put so much time into and that we hope will make you happier in your own environment," says McNab.
The three had set their first deadline, via a Skype call from Wellington when Griffin and McNab were still tutoring in design, even before they moved into their premises.
Off the blocks at the starting gun came the Fellow Lamp by Griffin, the Profile Stool by Kamp, and McNab's Collar Stool.
Their relationship is a unique mix of independence and collaboration. Although there is usually a chief designer on a project, "it was always going to happen that we would influence each other's work," says Griffin.
Fortunately, they share the same aesthetic - a contemporary look in which, for the most part, fixings are kept minimal and the structure of the pieces is exposed.
Griffin's Fellow Lamp is a case in point. This elegant, sculptural object has three hand-turned legs in American ash. A spun aluminium shade acts as a "head", lending the lamp an anthropomorphic aura.
"I see the lamp almost as a little person, as a companion to have on your work desk," he says.
To the YS Collective team, who live and breathe the designs, sometimes through hundreds of iterations, the stools and lamps do take on characters.
"We refer to our pieces as though they are people; they have a name and become a presence," says Griffin.
Kamp's Profile Stool has morphed from a chair with three legs into one with four, but its founding principles remain true.
"I wanted to use a super-efficient process, making pieces on a router," he explains.
The stool, with its curvaceous, bum-friendly seat, features the same two-dimensional shape repeated many times. The Collar Stool, on the other hand, uses just one structural brace to hold its wooden components together in a friction-fit system.
It embodies simplicity and strength in a humble piece of craftsmanship.
The trio have had valuable exposure from these objects, but it has yet to translate into the number of sales they hope one day to achieve. They are philosophical about this.
"We are entering a high-end environment so we can't expect immediate uptake. We need time to build the brand," says McNab.
Part of their approach has been to contract their design skills to other companies.
They've worked with online retailer Lujo, to develop a range of outdoor furniture and are now consulting to Sleepyhead Beds to bring design-driven, customer-led strategy to the forefront of their thinking.
They were finalists in the recent Best Design Awards with their Profile Stool and the Introvert Lamp, developed as a creative way to incorporate cutting-edge LED technology into a covetable piece of design. Although they didn't win, they remain undaunted.
"At last year's function, we had only just launched. We came away thinking, 'Wow, look at the industry we're getting into'. It gave us such reassurance that things were going to be great," says Griffin.
Flatting together and working side by side is a way this trio can hold the reins tightly, keep urging each other on and enjoy the ride.
Kamp's partner, interior designer Alexandra Batten, who shares the house, often has to remind them to take a break.
Griffin: "Ali keeps us in line. She lets us know when it's time to start hanging out as friends, rather than as business partners."
Share this: