Apartment living in Williamsburg
Zoe Walker visits the stylish apartments of creative New Zealander Tessa Gould.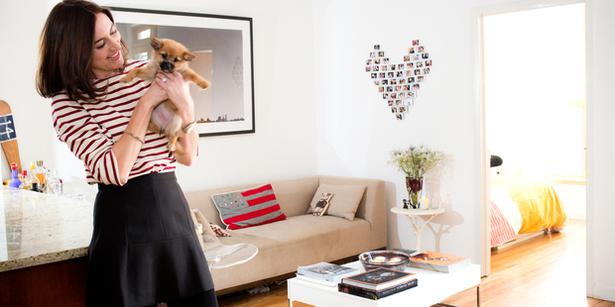 Friday Feb. 28, 2014
An adorable small Pomeranian has taken over Tessa Gould and Edward Rogers' apartment, a sunny, two-bedroom space near the Williamsburg Bridge.
The couple recently adopted Lola from a rescue shelter in North Carolina, bringing her to their Brooklyn home that has something many New Yorkers dream of: a small rooftop outdoor area, covered in snow today but a dream in summer.
New Zealanders Gould and Rogers both work in advertising - Gould at website The Huffington Post as director of native advertising (an increasingly popular online concept where advertisers provide content) - and have lived in New York for four years.
They moved into their apartment two-and-a-half years ago, with an assortment of pieces collected from the city and home.
In the main living room they have hung several black and white photographic prints of NYC from their photographer friend Tom Gould (a fellow New Zealander, but no relation to Gould), including a large framed image of the city skyline with ubiquitous helicopter hovering in the corner.
The decor is a combination of feminine and masculine - a well-stocked bar trolley, Polaroids in the shape of a heart.
They also have a growing assortment of ceramics and glassware, including pieces from Kosta Boda - two clear glass candlestick holders that together form the shape of a heart, a bowl and vase with hand-painted flowers - and several pieces the couple made themselves, attending private lessons with a well-known Brooklyn-based pottery artist, Shino Takeda.
Gould is also a fan of milk glass, with vases in the living room, spare room and bedroom; one holds a collection of matches.
Elsewhere there are hints of the couple's travels: above two editions of The New York Times' 36 Hours travel guide series sits a handmade toy Rogers brought home as a gift from Mexico City, while below is a hint of home: the classic Kiwiana version of Russian stacking dolls.
Share this: