5 Powdery Perfumes to Try
Fragrances that meld seamlessly into the skin are part of an inviting trend for sheer sensual scents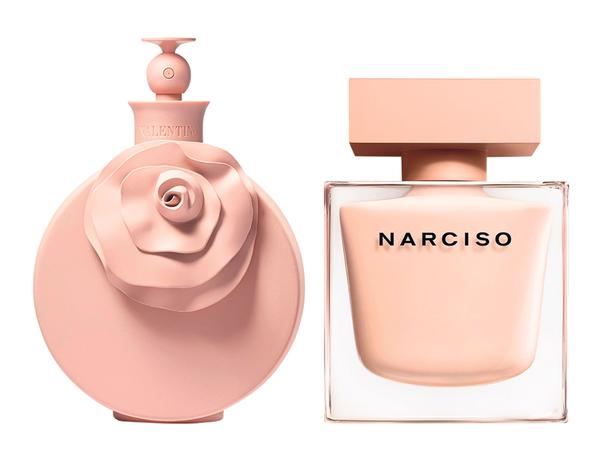 Friday April 1, 2016
Words like sheer and diaphanous, more commonly used to describe fabric than fragrance, are emerging as adjectives of choice for a growing group of scents. They can't be described as a new fragrance category — for such is the variety of styles within the group — but they are unified by a certain delicacy of approach.
From bottles crafted in blush shades to descriptions of the contents as powdery and enveloping, the mood these perfumes evoke is one of intimate appeal. These are fragrances for the woman who instinctively layers scent into her look, rather than wears it as a statement accessory. Subtle, soft and sensual, these sophisticated new nudes have a quietly compelling charm.

Valentina Poudre 50ml eau de parfum by Valentino $152
This new "poudre" edition of the pretty Valentina perfume uses the French industry term to aptly describe a powdery interpretation of an original. When it comes to describing the bottle, let's just stop at lovely. Within is a light floral-oriental with iris, tuberose and sandalwood notes, strongly underpinned with vanilla. In selected department stores from April 3.
Narciso 50ml Eau de Parfum Poudree by Narciso Rodriguez $170
A new softer interpretation of the seductive original musk embrace from Narciso. Both qualify as second-skin scents and are housed in smashing minimalist flacons. Narciso Poudree twins rose and jasmine in a warm, velvety combination with woods. In selected department stores from mid-April.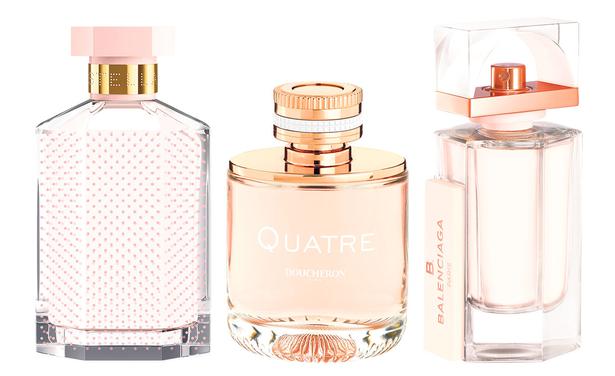 Stella 50ml eau de toilette by Stella McCartney $99
Stella repopularised rose perfumes at its launch in a striking purple bottle in 2003, now it comes re-dressed in a girly pink casing. The designer says her new eau de toilette matches the modern woman's "natural confidence that is also youthful and radiant." The old favourite rose on amber appeal has been freshened by an added spritz of citrus, a flush of peony and a dash of violet to reflect perfumers' current choices, with some freesia added for dewy depth. From selected department stores and pharmacies.
Boucheron Quatre Femme 50ml eau de parfum $115
Rose champagne, sparkling citrus and hints of sweet berry give this an effervescent opening. A burst of rose and jasmine settles in a powdery accord with golden woods and musk. The name comes from the house's famed Quartre ring, with the bottle design also picking up on elements of Boucheron's jewellery heritage. From selected department stores.
B.Balenciaga Skin 50ml eau de parfum $170
The sharp, green qualities of the original B.Balenciaga scent are moderated here, but the floral and warm woody notes remain, along with the striking bottle design. Added softness comes from peony, but fans of lily of the valley, violet leaf and iris root will still be engaged. From selected department stores and pharmacies.
Share this:
More Beauty & Wellbeing / The Latest