Get the Ab Fab Beauty Look
Get your glam on as easily as Patsy and Edina fall out of taxis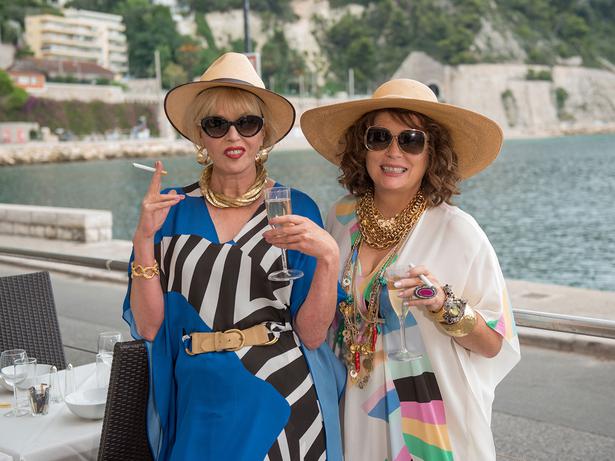 Tuesday Aug. 9, 2016
One will try anything new, the other's face is frozen in time. So we're not saying either makes an ideal beauty role model, but it's hard not to like aspects of the outrageous style of the lead characters of Absolutely Fabulous. When Edina, the PR calamity queen at the centre of shenanigans asks her bestie and magazine maven Patsy: "Sweetie what are you drinking?", the reply is: "Oh this? Chanel No. 5."
Such name dropping has always been part of the script of the British television series from the 1990s but with a comedic irreverence that bypasses other more recent label-flashing shows such as Gossip Girl and Sex and the City. Like them, the new Ab Fab movie isn't without product promotion, but it mocks Edina's obsessively desperate aspiration rather than climbing into the cult of consumerism, Manolos and all. Friendship and family relationships — dysfunctional though they are — give Ab Fab heart.
Its over-the-top look is another attraction. The co-dependent pair overlook each other's smeared lippy and smudged eye makeup, all the while issuing shredding personal observations. They have indulged over the years in everything from colonic irrigations (Edina) to injecting Botox at home (Patsy). The ups and down of weight issues make a regular appearance. Celebrity guests also get the once over.
Makeup designer for the film, Christine Cant, said highlights were filming in the South of France and supermodel Kate Moss being a trouper, even when dipped in the Thames. She loved reuniting with Edina actress and show writer Jennifer Saunders, whom she knew from BBC days.
Asked what Edina's beauty tips would be, she said: "Eddie doesn't have tips. She's just too busy, darling. She does have Christopher, her hair and makeup person who gets her ready whenever she goes out. She probably doesn't know what he does, but it works somehow.
"Patsy [played by Joanna Lumley] gets lots of free stuff at the magazine and chucks it all on, the way she has done since the 70s."
So there's the overview, but we've also dug into Christine's makeup bag which was heavy on M.A.C cosmetics (which provided support for the film), plus some other favourite products she picked for Edina and Patsy. Sorted, Ab Fab style, in a cloud of hairspray and a waft of patchouli.
Our final words come from the series back catalogue, however, with Edina raving about her beauty prepartion: "Quick shower, quick shower … Wash and go. Sandpaper, exfoliant, cellulite breakdown, tone and perm, auto-bronzer and birch twigs! Shall I have soap? No, no soap."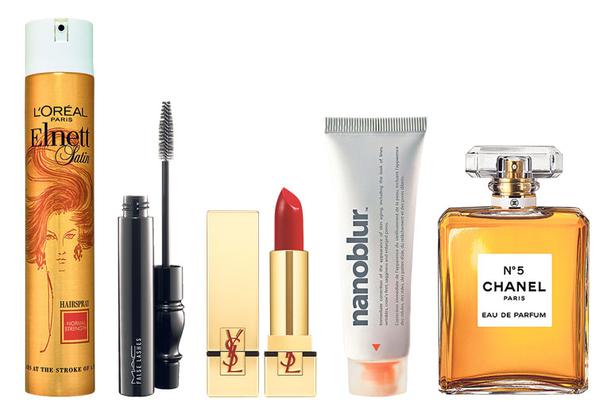 L'Oreal Paris Hairspray; M.A.C Mascara; YSL Rouge Pur Couture in No. 1 Le Rouge; Indeed Laboratories Nanoblur primer; Chanel No. 5 eau de parfum. Pictures / Supplied.
MAKE LIKE PATSY
1. L'Oreal Paris Elnett Hairspray $12.99
This beauty staple has been around almost since Patsy's heyday and it's still going strong. To achieve her gravity defying hairdo, backcomb, secure and spray liberally. From selected supermarkets.
2. M.A.C False Lashes Mascara $48
To match her propensity for wearing falsies, Patsy also applies this dense black mascara designed to amplify the effect of elongated lashes. Brow pencil is another essential. From all M.A.C counters.
3. Chanel No. 5 eau de parfum 50ml $175
Splash it on, but heaven forbid don't take a wasteful swig... From selected department stores or pharmacies.
4. YSL Rouge Pur Couture in No. 1 Le Rouge $65
Make Patsy's signature shade yours too, because you can't go wrong with a classic French red. From selected department stores and pharmacies.
5. Indeed Laboratories Nanoblur primer $39.99
"Ten years younger in 40 seconds" goes the marketing spiel, so no wonder Patsy was an early adopter of this skin-smoothing undercoat. One of the first blur creams on the market, it disguises surface imperfections to provide a slick foundation base. From Farmers and selected pharmacies.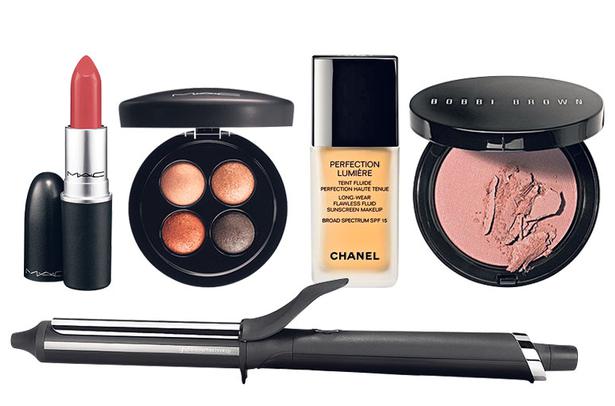 M.A.C Lipstick; M.A.C Eye Shadow quad; Ghd Curve Classic Curl Tong; Chanel Foundation; Bobbi Brown Bronzing Powder. Pictures / Supplied.
CHANNEL EDINA
1. M.A.C Lipstick in Twig $40
One of the few things the faddish Edina has stuck with over the years is a brownish nude lip. Twig was chosen for her because it provides a defining 90s shade.
2. M.A.C Eye Shadow quad in A Glimmer of Gold $90
The old trick of gold eye shadow applied around the inner eye corner is used on Edina, who has learned the valuable beauty lesson that neutral makeup shades are safest with colourful
fashion choices.
3. Ghd Curve Classic Curl Tong $270
Learn to make a mop of curls work for her by taming them Edina-style with this tong. Stockists ph 0800 424744
4. Chanel Perfection Lumiere Foundation $107
This fluid long-wear formula with sunscreen was used as a natural looking base foundation for Edina. To build contoured coverage it was at times supplemented with Armani Maestro Fusion Foundation (not available in New Zealand). Chanel from selected department stores and pharmacies.
5. Bobbi Brown Illuminating Bronzing Powder in Maui $65
Get you glow on with this warming pinkish bronzer, so you too look like you've had a lucky escape to the South of France. From Britomart flagship and selected department stores, studios and pharmacies.
Share this:
More Beauty & Wellbeing / Trends