Behind-the-scenes with Ab Fab's Makeup Director
Christine Cant sorted the looks for the stars and supermodels and had an absolutely fabulous time doing it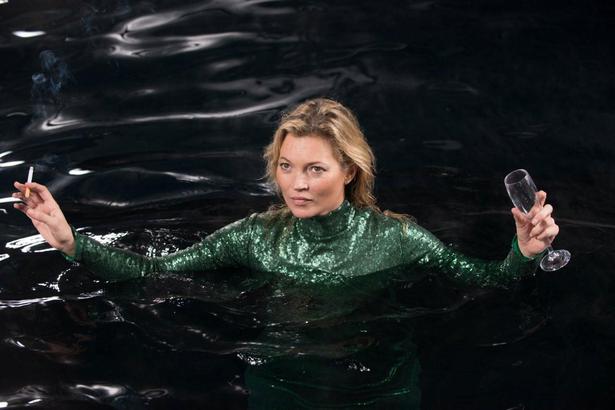 Wednesday Aug. 10, 2016
With a BAFTA award under belt and a long career at the BBC behind her, Christine Cant was an obvious choice to marshall makeup for the celebrity-studded Absolutely Fabulous movie. She had worked on the show previously and was happy to reunite with the cast on what proved to be an over-the-top production.
Highlights included having lunch with Dame Edna Everage in the South of France, preparing a parade of drag queens in London and watching Kate Moss stay super in the Thames. She talks more about the film and how she got started in a career in makeup. 

When did you decide to become a makeup artist?
I trained at the BBC in 1981, but my interest in makeup goes back to the late 60s and early 70s.  I struggled with very bad acne and I found that by covering with makeup and emphasising my eyes and lips, I could distract people (especially boys) from my chaotic skin. I studied painting at art school in the 70s and mainly painted and drew people, I was always interested in fashion and style so makeup felt like a natural extension of that.
What are the best and hardest aspects of your job?
Let's start with the worst bits. When that alarm clock goes off at 4:20am. It's still a shock even after 35 years. We work extraordinary hours! Another thing that doesn't get any better is packing and unpacking my kit. I have so much gear and different productions require different tools and products. I could go from a contemporary crime drama, with no wigs and plenty of blood, to a period comedy, with loads of wigs and not so much makeup. I wish it was just a matter of chucking a few bags onto a truck. If I had specialised in just one aspect of this process it would be simpler, but I just wouldn't get the same satisfaction if I wasn't able to produce the entire character's makeup and hair.
The best bits?
Just about everything else. Every day brings a new level of excitement to create these new faces and unique characters all the time.  We get to see some wonderful and interesting locations where I get to paint faces and sculpt hair every day. 
What keeps you working on Ab Fab, and how did it all begin?
Honestly, my relationship with Jennifer is the main reason for keeping at it, but the work is a treat, too! All those extraordinary characters! I didn't do the original television series; I worked on one of the specials called The White Box, which I received a BAFTA nomination for. Then I had the opportunity to do three standalone special episodes in 2012, one of which was for the Olympics. The show is a delight to work on, it's lovely to imagine fashion and life through the eyes of Edina and Patsy.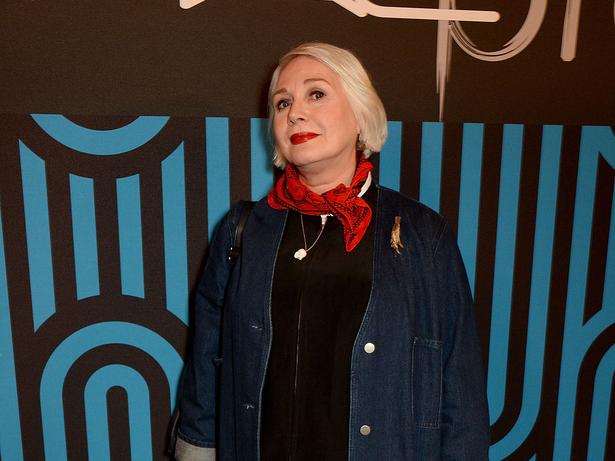 Makeup artist Christine Cant. Picture / Supplied

What is your most memorable part of filming?
There are many! Watching the sun come up over the sea with a warm croissant in my hand at Ville Franche. Having lunch in a seafront carpark at Cap- Ferrat with Barry Humphries in full Dame Edna mode. The sight of 80 glorious drag queens walking in file to the Vauxhall Tavern during the morning rush hour in London. How lucky am I?

What is your favourite makeup look from the film and do you have a favourite character?
My favourite look from the film is Lubliana. She's the richest oldest woman in the world. Visually, I was inspired by Diana Vreeland. I wanted to reference a style maven from another era to place her in an unthinkably old age group. It was quite a complex makeup look. A full face and neck of old age stipple (we had neither the budget nor the time for a full prosthetic) then beautiful makeup on top of the wrinkles. Arched brows, a gold blend of M·A·C eye shadows, Fluidline and false lashes, topped off with a great big wonky red mouth. All topped with the classic Vreeland black hair. As always, my favourite characters are Eddy and Pats.

Tell us how you collaborate with the rest of the team on the film. Who do you work closest with when setting looks?
Mostly the three design departments: production (sets), costume and makeup work together to make sure that we are all seeing the character in the same way. A simple example, "would a woman who wears that lipstick choose that throw for her sofa?" are common conversations on set. But ultimately I confer with Jennifer. If what I'm thinking makes her laugh it's usually worth going for.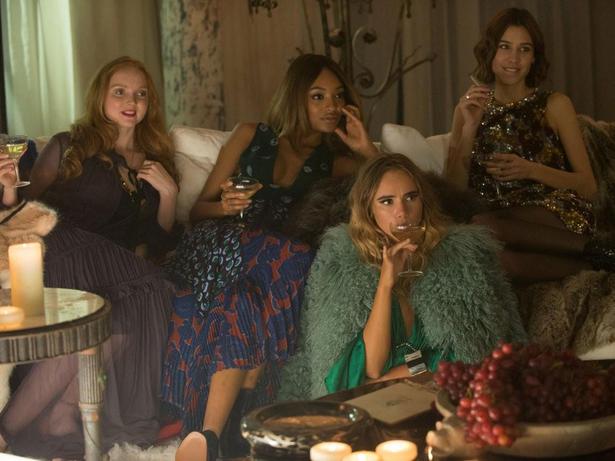 It girls Lily Cole, Jourdan Dunn, Suki Waterhouse and Alexa Chung in the film. Picture / Supplied

Tell us about your relationship with M.A.C. (which offered makeup support to the production) and how this worked?
As a company, they allow me to test run loads of products I might not think of trying. Their product portfolio is so extensive that no matter the look I am working to create, I can find the perfect M·A·C product combination.

Name your must-have favourite products? 
I love M.A.C. Cremeblend Blush in Posey because it's very natural. It seems to suit every skin colour. I just alter the density when applying and rub it right in. M.A.C. Pro Longwear Paint Pot in Quite Natural can be used for most as well. It shapes and shades the eyes in a very subtle way and on camera it looks great. It can also be used in a contemporary fashion style too. I like to set it as a base for other more dramatic colours as it stays where you put it all day. I even apply it to the brows. Of course, I have to have a favourite lip colour. M.A.C. Lipstick in Russian Red is the perfect red for my Scottish skin tone and tends to combine well with most tones. But the best part is it doesn't move once you apply. 

Share your best beauty tips...
Start with fresh and prepared skin. Be sure to exfoliate and moisturise. Don't sleep in your makeup. A red lipstick is always a yes and a smile is a great face lift.

Share this:
More Beauty & Wellbeing / Features & Profiles