Actor Kate McGill's Beauty Routine
Body positivity and bright lippy are two ways this talented actress taps into feeling and looking her best – plus drawing on some wicked family humour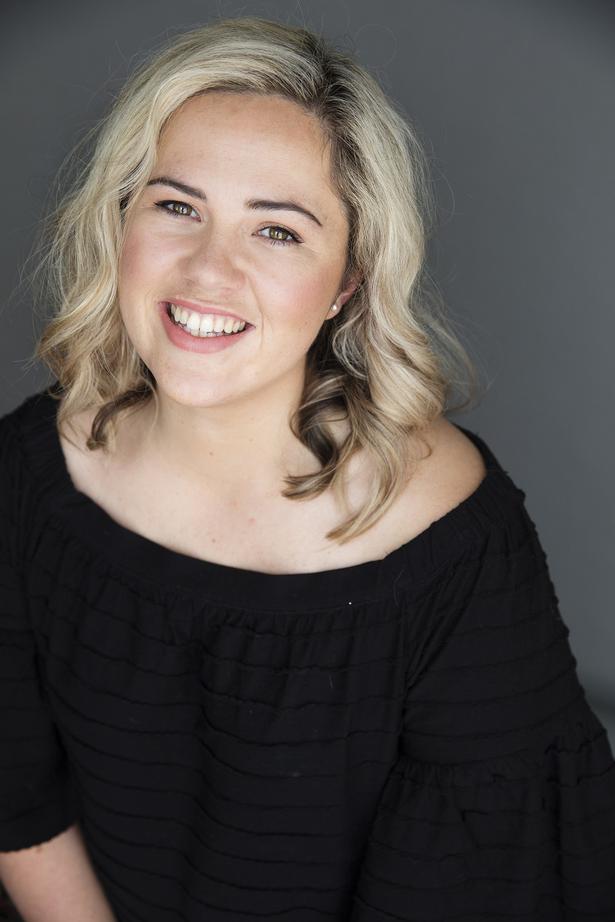 Tuesday Jan. 29, 2019
Kate McGill is about to co-star with her mother Ginette McDonald playing younger and older versions of the title character in Auckland Theatre Company's next production, Joan. The play, written by satirical cartoonist Tom Scott, is based on his formidable and funny Irish mother. It is a follow-up piece to The Daylight Atheist, about his father. Presented as the Ma and Da season, the two works play in repertoire for the first time, allowing audiences to see both sides of the story. Michael Hurst is the lead in The Daily Atheist and using a talented real-life mother and daughter team to play Joan at different stages of her life, adds a realism to that portrayal.
READ: Acting Star Lisa Chappell's Beauty Routine
As you'd expect from this line-up of Kiwi talent, there a strong dash of down-to-earth humour and pathos involved. The season runs from February 7 to 23 at the ASB Waterfront Theatres. For tickets and information see www.atc.co.nz
Kate shares a comedic touch with her mother, the creator of the infamous Lyn of Tawa character. She's a familiar face to viewers of television's Brokenwood Mysteries and has played a number of stage roles. For this Beauty Routine with Kate we couldn't resist starting with a few mother and daughter questions. Here's what they say they've learned from each other, before Kate answers our Viva questions on her personal approach to beauty.
Ginette: In principle I've always advised Kate that when preparing to go out, do the very best you can with your makeup and hair, apply a lipstick that suits you, then sashay boldly into the world and do not give it another thought. A happy expression is the best makeup of all.
Kate: Mum has always recommended to have tweezers at the ready. I've reminded her to apply makeup in full light. I seem to recall an incident with an eye pencil on her eyebrows, resulting in a startling blue. It was... a look.
Ginette: Kate's beauty tips to me are by way of a gentle murmur in my ear that I may have slightly overdone the blusher or I may like to revisit the random blob of concealer on my cheek. One morning I met her for breakfast and she gently asked if my blue eyebrows were a style choice. I'd grabbed an eye pencil to enhance my eyebrows and mistakenly took a bright blue one. In the dim light of a hotel bathroom I hadn't noticed and was walking the streets like an elderly clown woman in a Fellini film. Thank god for the kindness of beautiful daughters.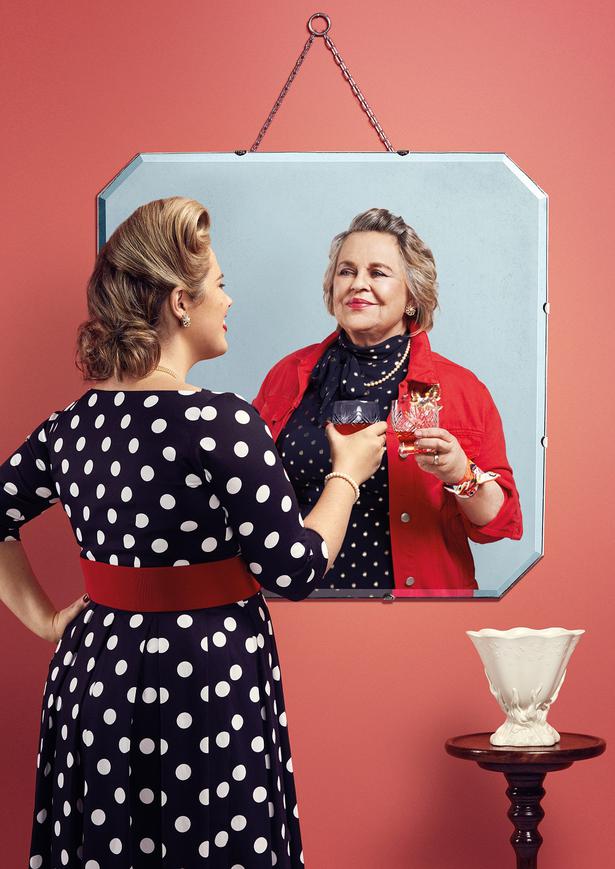 Beauty ethos
Kate: Oh gurrrrl, I used to wear all black, with dead straight, harsh blond hair, a full circle of black, thick eyeliner around my eyes. And I thought I was Victoria Beckham style hawt. I looked like I was in mourning for my life.
Now, like many, my approach to beauty changes with my mood, but I embrace this more readily now. If I feel like being casual, then I don't force myself into something that makes me feel fake. I try and do things for myself. We live in a social climate where the outside can sometimes seem more important than the inside. I used to be obsessed with how I was perceived, my size, etc, but now I intentionally try and focus more from the inside out. But that doesn't mean I don't love a bright red lippy and a head full of curls from time to time. There's great social media accounts like iWeigh that I believe really make a difference in terms of breeding a healthier outlook and embracing beauty rather than restricting it.
On-screen transformation 
I had an amazing facial scar prosthetic designed by the terrific Anna De Witt for the Brokenwood Mysteries [television series]. It was scarily authentic looking and I loved the process of melting into the character as the scar was applied. Makeup and hair makes such a difference to finding your way into the role, and asking yourself how your character would present themselves really helps in finding the details that open up the kaleidoscope of their world, hopefully creating a more authentic performance and richer story.
Makeup memories
I have a solid memory of getting up from bed during a dinner party my parents were having, sneaking into the bathroom and attempting to copy Mum's 90s glamour look before parading into their guests donning heels, a red wig, with a full face of blusher and blue eyeshadow. A lip sync to Bette Midler's Boogie Woogie Bugle Boy of Company B will be forever etched in my memory as an 8-year-old me trying very hard to impress a group of my parents' friends. The smells have stuck with me, the crayon-like lipsticks, and weird talc-esq eyeshadow. That, to me, was glam.
Tricks of the trade
The importance of good skin care. My dear, very talented friend Sarah O'Gorman got me onto good cleansers a while back, and it's stuck.
Daily beauty routine
I have a pigmentation condition on my face, so I always apply sunscreen in the morning. I will then cover it with a tinted moisturiser, a bit of eye liner, some mascara and away we go. Sometimes I can't be arsed, and just stick with the sunscreen. Evenings: I remove with the beautiful gentle Mecca Cleanser, and put on Goodness Every Evening cream. When I want a deeper clean, I'll mix my cleanser with some Dermalogica microfoliant powder.
Hair and its care
I'm a bit slack with my hair truth be told. I often leave the roots for an age, often resembling an 80s Baywatch wannabe. I have the most marvellous hairdresser who brings my hair back to life after I swan around without a brush. I do try and do a coconut oil treatment once a month, and use Keune blonding shampoo every couple of weeks to keep it in check.
Day-to-night transformation
You can't go past a bold lip. Despite my note about good role models, we're not all perfect. I got sucked into an Instagram sponsored post recently and bought a crap-ton of Kylie Jenner makeup. There's a reason the woman is rich, and it's not just her Kardashian affiliations. I love her stuff. AND it's cruelty-free, which is a must. So, for me, some Elizabeth Arden 8 Hour Lip Cream followed by Ky's Posie K, some of her dope eyeshadow shades and BAM, I'm ready for evening jaunts.
Five favourite products
1. Mecca To Save Face SPF50 sunscreen. It's light, non-greasy, smells divine and is perfect for underneath foundation.
2. Goodness Every Evening Cream. A little goes a long way with this product. It feels lovely on my skin, and I just love the Goodness products and ethos. This is what I run out of the most.
3. Mario Badescu Rose Spray. Totally nourishing, brightening and hydrating. This stuff is perfect in the mornings when you're skin is dry and needs a little extra joy. I also mix it with night cream.
4. Mecca Transforming Facial Cleanser. It doesn't foam, but it gets off make-up beautifully and doesn't make you look like you're having kittens when it gets in your eyes.
5. Herb Farm natural deodorant. It actually works, and has a gorgeous scent. This is a hot tip for those peeps who want to get rid of the aluminium in the pits.
Treatment to try
I trained in massage a couple of years ago, and it's something I truly believe is good for the soul, the body and mind. As often as I can I will get one (note: when I'm earning good dollar). I highly recommend the wonderful Lucy at NiceTouch massage in St Kevin's Arcade. It makes me feel centred, nourished and completely in my own skin. (Not a sponsored post). I would love to try a microdermabrasion. I caught a weird dermis infection last year overseas, and I would love to give the skin the ultimate clean-up.
Beauty is...
Being in your own skin. Filling yourself with joy and loving yourself is the most attractive thing. It's hard practice, but it's worth it.
Share this:
More Beauty & Wellbeing / Features & Profiles