Aesop Opening in Auckland
Aesop champions a distinctive retail style and is growing fast across the globe. On the eve of its first New Zealand store opening, Janetta Mackay finds out more about the bold skincare brand.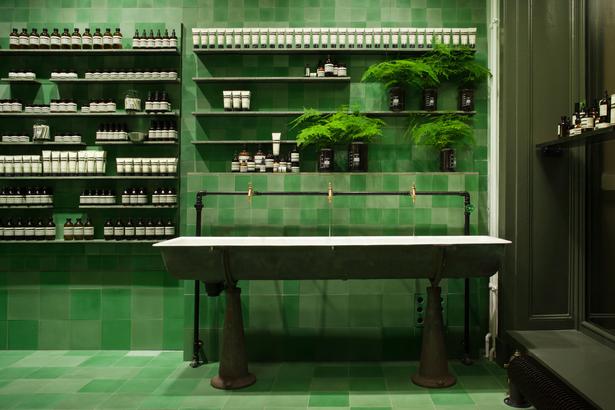 Thursday Sept. 8, 2016
"Good retail has a strong place in communities," says Aesop CEO Michael O'Keeffe. Though it's hardly a surprise that shoddy shops aren't his idea of where to sell the brand's premium products, this company's commitment to an enhanced consumer experience is more than skin deep.
Stunning store design is part of the Aesop ethos. As is embracing elements of each area the company operates in. From home base in Melbourne, to Paris, London, Tokyo and New York, Aesop's interiors are renowned. It works with leading architects and designers to renew and revitalise retail spaces. Each approach is singular — from curved walls of cardboard to sculptural stepped shelving — but all are designed to showcase a uniform-looking collection of brown glass jars and cream tin tubes.
Auckland is about to get its own interpretation, opening this Friday on a Newmarket corner-store in collaboration with Patterson Associates. The practice behind the award-winning Len Lye Centre in New Plymouth will add distinctive Kiwi touches to a timber-rich interior that draws inspiration from domestic wash-houses of old.
Water is a central feature in all Aesop stores, but the variety of basins it flows into are as varied as the 100-plus locations the fast-growing firm now operates in. From Victorian sinks to mid-century industrial installations and contemporary concrete slabs, the ritual is rigorously reinvented.
"Design and creativity are really important to us," O'Keeffe says. The company, which is nearly 30 years old, realised wholesaling was not its best way forward at a time when many retailers were closing physical stores in the rush to online sales. "When you've got 3-4 shelves of brown glass jars, unless you're supporting itwith a lot of above-the-line advertising, driving customers to it, it's very difficult to build a business because you're not responsible for that relationship with the customer yourself," explains O'Keeffe.
So Aesop started opening its own stores from 2003, and has seen business flourish since.
"With Aesop what retail did was really brought the whole brand to life."
Those apothecary-style brown glass jars are now much-imitated, but O'Keeffe maintains efficacy is Aesop's standout selling point. In-store sampling now works in tandem with online information to introduce customers to products. Beyond that comes recognition gained from sponsoring events such as literary and art festivals.
"When you are driven by financial metrics alone, from my perspective, they are lagging indicators of the health of the business, the brand and your relationship with the customers. Supporting the communities and the customers where we trade matter; you've just got to have confidence that there will be a payback down the track."
O'Keeffe says the slow death of retailing in places in the US and the UK has "hollowed out" communities. Conversely, in those upcoming or regenerating areas where there has been investment in retail, hospitality, galleries and wider activities have flourished. "It's all quite inextricably linked," he says.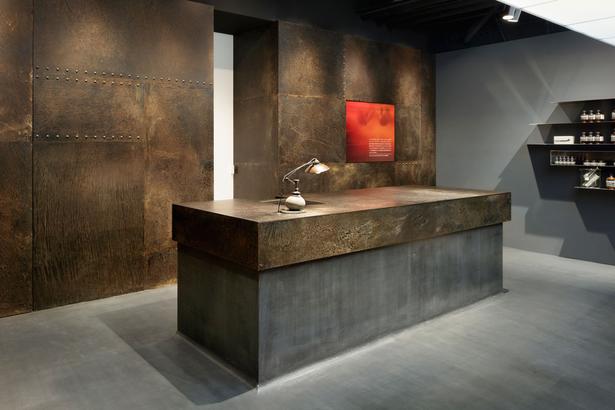 Aesop's approach of doing thing differently owes much to its founder Dennis Paphitis and his trusty offsider Suzanne Santos.
They both retain creative directing roles with the company which from 2012 has been majority owned by Brazilian beauty giant Natura. Paphitis, a former hairstylist who began making hair, then bodycare products using botanicals and essential oils from his salon in the Melbourne suburb of Armadale, still holds a strong stake.
His love of literature sees his pick of quotes appear on store walls and products. The struggling Paris Review literary magazine is supported by sales through Aesop's international stores and the ceiling of the Chelsea, New York City, store is papered with its pages. Art Basel is another endeavour Aesop is involved in, this driven by its Swiss country managers.
Santos' commitment to product perfecting supported the formation of an in-house research and development team. Chief chemist Dr Kate Forbes, who has been with the firm for 15 years, says R&D rather than a marketing calendar leads the way in taking new lines to market, however long this takes.
"We focus on what is effective for use on a daily basis." She sees good skin as requiring a holistic approach, including a healthy diet, attention to preserving the barrier layer and the personalised care prescription that Aesop's consultants deliver in store. A New Zealand grape extract is among the ingredients her small team work with.
Botanicals and man-made ingredients combine, but the likes of bleaching agents and parabens are banished. Forbes has in her sights a facial sunscreen and she is particularly proud of the recently launched vitamin-infused B Triple C gel and a chamomile mask with an algal extract.
Developing textures that are intensely hydrating, yet in the oil-free and matte finish products sought after in Asia, is a challenge she relishes.
Expansion here is a good fit and long overdue, says country manager for Australia-New Zealand, Kiwi Karl Wederell. "New Zealand ticks a lot of boxes for us," O'Keeffe tells Viva, "in terms of the customers' appreciation and understanding of quality, of innovation and being prepared to do things differently, of not following trends for trend's sake."
• Aesop opens Friday September 9, on the corner of Osborne and Kent St, Newmarket. Visit aesop.com
Share this: