Alisa Xayalith's Beauty Routine
The Naked and Famous lead singer Alisa Xayalith reveals the products in her beauty bag and the secret behind her amazing cat eye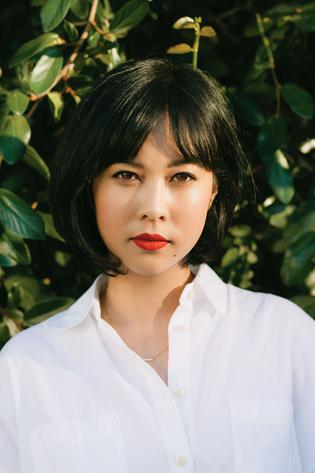 The stylish lead singer of The Naked and Famous, LA-based Alisa Xayalith and her band will be back in the country to play at Auckland City Limits festival next weekend. She shares her best beauty tips.
My first memories of makeup… I was about 11 years old and fascinated by my older sister's eyelash curler. I wasn't too sure how it worked. I remember she had left the house one evening and I played around with it and went through her makeup bag. I tried on eye-liner, her plum-coloured lipstick and mascara.
My favourite music to listen to when getting ready is... Francoise Hardy. Listening to her music makes me feel like an old-fashioned woman.

My best tips for glowing skin are… making sure I'm hydrated, it makes all the difference. Exercise keeps it in check too. I do a lot of hot yoga and I believe it makes me glow. I notice the difference when I don't go for a while.
My favourite products are… by Aesop, the parsley face wash and face oil work well for me. It also smells divine. I also use a Nivea eye roller; it has caffeine in it and it helps with my tired sleepy eyes in the morning.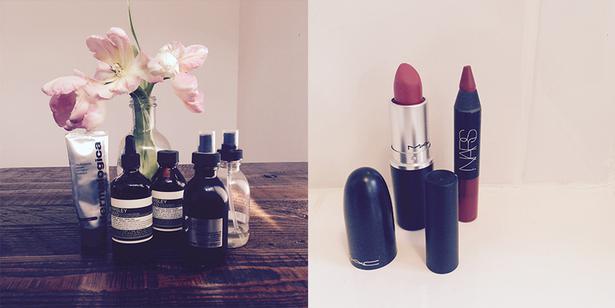 My daily routine is… washing my face using my Clarisonic. I use my eye roller, moisturise my face and finish with a layer of sunscreen. I don't leave the house without wearing sunscreen, concealer, face powder, mascara and a liquid eyeliner on my upper eyelid. Then in the evening I would usually wear a red lip. I feel like lipstick refreshes any kind of make-up look.
Products I swear by… I use a mix of two brands to do my cat eyeliner. M.A.C has a product called Rebeleyes Gel Liner and Stila Stay All Day waterproof eyeliner. I use M.A.C matte Ruby Woo lipstick and when I want a darker red I use the Nars velvet matte lip pencil in Scarlet Red. Australis waterproof mascara is a constant that never fails me.
When I am performing… that's where I have the most fun with makeup. I love making my eyes look bold with darker eyeshadows; and playing around with false eyelashes, lipsticks and glitter!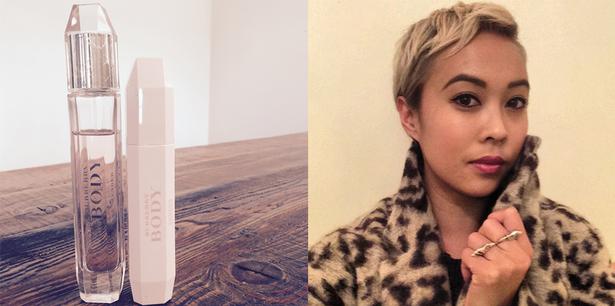 Alisa's favourite perfume; with a blonde pixie cut.
My hair... Lives in that space between wavy and straight. I don't have typical Asian hair that is poker straight that can't hold a wave. It is thing out of who whole beauty routine that takes the least time. Right now, I have it cut into a short bob with a fringe and it's super-easy to take care of. I usually let it dry on its own. It has a natural wave, so I keep it fun and flirty. If I have a bit of time, I blow it out to a smooth bob if I'm in the mood to look sleek and less dishevelled than usual. I chop it every 1.5 months or so and I have the best hairdresser; he has been cutting my hair in LA for the past couple of years. He's a great friend to the band. His name is Anthony Pomije and he recently opened his own hair salon called Source Hair Studio. He's a sweetheart; he named the salon after one of our songs off our first LP.
My favourite fragrance is… I wear a perfume by Burberry, called Tender. I have a super-sensitive nose, but this scent is really gentle and I always get compliments every time I wear it.
The Naked and Famous will play Auckland City Limits on March 19 at Western Springs. Tickets visit ticketmaster.co.nz
Share this:
More Beauty & Wellbeing / Features & Profiles